News
Fox NYCC Panel Lineup To Feature The X-Files and Family Guy
Seth MacFarlane, Gillian Anderson, and David Duchovny will grace the main stage of New York Comic Con in October.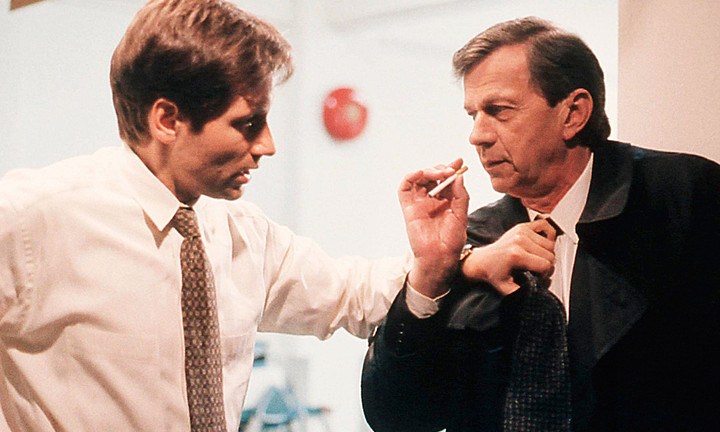 Two of Fox's longest running series and most successful franchise revivals will take the main stage of New York Comic Con for panels this year. 20th Century Fox announced its presence at NYCC will feature panels for the iconic sci-fi series The X-Files and a celebration of Seth MacFarlane's hit animated comedy Family Guy.
Taking a break from filming the new "event" season, The X-Files returns to New York Comic Con on Sunday, October 8th at 1:00 p.m with Chris Carter, David Duchovny, Gillian Anderson, and Mitch Pileggi on hand for the panel. In 2015, Fox debuted the first episode of The X-Files revival at NYCC. While they won't have a first episode ready, they'll be showing an exclusive first look of the new season this time around. 
Family Guy is coming to New York Comic Con for the first time on Friday, October 6th at 7:00 p.m. for a panel that will feature creator Seth MacFarlane, Alex Borstein, Seth Green, Mike Henry and executive producers Rich Appel and Alec Sulkin. They'll be showing a first look at the series' 300th episode. MacFarlane will have double duty that night. He'll also be on the panel for his new live-action sitcom The Orville, scheduled for 6:00 p.m.
Below are the full descriptions for the events so you can begin planning your NYCC schedule! 
FRIDAY, OCTOBER 6TH

6:00PM-7:00PM – THE ORVILLE – Join Emmy Award-winning executive producer Seth MacFarlane along with Adrianne Palicki and executive producers David A. Goodman and Brannon Braga for an extended look at an unaired episode and discussion about the hit FOX show!  "The Orville" is a one-hour science fiction comedic drama set 400 years in the future that follows the adventures of the U.S.S. Orville, a mid-level exploratory vessel where the human and alien crew face the wonders and dangers of outer space while also dealing with the familiar, often humorous problems of regular people in a workplace…even though some of those people are from other planets, and the workplace is a faster-than-light spaceship.  Hammerstein Ballroom

7:00PM-8:00PM – FAMILY GUY – A New York Comic-con first!  Join your favorite animated family, "The Griffins," for a very special Fridayevening experience at The Hammerstein Ballroom.  Seth MacFarlane, Alex Borstein, Seth Green, Mike Henry and executive producers Rich Appel and Alec Sulkin will treat fans to a special preview of never-before-seen footage, including a sneak peek of the epic 300th episode airing January 2018 followed by a special discussion and audience Q&A, all moderated by executive producer Cherry Chevapravatdumrong.  Hammerstein Ballroom

SUNDAY, OCTOBER 8TH

1:00PM-2:00PM – THE X-FILES – Following the explosive events of 2016's stunning finale, Chris Carter, David Duchovny, Gillian Anderson, and Mitch Pileggi will delight fans when they premiere an exclusive first look of the new 10-episode event series coming January 2018 to FOX!  Main Stage

2:45PM-3:45PM– THE GIFTED – From 20th Century Fox Television in association with Marvel Television, "The Gifted" tells the story of a suburban couple whose ordinary lives are rocked by the sudden discovery that their children possess mutant powers. Forced to go on the run from a hostile government, the family joins up with an underground network of mutants and must fight to survive.  Executive-produced by Matt Nix, Singer, Lauren Shuler Donner, Simon Kinberg, Jeph Loeb, Jim Chory and Len Wiseman. Join series stars and producers for an exclusive first-look of the second episode from the fall's critically acclaimed new family adventure series which airs Mondays on FOX. Main Stage 

Find your GIFT, find your power!  Visit FOX Booth #320 where you can harness your own mutant powers to win a prize from THE GIFTED vending machine. Using Kinect technology, take control of the machine and walk away with exclusive prizes and a video showcasing your new mutant skills!

4:00PM-5:00PM – THE EXORCIST – Returning fan favorites Ben Daniels ("Father Marcus"), Alfonso Herrera ("Father Tomas"), and Kurt Egyiawan ("Father Bennett") will be joined by new cast mates John Cho ("Andrew Kim") and ZuleikhaRobinson ("Mouse") along with creator and executive producer Jeremy Slater and showrunner Sean Crouch to show an extended scene from the all new third episode and share some behind-the-scenes details from season two of the FOX thriller!  Room 1A10