News
Fox Considering Two Potential 24 Spinoffs
At TCA press tour, Fox revealed it is readying TWO potential 24 prequel series.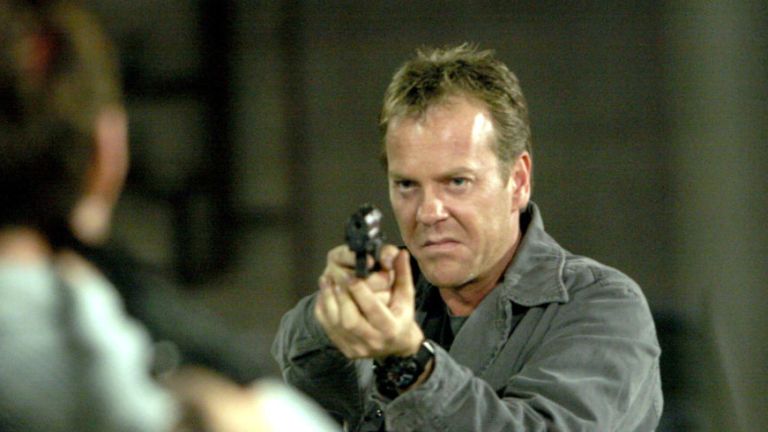 Update (8/2): Fox Television co-CEOs Dana Walden and Gary Newman confirmed that not one, but TWO 24 spinoff series are in development. One of them will be a Jack Bauer prequel (read on below) and the other will be a legal drama in the 24 storytelling format. Neither has officially been ordered and both remain in the development stage.
ORIGINAL STORY: Jack Bauer will never die. Fox is reportedly ready to make sure of that by launching a 24 prequel series centered on a younger version of Kiefer Sutherland's iconic hero. Series creators Joel Surnow and Bob Cochran are working on the concept with 24 executive producer Howard Gordon.
According to a report from THR, Fox is mulling an ongoing series rather than a limited series. Since the original series ended in 2010, two limited runs failed to receive a pickup order; 2014's 24: Live Another Day with Sutherland reprising his role as Jack Bauer, and the 2017 spinoff 24: Legacy, starring Corey Hawkins. Legacy premiered to huge ratings following the Super Bowl, but tailed off during its 12-episode run.
Now that the Disney-Fox deal is officially approved, this may be our first look at the programming strategy for New Fox, which retains Fox broadcasting, Fox Sports, and Fox News. Disney now owns 20st Century Fox film and television studios, the latter of whom produced the 24 property. Thus, as we understand it, Fox will have to work out a deal with its former studio to bring the 24 brand home.
Since Legacy left the air, Fox execs have consistently said they'd like to explore the future of 24. While Sutherland did not participate in Legacy, though he received a producer credit, it appears likely that Netflix will pick up a third season of his series Designated Survivor. We'll have to see how that would affect his involvement in the new 24 project if it receives a series order.
Read the latest Den of Geek Special Edition Magazine Here!