News
For All Mankind: Trailer Arrives for Ronald D. Moore Apple Space Series
Apple space series For All Mankind comes from Ronald D. Moore of Outlander and Battlestar Galactica.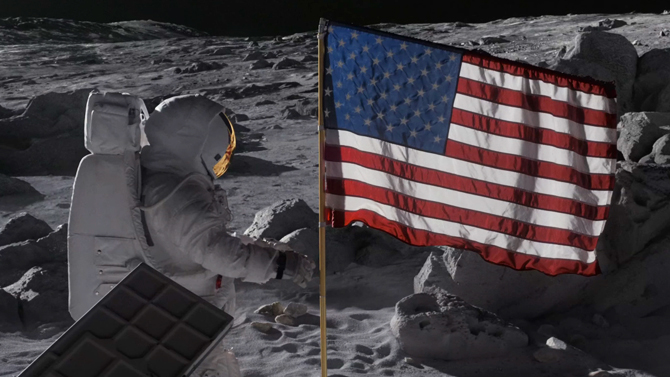 Attention, Battlestar Galactica fans! Ronald D. Moore is heading back to the stars for a planned space drama for Apple!
For All Mankind will see Moore, who is currently working on Starz's time travel romance Outlander, tasked to create and write, imagining what the world would be like if the global space race had never ended. (Sounds a bit like The Expanse, no?) Moore will undertake the project with Fargo executive producers Matt Wolpert and Ben Nedivi for Tall Ship Productions, which also makes Outlander. The show is the third original scripted series ordered by Apple, who is getting into the content creation market via its newly-formed worldwide programming division.
For All Mankind Trailer
The trailer for Apple's For All Mankind has arrived!
Per Apple's official synopsis:
For All Mankind is created by Emmy® Award winner Ronald D. Moore (Outlander, Star Trek, Battlestar Galactica), Matt Wolpert and Ben Nedivi. Told through the lives of NASA astronauts, engineers and their families, For All Mankind presents an aspirational world where NASA and the space program remained a priority and a focal point of our hopes and dreams.
For All Mankind Release Date
For All Mankind is set to premiere on streaming service Apple TV+, which launches sometime this fall.
For All Mankind Cast
Joel Kinnaman will headline the series to play Edward Baldwin, a character described as one of NASA's top astronauts. Kinnaman, a Swedish actor, recently starred in Season 1 of Netflix's Altered Carbon and is coming off film roles in Suicide Squad, Run All Night and the RoboCop remake, as well as TV runs on Netflix's House of Cards and AMC-turned-Netflix crime series The Killing. He also co-starred on the recently launched TV series adaptation of the 2011 movie, Hanna, reuniting with The Killing co-star, Mireille Enos.
Michael Dorman will play Gordo Stevens, who with wife Tracy, is one half of one of NASA's most prominent couples. Dorman, a Kiwi actor, is the star of Amazon's comedy-thriller Patriot, and has appeared in films such as Pirates of the Caribbean: Dead Men Tell No Tales and The Water Diviner, as well as TV runs in recent years on Wonderland and Serangoon Road.
Sarah Jones will play Tracy Stevens. Jones comes off TV runs on USA's Damnation, Hulu's The Path, History's Texas Rising, CBS's Vegas and, perhaps most prominently, co-starred on Fox's single-season sci-fi crime series, Alcatraz, with Jorge Garcia and Sam Neill.
Shantel VanSanten, (The Flash, Shooter), Wrenn Schmidt (The Americans, Outcast) and Jodie Balfour (The Crown, Quarry) also co-star.
Joseph Baxter is a contributor for Den of Geek and Syfy Wire. You can find his work here. Follow him on Twitter @josbaxter.