News
Follow The Ellesaur at NYCC!
An artist-created scavenger hunt for free doodles is one of this year's New York Comic-Con highlights.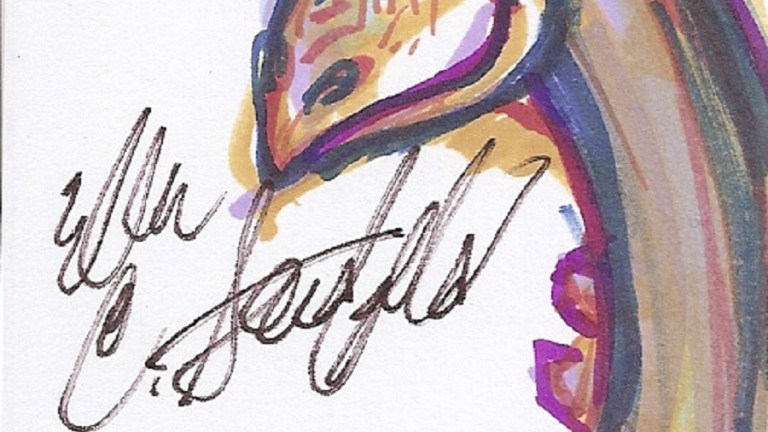 After going to NYCC so many times, it becomes easy to predict how it's going to turn out. The show floor is crowded, the lines are long, that last issue you need to complete a run isn't in this long box, etc. When something deviates from that, you take notice.
At the end of the Hasen panel on Thursday night, I discovered a sheet of paper folded into nine-box grid with an impossible dinosaur drawn on it. The dinosaur had a long neck with too small a head, horns, flippers for the front legs, plates on its back and a spiked tail. What was this? It was an invitation to "Follow The Ellesaur!" Ellesaur, a dinosaur designed by Ellen Stedfeld, is visiting her friends at the convention and wants you to meet them to. Participants are invited to find the comic creators listed on the page and ask them to doodle or sign the back of the page. Fill each of the nine boxes with a doodle/signature and you can receive a beautiful sketch card of Ellesaur from Stedfeld.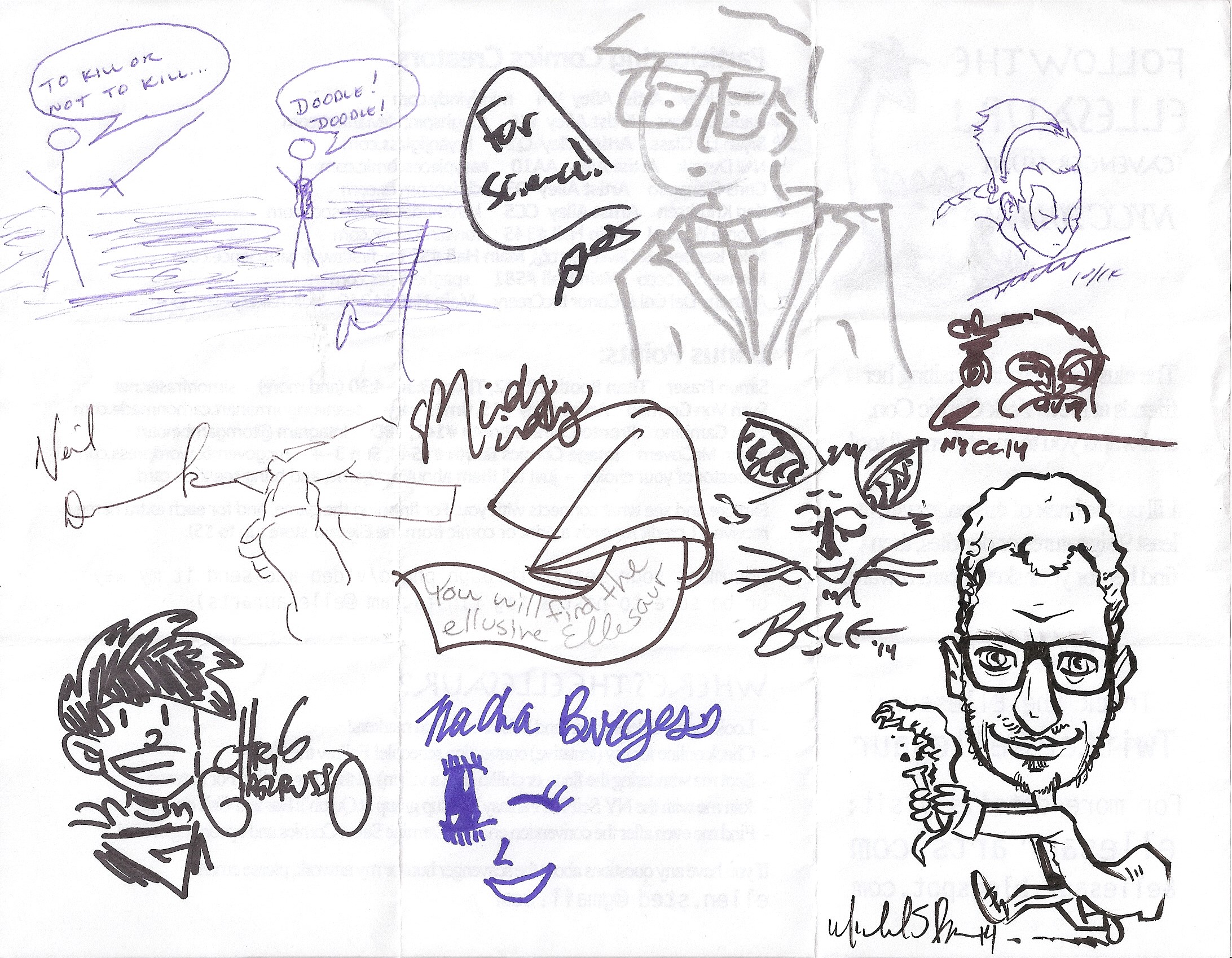 Participating in the scavenger hunt has become one of the highlights of this con. Artist's Alley and the section of the Main Hall with indie comic creators are my favorite parts of the convention and being able to view it in a different light was thrilling. Ellesaur turned wandering through the convention in to a game. I wasn't just browsing for interesting conversations and work; I was on a quest to meet creators and fill my page with art!
A lot of conversations I overhear (and even participate in) start with a question like, "You can flip through it if you want?" or "What's the comic about?" Mine started with, "Can you help me find the Ellesaur?" The doodles gave us a chance to goof off and have memorable and interesting interactions (some of the doodles were inspired by our silly jokes). I meet many artists during conventions, but the conversations I had with the doodling creators will be remember for years to come.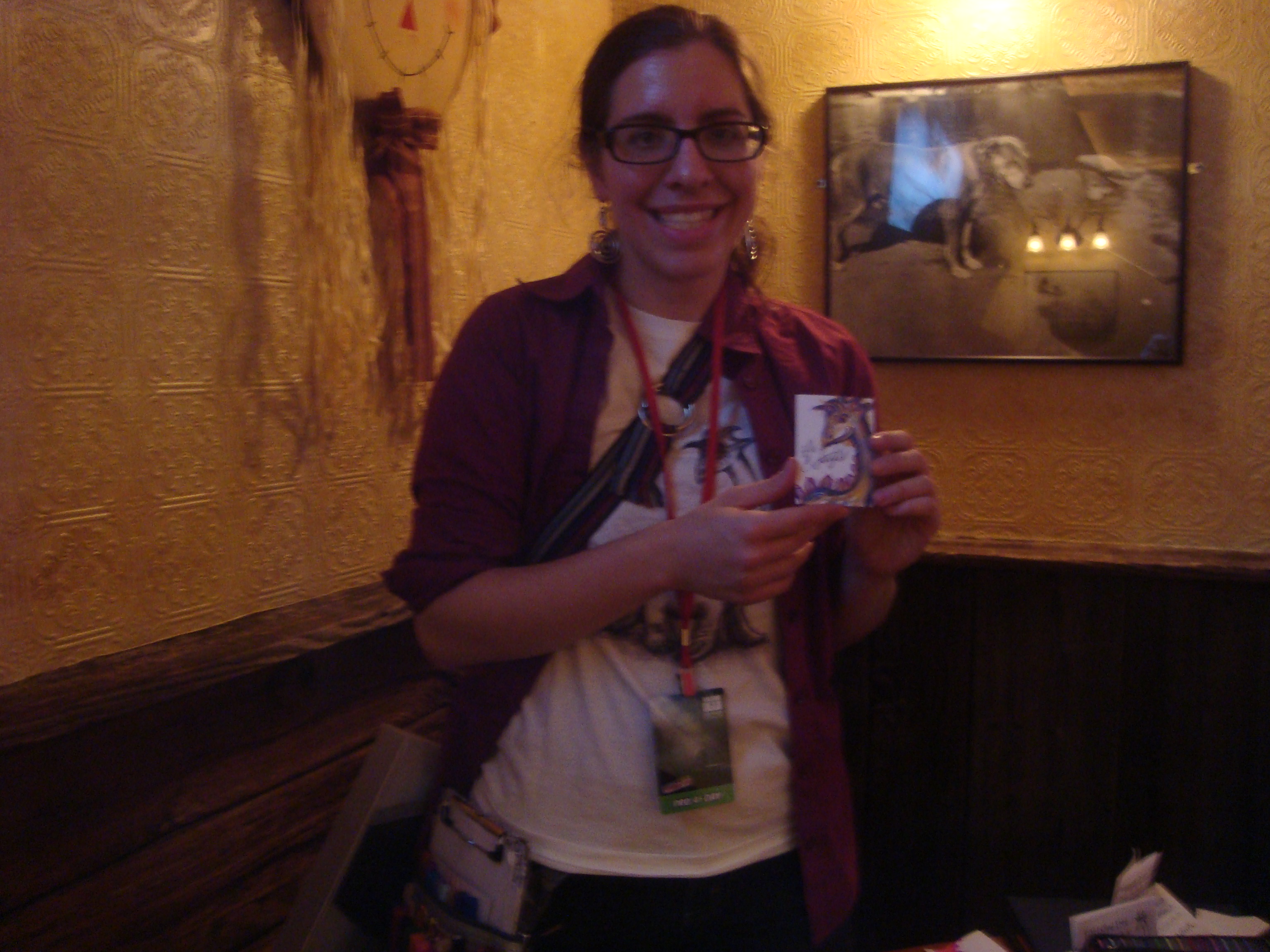 You can print out your own scavenger hunt page (http://www.ellesaurarts.com/#!follow-the-ellesaur/caos) or pick one up directly from Stedfeld at the convention. The design of the page is brilliant; it folds in to a nine-box grid, so you can fill each box with a doodle/signature (although it's worth noting that very few of the artists stay in the lines). The boxes on the printed side are designed so that the list of creators and their table location is (almost) all visible while folded. If you're unable to find her during the con, you can meet her at Carmine Street Comics/upcoming events. The scavenger hunt can be completed in a day and is great for all ages. The memories and artwork are something I will cherish for a long time and if you're at NYCC this year, you should consider participating.
Like us on Facebook and follow us on Twitter for all news updates related to the world of geek. And Google+, if that's your thing.