Features
Five things we want from Once Upon A Time in Wonderland
Kylie runs down the five things fans want from the Once Upon A Time spin-off...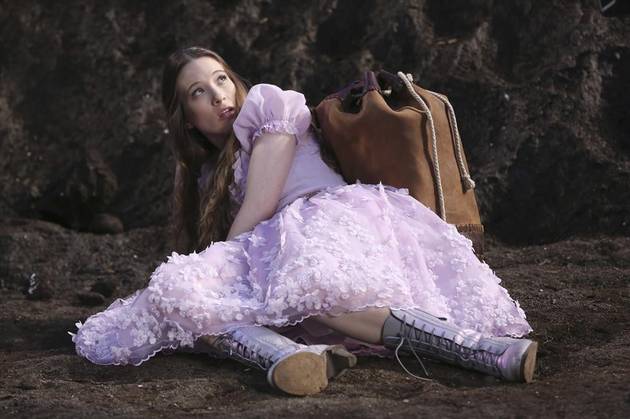 Last week we got our first look at Once Upon a Time in Wonderland, a Once Upon a Time spin-off by Edward Kitsis and Adam Horowitz. The trailer (available here, but annoyingly only if you're in the US) reveals a darker, more cerebral show than its predecessor, but the flamboyant whimsy of Wonderland and spirited female protagonist will be familiar to the droves expectant of Once fans. Wonderland is due to be a stand-alone thirteen episode series that will air this autumn.
The story follows Alice (Sophie Lowe), who convinces her family and friends in Victorian England that she's insane with stories of how she visited a magical land on the other side of a rabbit hole. As creepy psychiatrists aim to wipe her memory, the Knave of Hearts (Being Human's Michael Socha) and the White Rabbit (a CGI character voiced by John Lithgow) return with Alice to Wonderland. Peter Gadiot plays a love interest named Cyrus, and Emma Rigby plays the Red Queen. 
The show will include Once-style flashbacks, and the timeline, it seems, will be all over the place: Alice is from Victorian London, but much of the story takes place in post-curse Wonderland and the first episode will begin in Storybrooke.
News of Wonderland is mysterious as the land itself, contradictory and ever-changing (I had to rewrite half this article before I'd finished writing it—things changed that fast). It's probably best to avoid becoming too invested in any spoiler content until the pilot date nears. Once fans though, imaginative lot that we are, can't help but invent our own stories for the upcoming show. 
Plot and setting speculation abounds, but whatever rabbit hole this show takes us down, its ultimate success will rest on a few core elements. Here's a list of five must-haves for Once Upon a Time in Wonderland.
A fresh look at Alice in Wonderland
Announcements of Alice-inspired stories don't stir up gobs of excitement, probably because there have been approximately two bazillion of them created in the century and a half since Lewis Carroll's novel was published.  Why should we invest our time in another? 
The Once team has proved itself capable of telling old, familiar stories in fresh ways, primarily by means of complex characters and intricate, relatable backstory.  Then again, we've also seen the show lapse into confusion and cliché.  A successful Wonderland will inject the Alice story with the same imaginative charm that made season one of Once's tapestry of fairytale retellings so gripping.    
No quality dip for Once Upon a Time
It's no secret that Once's second season was hit-or-miss, and the announcement of Wonderland has some fans worried that the already struggling writers will be distracted from their work on the original show.  Early comments from the creators stressed that the two shows would remain solidly separate, but recent news about setting crossovers and hinted character appearances has softened that assertion. They're walking a fine line between appealing to Once fans and drawing in new viewers, and while familiar elements are fun for fans, it's no good for anyone if the two shows start stepping on each other's toes.
Hopefully the showrunners will stick to the core idea that the two shows are separate, allowing them to delegate and invest a full effort in each project on its own terms. If that doesn't work, Wonderland will have to go. Lots of fans are angry enough with Once as it is, and wouldn't turn up their noses at an easy scapegoat. 
Jefferson (and other Once favorites)
What's Alice in Wonderland without the Mad Hatter? Unfortunately, we may be about to find out. Sebastian Stan, who plays a fabulous Jefferson/Mad Hatter in Once, is busy with other projects (including Captain America 2), and his involvement in Wonderland is uncertain. Kitsis and Horowitz have said that his character will not be recast—good news, because no one could replace Stan. That also leaves room for hope that Stan might be able to squeeze an episode or two. A confirmation of this would turn the opinion of many an uncertain Once fan about the new show.
Kitsis and Horowitz say there will be no present-day character crossovers, but some Once folk may appear in flashbacks. Cora was the Queen of Hearts, so she could easily be written in, and according to the rumor mill it's highly likely she will be. Lana Parilla (the Evil Queen Regina) and Robert Carlyle (Rumpelstiltskin) are also said to have expressed interest. As two of Once's most compelling characters, their presence would be more than welcome.
While Once characters are not essential to making Wonderland a quality show, they may be necessary to avoid disappointing a fanbase that will expect a few familiar faces.
Decent CGI
Not even good – just decent is acceptable. After last season's "Child of the Moon," nobody expects much. Once's high-school-level CGI doesn't irritate too much by virtue of relatively infrequent use, but that handicap is gone: Wonderland features the White Rabbit, a major character entirely in CGI. It'll be impossible to give Wonderland the pass Once gets if they keep rubbing their sucky CGI in our faces with him every week. Add that it's a talking rabbit, and the excruciatingly-irritating-character odds jump even higher.
The good news is that going by his limited appearances in the trailer, the White Rabbit does look decent (not good, but decent). It helps that they opted for a Victorian-inspired, slightly creepy design rather than cutesiness. It's hard to say at the moment, but it's looking like we may be spared grimace-inducing visuals on the level of Once.
13 episodes – no more, no less   
In a culture that always demands more, we so often stretch a good thing until it's dried up of everything we once loved about it. The problem with so many TV shows that degenerate over time is that the writers keep tacking on more content without thought to overall structure. This is evident in Once Upon a Time. The early episodes of season 1, without an assured future and fueled simply by the premise and characters, are the most earnest and imaginative of the entire series. I believe the common season 2 complaints about excessive plots and characters, haphazard storylines, and a disintegration of logic stem mainly from the writers' need to keep the series going. That isn't to say I necessarily advocate ending Once, but one does have to wonder whether an impending close to the series would help the showrunners wade through the muck and find the heart of their story.
The announced 13 episodes for Wonderland sounds like a perfect number: enough to fully develop the story without wearing it out.  Unfortunately, television networks base their series orders on ratings, not storytelling. If Wonderland is successful, they will doubtless write in a way to make the series longer.
Do you think the Wonderland spin-off is a good idea? What would you like to see in the new show? It's due to start on ABC in the US this autumn, on Thursdays; there's no news about a UK broadcast yet.