News
Five Came Back Trailer Drops Top Directors Into Battle
From Frank Capra to Steven Spielberg, America's greatest helmsmen steer us through World War II in Five Came Back.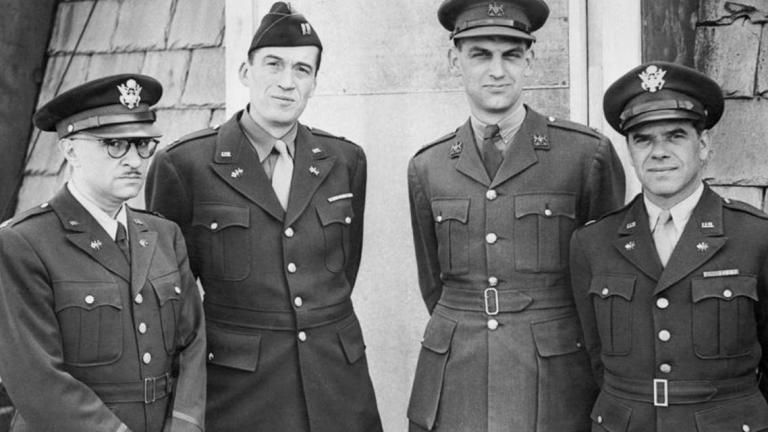 World War II was won by propaganda as much as it was fought on the battlefields. Leni Riefenstahl whipped Germany into the frenzy that started the war to end all wars, but American filmmakers had final cut. Netflix released the trailer for its new original documentary series Five Came Back.
Directors Francis Ford Coppola, Guillermo Del Toro, Paul Greengrass, Lawrence Kasdan and Steven Spielberg discuss the great generation of the 1940s, when the US Armed Forces issued cameras to Frank Capra, John Ford, George Stevens, John Huston, and William Wyler. The directors wielded them live a sidearm. The series is narrated by Meryl Streep, no stranger to great directors. Five Came Back is based on the book Five Came Back: A Story of Hollywood and the Second World War by Mark Harris, the series' writer.
"Film was an intoxicant from the early days of the silent movies," Spielberg says in the documentary.
"And early on, Hollywood realized that it had a tremendous tool or weapon for change, through cinema," Coppola concludes.
We Came Back explains why propaganda was a necessary tool to counter how films pushing the Nazi point of view onto the world. It also tells of the harrowing, real-life ordeals the directors faced while shooting some of the most dangerous battles in the war. The modern directors explain how the experience of seeing death so close inspired movie classics like Capra's It's A Wonderful Life.
"If they weren't so evil, it would be a comedy," Capra says in the trailer.
The three-part docuseries was directed by Laurent Bouzereau, who last made the behind-the-scenes doc of The Force Awakens. Bouzereau who sifted through 100 hours of archival and newsreel footage, 40 documentaries and training films and over 30 hours of outtakes and raw footage to show how the Hollywood changed the war and the war changed Hollywood.
Netflix will make 13 of the documentaries the series talks about available to their streaming service: Ford's 1942 short doc The Battle of Midway, Wyler's The Memphis Belle: A Story of a Flying Fortress from 1944, Huston's 1943 documentary Report from the Aleutians, Capra's Oscar nominated film The Battle of Russia, Stevens' 1945 doc Nazi Concentration Camps. Stuart Heisler's The Negro Soldier, also streaming on Netflix, was selected for the National Film Registry. 
Netflix will have several documentaries about the series available for streaming on March 1st.
Five Came Back hits Netflix on March 31.
SOURCE:  DEADLINE