News
First Trailer for Robot Chicken's Walking Dead Special
Seth Green's animated sketch show has The Walking Dead in its sights.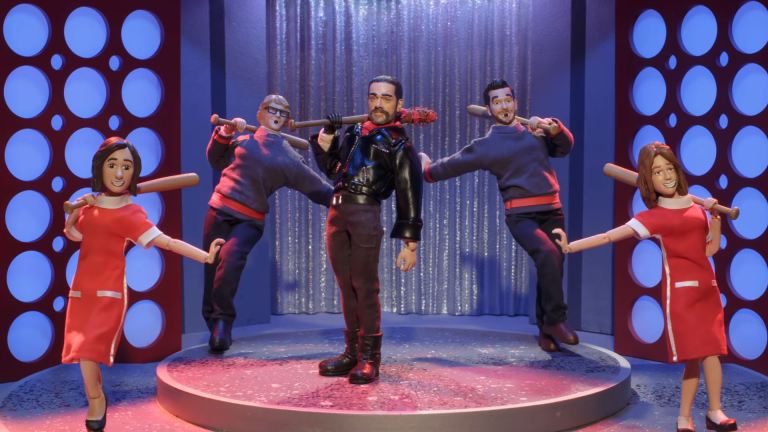 Adult Swim will air a half-hour Robot Chicken special devoted entirely to parodying AMC's The Walking Dead. 
This news comes to us from SDCC 2017 where it was announced that Robot Chicken creators Seth Green and Matthew Senreich have partnered with Robert Kirkman and Walking Dead showrunner Scott M. Gimple to create a series of sketches that skewer some of The Walking Dead's more absurd moments as well segments that find the humor in The Walking Dead's numerous dramatic occurrences. 
Based on the special's trailer, it seems that the series' prime target will be recent Walking Dead big bad Negan. In the two-and-a-half minute preview alone, we see several sketches involving the uber-villain including Negan trying to find the right fashion accessory to complete his look and Negan playing a little game of eye hole golf. 
Of course, Negan isn't the only subject of ridicule in this special. Whether it's Rick being forced to ride a unicorn bareback into town or Merle having a Disney musical moment while handcuffed to the roof, it's clear that the Robot Chicken crew have been paying attention to the entire series' and just waiting for their moment to perfectly parody the various Walking Dead moments that have come to define the show. Even post-show discussion program Talking Dead is in the show's crosshairs. 
There's no word on when this Walking Dead special will air.
The upcoming season of Robot Chicken will be the series' ninth. It officially debuted in 2005 as an early example of the Adult Swim style and has garnered a cult following over the years that can't get enough of its irreverent humor. Seth Green has already confirmed that this upcoming season will feature more than a few Donald Trump sketches as well as more of the show's famous Star Wars skits. 

Read and download the full Den of Geek SDCC Special Edition magazine here!