Features
First look at BBC Four biopic Burton And Taylor
BBC Four Drama bows out with a moving story of addiction, heartache, and love, starring Dominic West and Helena Bonham Carter...
BBC Four has had to pull out from making original dramatic productions, but, as Drama Commissioning Controller Ben Stephenson puts it, they want to "go out with a bang." The channel has produced several biopics focusing on well-known British celebrities over the past few years, some, like Kenneth Williams: Fantabulosa! following a fairly standard life story from youth to death, others, like Hattie, focusing on a particular moment in its subject's life (in that case, Hattie Jacques' affair with a young driver, John Schofield) which is used as illustrative of their character and life story as a whole. Burton and Taylor, which tells the story of the last time Elizabeth Taylor and Richard Burton worked together, falls into the second category, using a moment in time towards the end of Burton's life to reflect their relationship as a whole. 
As Stephenson explains, the aim was for BBC Four Drama to go out with "something iconic," and they don't come much more iconic than Elizabeth Taylor, played here by Helena Bonham Carter, who admits to some trepidation in taking on the role of such a beloved and glamorous woman. Her first reaction, she says, was "Elizabeth Taylor? Run a mile!… She's a movie icon." But, she says, she loved the script, and in in the end decided "it was almost incidental that it was about those two most famous people and most famous lovers."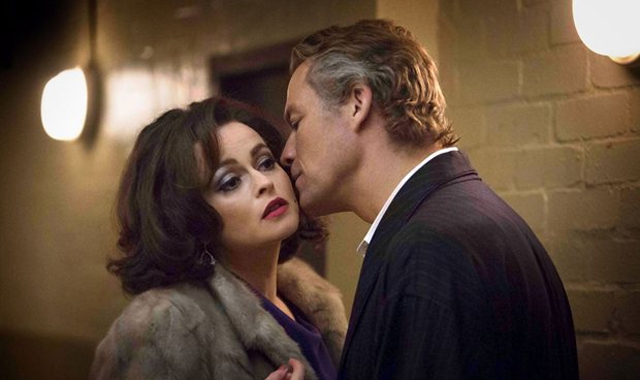 Richard Burton is played by Dominic West, who was interested straight away, though aware that as well as being considerably younger than Burton was in 1982, he would also have to try to imitate "the best voice of all time." It was only after reading the script that he felt it was "do-able," thanks to the era in Burton's career and life on which the film focuses. "I just thought it was a beautiful story," he says, "about the passing of time and of youth." To research the role, he spent several days in Burton's home of Pontrhydyfen and Port Talbot where, he says, although the mining community is long gone, he was "incredibly moved by the place because it's incredibly beautiful… and by the romance of [Burton's] story, that he'd come from this place and married the most famous and beautiful woman in the world and become the most famous actor in the world." Although it's hard to pin down what he took from the visit, he says, "you get a smell, you get an atmosphere." 
Both actors have expressed their admiration for their subjects. West explains that he's always loved Burton, and that both Burton and Taylor were "just brilliant together as actors as well." Bonham Carter feels that Taylor was "such an inspiration," describing her as a "phenomenal woman," funny, witty, clever – "she wasn't a victim." Both also experienced an unusual challenge regarding the accents needed for the film – not because either actor has difficulty with accents in general, but because Burton and Taylor's own accents were rather fluid in life. West explains that director Richard Laxton was constantly pulling him back from being too Welsh, as Burton's Welsh was overlaid with 1950s Oxford and a healthy dose of Laurence Olivier, while Bonham Carter relied on their voice coach Neil Swain to help her pin down Taylor's chiefly American but distinctly wandering tones.
Although this is primarily the story of a relationship, writer William Ivory was particularly interested in both subjects' struggle with addiction, especially Burton's, which had special personal resonances for him. "My father was from South Wales, very close to where Burton was born, and was also of that generation… my Mum used to talk about hell-raisers, that group of men who used to live and play hard, which was very true of my Dad," he says. Following both his father's and his own struggles with alcohol, for him, the story was intensely personal. "I've not had a drink now for about eleven years, but I've liked a drink myself in the past, as my Dad did, so I was just interested in that world of Welsh men… I thought this was a chance to examine [Burton and Taylor's] relationship, and the nature of addiction as well." Ivory's interest in addiction comes through in several different ways, through an exploration of both Burton and Taylor's problems with alcohol and Taylor's with pills, but even more so through the depiction of their relationship as an addition in itself. At one point, the film was to be titled Love is the Drug, and Ivory stresses that, although no longer drinking, Burton was still exhibiting "patterns of behaviour" stemming from addiction at this point in his life, in this case an addiction to Taylor herself. 
Despite its subject matter, the film has a witty script and a light touch, not afraid to throw in a few colourful metaphors and a lot of references to Elizabeth Taylor's cleavage. Everyone involved is keen to emphasise that Burton and Taylor's relationship was fun as well as strained. "It's the bits that aren't fun that everyone focuses on," says Laxton, "but the essence of their spirit was that they got each other… you have to show that." The film is "a celebration of individuality and the essence of two people." Bonham Carter, who embraces a wide variety of methods of research, visited an astrologer ("a lot of people think it's really stupid," she says, "but I've got amazing astrologer friends") who said immediately, in reference to Taylor, that "this woman has the most extraordinary sense of humour."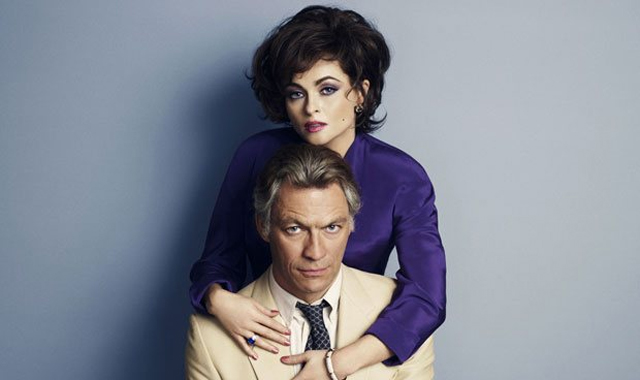 The film was made on a tight budget in just eighteen days, which Laxton describes as "terrifying." This, however, gave the actors what Bonham Carter describes as "a sense of momentum," as "so much of acting is about keeping up energy," though it led to a documentary-like method of film-making in some respects. 
Ultimately, like all these biopics, this film is its own story, based on but not claiming to be the true story of its protagonists. Bonham Carter notes that, "[Burton and Taylor] were upstaged by their own fame, and I don't want this to be upstaged by their fame. I think it's a beautiful script and I did it because of the script, and it was incidental that it's called Burton and Taylor." Ivory adds that "at some point you have to leave that over here… this is a version of a story about two people." As Laxton suggests, it's a story about "the calamity of being a human being" and about what really matters in life. "[Elizabeth Taylor] knew what life was about," says Bonham Carter, "which was love and connecting with your loved ones. 
"And diamonds!" 
Burton and Taylor will premiere at 9.00pm on Monday 22nd July on BBC Four.
Please, if you can, buy our charity horror stories ebook, Den Of Eek!, raising money for Geeks Vs Cancer. Details here.