News
Feds Nab One of the Lufthansa Heist Goodfellas
You think that's funny?
The first wise guy ever to be nabbed for the Lufthansa heist from thirty years ago is in jail. You think that's funny? Does that amuse you? You think he's some kind of clown? The guy evaded capture for thirty years on that and a whole bunch of other charges. Maybe it's Martin Scorsese's fault the guy got popped, making the crime so public in a classic movie like Goodfellas. Heh? Ever think about that?
The Lufthansa heist is probably the biggest robbery in history. Even before Martin Scorsese's Goodfellas, the Lufthansa heist was famous. It happened thirty years ago and it is still one of the biggest thefts in American history, especially when you account for inflation. On December 11, 1978, a group of six or seven thieves stole about $5 million in cash and nearly $1 million in jewels from a Lufthansa cargo building in the middle of the night.The $6 million Lufthansa heist is worth about $20 million in today's money.
The Lufthansa heist is at the heart of Goodfellas, Martin Scorsese's classic gangster movie starring Joe Pesci as Tommy DeVito and Ray Liotta as the rat fink Henry Hill, who  says "As far back as I can remember, I always wanted to be a gangster." Hill gave state's evidence and then disappeared into the witness protection program. Goodfellas was based on the 1986 book Wiseguy by Nicholas Pileggi about the Lucchese crime family. Robert De Niro played Mafia associate James "Jimmy the Gent" Burke who was the mastermind behind the infamous 1978 Lufthansa Heist at Kennedy International Airport in 1978 who then whacked almost anyone who could directly tie him to the heist. Jimmy Burke was renamed Jimmy Conway in Goodfellas.
Federal agents have chasing that caper for over thirty years. They have now charging a reputed Bonanno crime family member with it. He's being arraigned in Federal District Court in Brooklyn. The charges have not been released yet.
Word on the street is that the feds nabbed Vincent Asaro, 78, of Howard Beach, N.Y., during a series of early morning raids. Asaro is reputed to be a ranking member of the Bonanno organized crime family.
The FBI has been working on the bust for months. Acting on a tip, the Feds searched Jimmy Burke's daughter's house in Queens. After digging around the house federal agents found human remains. DNA tests matched the remains to Paul Katz, who disappeared in 1969 after word got out that he turned rat. Katz was strangled with a chain and then buried at a vacant home elsewhere in Queens. Katz's remains were allegedly moved to Burke's basement after the gangsters were covering up evidence of a separate investigation.
Asaro will be the first accused mobster to face charges in the Lufthansa heist. The only other person ever charged in the crime was the airport worker who gave the thieves the inside information, Louis Werner. The FBI hasn't said what they believe Asaro's role was in the Lufthansa job, but Asaro's got a rep for being a key Mafia overseer of crimes at JFK airport. The airport was a favorite target for New York crime families because of the huge amount of cargo that moves through it. Asaro is now said to be an "administrator" of the Bonanno clan.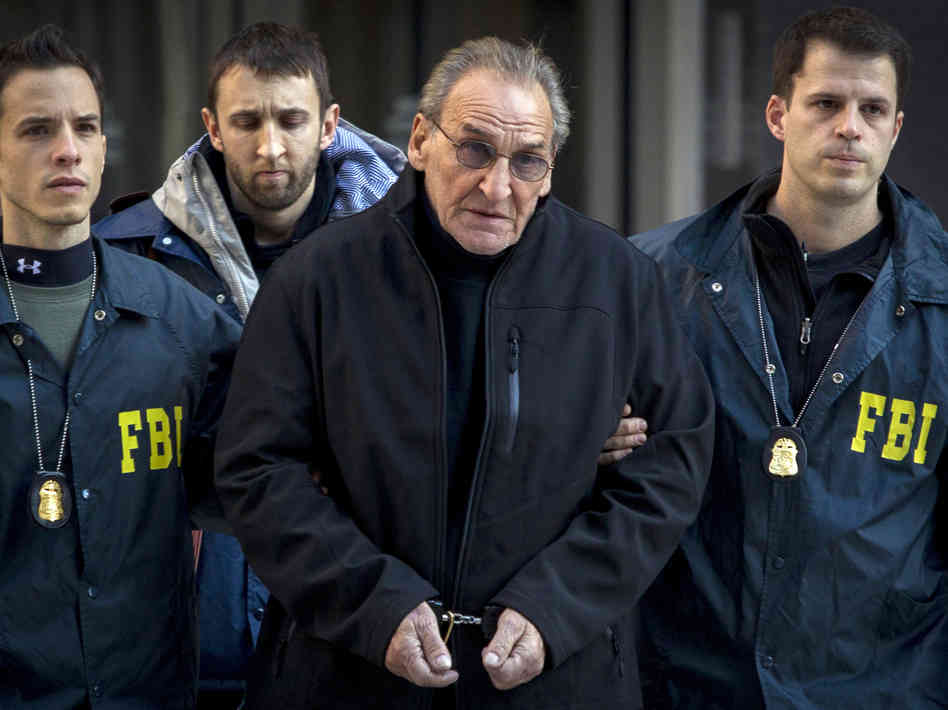 Four other alleged mobsters were arrested this morning, including underboss Thomas "Tommy D" DiFiore of Commack, N.Y. DiFiore is believed to be the highest-ranking Bonanno family member currently living outside of prison. DiFiore will face conspiracy charges. DiFiore helped rebuild the Bonanno family after family boss Joseph Massino turned state's evidence and testify against other mobsters ten years ago.
Jimmy Burke died in 1996. He was in jail for a different killing.