News
Fear the Walking Dead Season 5: Morgan Throws Down in Exclusive Clip
Logan is an expert Morgan botherer in this exclusive new clip from Fear the Walking Dead season 5 episode 11.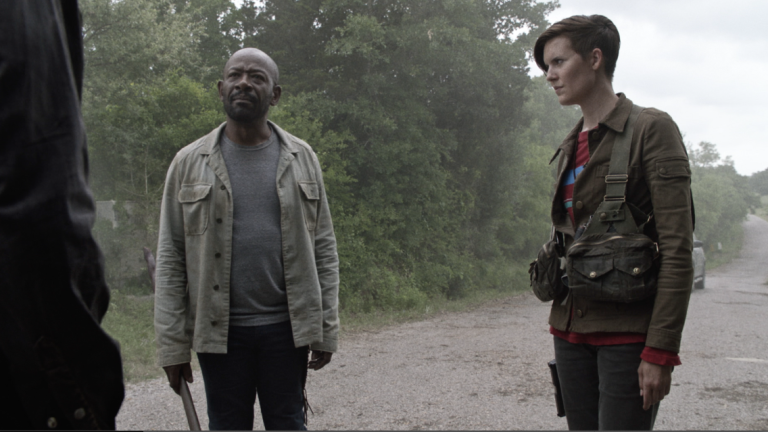 All Morgan Jones wants is to be a man of peace. That's been his modus operandi in Fear the Walking Dead season 5 as it's been for many Fear the Walking Dead and Walking Dead season before it. The problem with Morgan's peace plan is that all these fools insist on testing him.
The latest fool is Fear the Walking Dead season 5 big bad Logan of Wittington's Denim Company and the C&L crew. In this exclusive new clip for Fear the Walking Dead season 5, episode 11 "You're Still Here," Logan knows the exact combination of words to turn Morgan's bō stick into a whoopin' stick. Give it a look below.
The synopsis of "You're Still Here" reads: "As Alicia struggles to find her new role in the convoy, she's drawn to mysterious artwork. A simple scouting trip is derailed when she and Strand are thrust into a conflict between desperate survivors. Meanwhile, Morgan and Al hit a roadblock."
And what a roadblock Morgan and Al hit! Things start out innocently enough. Morgan and Althea just need to make it on down the road to make it to their next mission as helpers. Unfortunately, Logan has a way of…well, getting in the way. Logan and his people still want to know where the oil fields are, and he tells Morgan and Althea as much.
further reading: Fear the Walking Dead Season 6 Confirmed
Morgan says they can't do that as it will put a lot of innocent people at risk. Understandable enough, and Logan looks on the bright side of it, thinking that maybe Morgan is seeing his side of things after all.
"You're really gonna let that sad sack die on the road. See that's the kind of pragmatism and realism and non-stupidism that makes us more alike than you think," he says.
Morgan insists that more people will die if Logan finds those oil fields and they'll just have to find another route to carry on their mission. That's when Logan does it…he says the magic words.
"Let me give you a piece of friendly advice, Morgan. Helping other people isn't going to make you feel better about not being able to help them."
"Helping who?" Morgan asks.
"Your wife and son," Logan replies.
And that, my friends, is how you get a stick to the throat. Cooler heads naturally prevail and certainly "You're Still Here" won't end with Morgan killing Logan on the side of the road. But you never know. This is the Walking Dead universe. 
Fear the Walking Dead season 5 episode 11 "You're Still Here" airs on Sunday, August 25 at 9 p.m. ET on AMC.
Read and download the Den of Geek SDCC 2019 Special Edition Magazine right here!
Alec Bojalad is TV Editor at Den of Geek and TCA member. Read more of his stuff here. Follow him at his creatively-named Twitter handle @alecbojalad