News
Fear the Walking Dead: Zombies Remain Very Gross in Season 5 Clip (Exclusive)
In the first look at Fear the Walking Dead Season 5 Episode 1, the gang comes across a rather gruesome sight.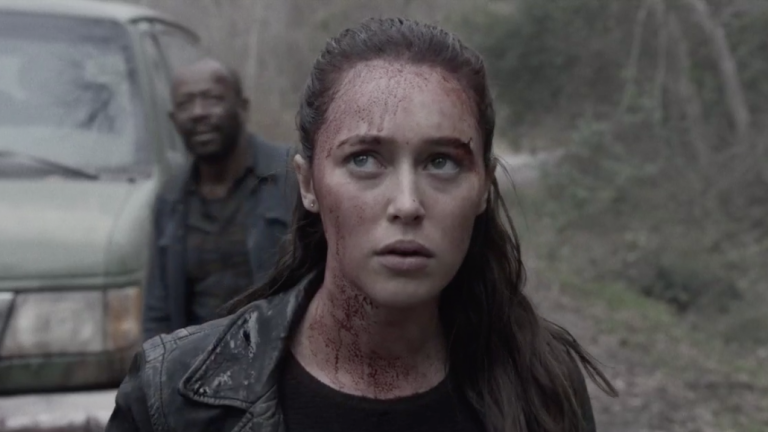 The Walking Dead and Fear the Walking Dead have been on for long enough now that one can easily forgot just how gross and chilling zomb…I mean walkers are. But fear not, for Fear the Walking Dead has not forgotten!
In this new exclusive clip from Fear the Walking Dead Season 5 Episode 1 "Here to Help," Morgan, Alicia, and friends come to a very peculiar roadblock. Give it a look below.
The human small intestine, when unpacked and unfurled can measure as long as 20 feet. The large intestine is around 5 feet. What you're looking at here is every inch of both intestines used to create a zombie roadblock. Think of it as a deathly game of "Red Rover."
The Fear the Walking Dead gang, led by Morgan (Lennie James), Alicia (Alycia Debnam-Carey), and Althea (Maggie Grace) is understandably quite perturbed by what they see. Body horror is obviously nothing new in this grim post-apocalyptic world but this…this is a bit much. And as if the zombie chain wasn't enough, Alicia looks up to see something just as gross. That's right, a zombie head tree. Yeesh.
The synopsis for Fear the Walking Dead Season 5 Episode 1, "Here to Help" reads:
"Led by Morgan and Alicia, the group lands in uncharted territory in search of survivors to help – but everything is not as it seems in this foreboding new land."
Well "foreboding" is certainly right based on what we've seen thus far. In Fear the Walking Dead Season 5, Morgan and Alicia are on a mission to find and protect other survivors to make up for the sins of their past. This will undoubtedly mean coming across new and unsettling scenarios like the one witnessed here. It will also mean meeting a host of new characters and in some cases old characters like The Walking Dead's Dwight (Austin Amelio).
Fear the Walking Dead Season 5 Episode 1 "Here to Help" airs at 9 p.m. ET on Sunday, June 2 on AMC.
Alec Bojalad is TV Editor at Den of Geek and TCA member. Read more of his stuff here. Follow him at his creatively-named Twitter handle @alecbojalad