News
Fear the Walking Dead Season 4 Premiere Sneak Peek (Exclusive)
The back half of Fear the Walking Dead Season 4 debuts on August 12 and its characters are ready as evidenced by this new clip.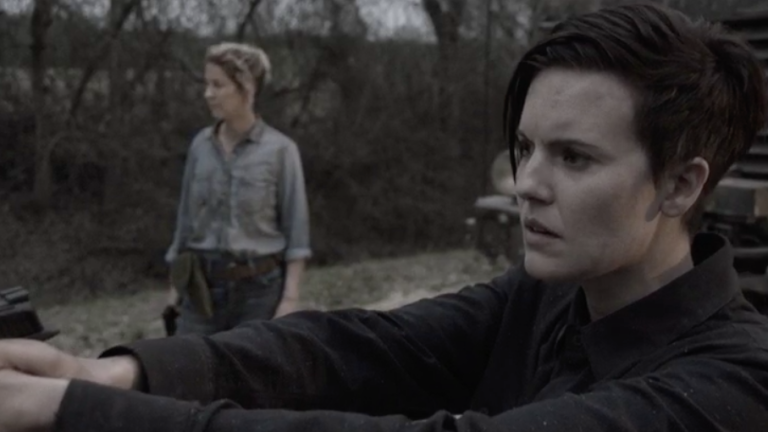 The following contains spoilers for Fear the Walking Dead Season 4
Fear the Walking Dead underwent a major rennovation in the first half of season 4. 
The show introduced a whole host of new characters including Althea (Maggie Grace), Naomi/June (Jenna Elfman), John (Garret Dillahunt), and of course: Walking Dead all-star Morgan Jones (Lennie James). After the big influx of new faces, Fear the Walking Dead then went about…ahem, trimming some old favorites from the cast. R.I.P. Nick and Madison. Someboy wite "Jenna Elfman was available" on their tombstones.
It took a long eight episodes to get the entirety of the new crew together. Now that they are, the back half of season 4, which starts August 12, can really dig into the new dynamics. How will that look? It just so happens we have a new clip from the season 4A to find out.
June and Althea are wandering around the typical post-apocalyptic zombie wreckage on an interstate having the typical post-apocalyptic zombie conversation. 
"We're gonna have to backtrack," June says, upon seeing a felled tree.
"Nah, I can clear this pretty easily with the cable."
Before they can get moving, however, they discover a curious item. Off to the side of the road is a box with supplies: water, food, medicine, toy trucks. On the side of the box there is text that reads "Take what you need, leave what you don't. See You further up the road."
Like most discoveries in The Walking Dead universe, that is simultaneously encouraging and terrifying. Perhaps Morgan has some stories to share about the time his previous group found some handwritten messages leading to an abandoned train station. 
Still, AMC's official description for the second half of season 4 promises something that these characters haven't experienced in awhile: hope.
"The first half of Season Four began with one figure huddled around a campfire… and ended with nine. Characters who started their journeys in isolation collided with each other in unexpected ways and found themselves in one of the last places they ever expected to be… together. In the back half of the season they will explore who they are now — as individuals and as part of the greater group — and how they will forge ahead. They will find themselves pitted against new adversaries — human, walker, and even nature itself.  Theirs will be a journey wrought with danger, love, heartbreak, loss, and ultimately, hope."
The Fear the Walking Dead midseason premiere, titled "People Like Us" premieres Sunday, August 12 at 9 p.m. ET on AMC.
Read the latest Den of Geek Special Edition Magazine Here!