News
Fear the Walking Dead Season 4: New Characters Revealed (EXCLUSIVE!)
Fear the Walking Dead Season 4 has our first extended look at the bevy of new characters and there's a lot to like.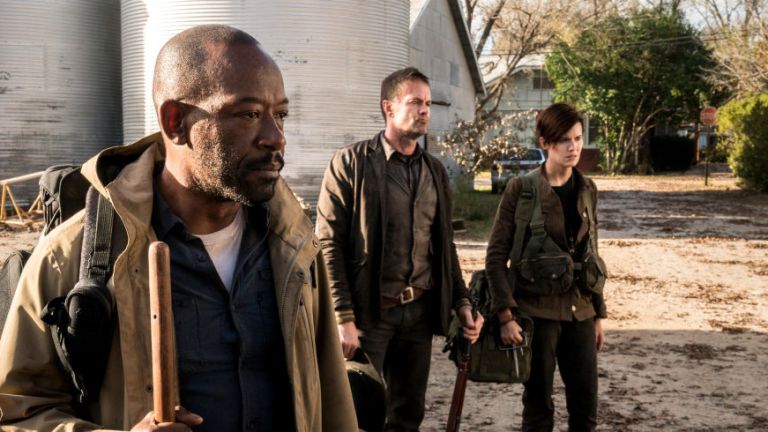 Fear the Walking Dead season 4 is going to be quite different.
At least that's the impression left by our first look at several key new characters being added to the show. The appeal of The Walking Dead universe is that everyone is expendable and circumstances, characters, and casts can change more rapidly and realistically than any other franchise.
Still, nothing under The Walking Dead umbrella has rebooted as thoroughly as Fear the Walking Dead Season 4 will.
Here is an exclusive first look at four major characters the show will be bringing on for the fourth season. 
Like virtually every piece of new content we've seen from Fear the Walking Dead Season 4, that video was quite a bit of fun! Let's run down what we learned…right after you wrap your head around remembering that Lennie James is British.
Morgan Jones
"I lose people and then I lose myself. But I know how to make it stop." That's heady stuff for The Walking Dead universe's favorite killing machine with a conscience. According to showrunner Ian Goldberg, Morgan will start off on his own before meeting some of the new characters and developing a community. 
"I know Morgan now as a man and as a character inside and out but this is a new experience among completely new characters," James said.
Althea
Always nice to see Maggie Grace back on televison after being a big part of Lost and Californication. As for Althea, she's "somebody who lands on both feet," according to Grace.
"She's quiet but she knows how to manipulate the situation," – Luciana actress Danay Garcia says.
John
Speaking of people it's nice to see back on television…Garret Dillahunt! Dillahunt may be among the most impressive character actor's of the "Peak TV" era from his time as two characters on Deadwood through his predictably great work on Justified. From the looks of things, he'll be getting back into the cowboy archetype he fills out so well.
"When we first meet John he's got a cowboy hat on, holsters, six-shooters," producer Andrew Chambliss says. "We don't quite know what the whole story is with that but we'll come to learn it's something really integral to who he is as a person."
Naomi
"Naomi is a complicated character," says Madison actress Kim Dickens. And Dickens would know quite a bit about complicated characters on Fear the Walking Dead.
Jena Elfman seems excited to portray a complicated figure, saying "There's a tremendous heart beneath Naomi that has been broken so deeply. It would be hard enough for her to recover from what's happened to her in a normal, loving life, let alone in the horrors of the apocalypse."
Sounds good, everyone! 
Fear the Walking Dead debuts April 15 at 10:10 p.m. ET.