News
Fear the Walking Dead Season 4: Morgan Is the TWD Crossover Character
Lennie James will become a series regular on FTWD, crossing over Morgan to the companion series.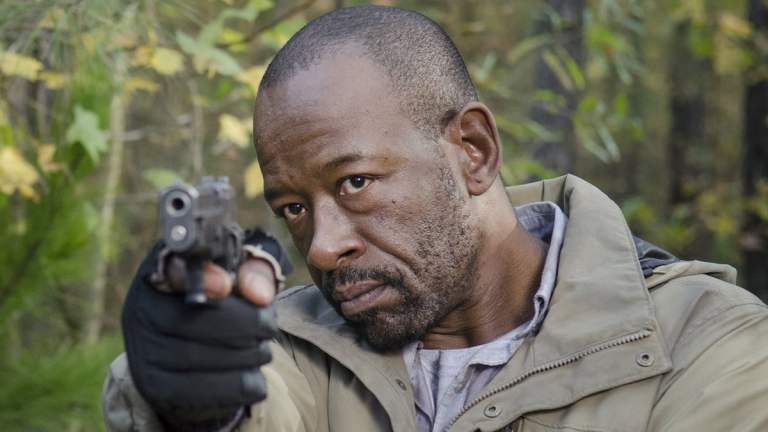 We finally know which character is crossing over from The Walking Dead to Fear the Walking Dead. It's none other than Morgan Jones (Lennie James). TWD creator Robert Kirkman first announced that the shows would crossover at NYCC 2017, but did not reveal who would be crossing over and in what manner. We still don't know how Morgan will run into the FTWD cast next season, but we do know he'll be a series regular. 
James suggested on Sunday's Talking Dead that the crossover means that he'll no longer appear on The Walking Dead. 
"The hardest part of it from beginning until now has been leaving The Walking Dead; leaving that cast and leaving that crew," said James. "And I've said my goodbyes to the cast and stuff, and I've said my goodbyes to the crew."
Talking Dead host Chris Hardwick also read a message from TWD showrunner Scott Gimple about Morgan's exit from the main series:
"Even though Morgan is going to be featured on Fear, he still has a lot of story left on The Walking Dead." It's unclear what Gimple means by "a lot of story left," but he's probably referring to the rest of season eight, which just finished filming in time for the holidays. 
"Morgan's arc on The Walking Dead season eight positioned him for the story on Fear. It was also important to see Fear's world and characters through new yet familiar eyes."
Based on past comments by Kirkman about how the FTWD timeline works – the companion series takes place around the same time as TWD seasons one and two – Morgan's arrival on the show will most likely be in the form of a flashback for the character. There was a pretty big gap between the character's first appearance in the TWD series premiere and his bump to series regular in season six, with only one major guest appearance in between. His debut on FTWD could flesh out what Morgan was up to during the early years of the apocalypse, some time after the death of his son but before he set out on the path to find Rick in Alexandria. 
The other possibility is that FTWD is going to flash-forward a few years. Last season ended with a big cliffhanger that left almost every character's fate in limbo – except for Kim Dickens' Madison, who's on her way to Houston. In fact, the Houston destination for season four caused fans to speculate that the crossover character would be Abraham Ford (Michael Cudlitz), who died at the hands of Negan in the famous season six premiere of The Walking Dead. Abraham, after all, is a Houston native. 
The fact that it's Morgan who's crossing over and possibly not returning to The Walking Dead is a bit of a surprise. It remains to be seen what FTWD plans to do with the character – primarily what state of mind he'll be in during his upcoming run (he goes a bit loopy after the death of his son) – but we'll certainly keep you updated as we learn more.