News
Fear the Walking Dead Season 4 Episode 14 Exclusive Clip
Check out this explosive exclusive clip from Fear the Walking Dead Season 4 Episode 14, "MM 54."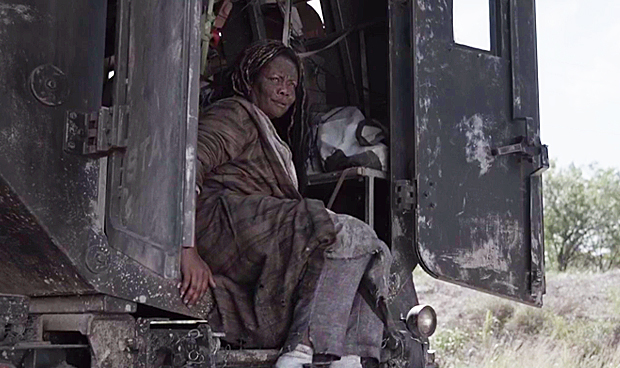 Fear the Walking Dead Season 4 recently returned from its mid-season break showing our storm-separated survivors on a benevolent mission as they attempt to pick up the pieces and reunite. However, standing in the way of their endeavor is a character who is clearly one of the most unique villains to ever creep into the undead TV mythos. Indeed, Den of Geek's exclusive clip of Episode 14, titled "MM 54," shows the increasingly escalating consequences of this character's meddling.
The saying, "No good deed goes unpunished," isn't just a cliché, at least in the 4B portion of Fear the Walking Dead. We continue to see how the magnanimous mission of Morgan (Lennie James) and his newfound big-rig-rocking friends – Sarah (Mo Collins), Wendell (Daryl Mitchell), Jim (Aaron Stanford), along with the reunited Luciana (Danay Garcia) June (Jenna Elfman) and Althea (Maggie Grace) – of leaving supplies by the road for potential apocalypse survivors has offended the esoteric ideological sensibilities of a mysterious solitary survivor – initially known as "the Filthy Woman" – named Martha (Tonya Pinkins).
As we can see in the exclusive clip, Martha just blew up the truck, and with it the yeast cake that Jim was going to use to brew beer, leading one to believe that she's either a Ledger-Joker type who just wants to watch the world burn or she's a militant teetotaler. Regardless, the explosive act of vandalism is just the latest in a series of increasingly dastardly deeds by Martha, who stole Althea's awesome SWAT vehicle and continues to be the dirt-covered fly in the ointment of Morgan's mission, as she continues to sabotage his roadside rescue boxes with deadly results while murdering anyone she encounters and setting them loose as walkers with macabre warning notes scribbled on their foreheads; actions designed to keep what's left of humanity from becoming, as she puts it, "weak."
However, Martha's demonstrable intelligence, resiliency and tenaciousness makes her one of the deadliest adversaries that Morgan and the Fear bunch have ever encountered, and she's clearing upping the ante in "MM 54."
Fear the Walking Dead airs Sundays at 9 p.m. EST on AMC, followed by after-show Talking Dead at 10:05 p.m. EST.
Joseph Baxter is a contributor for Den of Geek and Syfy Wire. You can find his work here. Follow him on Twitter @josbaxter.