News
Fear the Walking Dead Season 2 Episode Guide
Catch up on Fear the Walking Dead season 2 with our episode guide!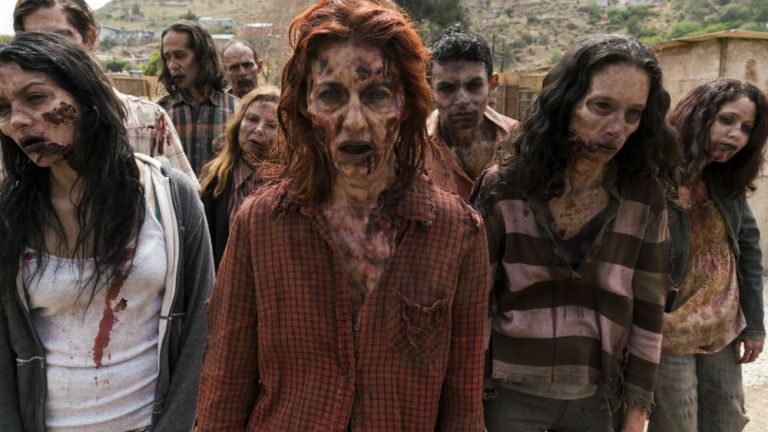 Fear the Walking Dead Season 2 Episodes
Here's where we'll compile official synopses, and reviews as they become available. Click the titles to go to the full reviews.
Our families flee a burning Los Angeles on Strand's yacht. Strand remains mysterious. Our group encounters danger at sea.

Adam Davidson directed the episode written by Dave Erickson. 

Original airdate: 4/10/16
Our group seeks shelter with a survivalist family. Madison tries to uncover the family's true motives. Salazar works to uncover Strand's intentions.

Adam Davidson directed the episode from a story by Brett C. Leonard and Kate Barnow and a teleplay written by Kate Barnow. 

Original airdate: 4/17/16
Madison confronts Strand about his mysterious destination. Nick, Alicia, and others inspect wreckage from a plane crash.

Stefan Schwartz directed the episode written by Alan Page.

Original airdate: 4/24/16
A family in distress boards the Abigail. Strand branches off and his past begins to emerge. Nick searches for an associate of Strand's.

Michael Uppendahl directed the episode written by Kate Erickson. 

Original airdate: 5/1/16
Alicia works to reunite with her family. Travis meets a familiar face. Madison and Nick lead a charge to save their family against all odds.

Craig Zisk directed the episode written by Carla Ching. 

Original airdate: 5/8/16
Conflict erupts in a final push towards Strand's destination. Chris makes a decision that shakes the family. Nick meets a new maternal figure.

Kate Dennis directed the episode written by Brian Buckner.

Original airdate: 5/15/16
Our family faces their greatest test yet. Nick, Travis, Madison and others go to great lengths to keep each other close.

Andrew Bernstein directed the episode written by David Wiener. 

Original airdate: 5/22/16
Nick's steadfast search for answers leads him into a deadly dog-eat-dog landscape. A dark piece of his past is uncovered.

Dan Sackheim directed the episode written by Kate Barnow. 

Original airdate: 8/21/16
After the fall of the compound, Madison, Strand and others forge a tenuous path forward. Meanwhile, Nick is recruited for a perilous assignment.

Deborah Chow directed the episode written by Alan Page.

Original airdate: 8/27/16
Travis struggles to connect with Chris while searching for shelter. Meanwhile, Alicia meets a lonely woman with a bloody past.

Michael McDonough directed the episode written by Lauren Signorino. 

Original airdate: 9/4/16
Alicia and Madison work to unite two competing factions. Nick draws upon skills from his past to take on a new role at the Colonia.

Uta Briesewitz directed the episode written by Kate Erickson. 

Original airdate: 9/11/16
Madison lays down the law.

Gerardo Naranjo directed the episode written by Carla Ching. 

Original airdate: 9/18/16
Refugees flood into the hotel, including an unexpected refugee from our group. Madison struggles to cope with the situation.

Christoph Schrewe directed the episode written by Brian Buckner.

Original airdate: 9/25/16
Madison struggles with Travis' return. 

Stefan Schwartz directed the episode written by Kate Barnow.

Original airdate: 10/2/16
Travis' actions cause turmoil at the RBH.

Andrew Bernstein directed the episode written by Dave Erickson.

Original airdate: 10/2/16
Fear the Walking Dead Season 2 Stream
Hulu has exclusive rights to stream Fear the Walking Dead, so that's where season 2 will eventually end up. .
Fear the Walking Dead Season 2 Trailer
A new trailer for the second half of Fear the Walking Dead season 2 has arrived. Nick is out on his own, while Travis deals with his sociopathic son, Chris. The rest of the group is figuring out where to go next. Things aren't looking so good for this cast of characters…
Check out the trailer below:
If you haven't started Fear the Walking Dead season 2 and need a refresher, there is plenty to catch up on. Check out this season 1 recap in case you need to refresh your memory!
This Fear the Walking Dead season 2 trailer shows the perils waiting for the survivors at sea and at shore. Check it out:
Another Fear the Walking Dead season 2 teaser trailer, via IGN, combines things we've seen in past trailers, painting a clearer picture of what to expect when the show returns in April. The short of it is that things don't look good, and that the survivors will be hopping on that yacht sooner rather than later.
Here's the teaser trailer:
Fear the Walking Dead season 2 has yet another teaser, and this one hints at why the survivors eventually find themselves at sea. It looks like Strand's beachside place is going to go up in flames at some point. Probably once the walkers show up…
Here's the teaser:
Another promo for Fear the Walking Dead season 2 is making the rounds, and it teases some underwater peril for the survivors:
Fear the Walking Dead Season 2 Cast
Dougray Scott (Hemlock Grove) has been cast in a mystery role. No details on who he might be playing.
According to Deadline, Fear the Walking Dead has recruited actor Daniel Zovatto (It Follows) for its upcoming second season. Zovatto was seen on the big screen in last year's horror hit, It Follows, and joins Kim Dickens, Cliff Curtis, Frank Dillane, Ruben Blades and others in the zombie prequel show.
Details about who Zovatto is playing and what the storyline will be are nowhere to be found, of course, so we'll just have to wait it out. Season 2 of Fear the Walking Dead starts on April 10, and you can catch Zovatto in theaters again soon with Man in The Dark.
Arturo Del Puerto (Ride Along 2) has joined season 2 in a recurring role as a character named Carlos, according to Deadline. Not much is known about the character as of yet, but we will undoubtedly learn more in April when the second season premieres. 
This shouldn't surprise anyone: Colman Domingo, who plays the mysterious Strand, has been moved up to series regular, according to THR. Strand was one of the more interesting characters in the first season and he holds the key (literally) to the group's escape from LA.
Fear the Walking Dead Season 2 Story
Here's a synopsis from AMC:
Season one left off with Madison, Travis and their extendedfamily taking temporary shelter in Strand's gated estate overlooking the Pacific Ocean. As civil unrest continues to grow and the dead take over Los Angeles, Strand prepares to escape to "Abigail," his large yacht moored offshore.
In an interview with ComicBook.com, showrunner Dave Erickson discusses the separation of the Clarks and Manawas at the end of the fiery May 22 midseason closer, "Shiva." The group, which began Season 2 braving the undead threat from the apparent maritime safety of the yacht "Abigail," saw their fortunes quickly overturned, left as a fractured family, reduced to a rough life on the road. In fact, Erickson states that the remnants of the group will soon learn that said boat is, "not as accessible" as they had hoped, which will be a disappointing shock to the road-weary survivors.
The current split was initially defined by the diverging paths of Nick Clark (Frank Dillane, pictured above) and Chris Manawa (Lorenzo James Henrie). Consequently, as Season 2 resumes on August 21, Erickson discusses how the split will enable radical changes within the separate group dynamic. However, he also dropped a potentially crucial detail about the characters' current state on the show, explaining:  
"I think we'll see some of those traits come together by the end of the season, but it's really not going to be until season 3 that we see any semblance of our family returned."
The "traits" to which Erickson refers center on the personal implications resulting from Nick's abandonment of the group, notably to his mother Madison Clark (Kim Dickens) and sister Alicia (Alycia Debnam-Carey). It was a desertion that made the biggest impact on the group, since it hinges on Nick's fixation with the flesh-consuming creatures with whom he has formed a bizarre "bond" (for lack of a better noun). According to Erickson:
"What the split provides us with is there is an opportunity not just to explore our characters in more depth. It also allows us to look at some of the relationships that maybe work that under-served, and the absence of Nick I think really motivates some changes in Alicia… Some changes in her relationship with her mother which is great."
Erickson also explains that Nick's practice of covering himself in walker viscera to move amongst the dead unmolested – reminiscent of the signature trick of the mothership show – reflects a fascination with the walkers and their seemingly tranquil state that is actually a manifestation of his series-long heroin addiction. However, his absence from the Clark family – who have taken to the road with Victor Strand and Ofelia Salazar (minus her father Daniel) – will have distributive effects on sister Alicia, who grows harder and wiser after her naiveté earlier in Season 2 nearly cost the Abigail crew dearly when she fell for a post-apocalyptic catfishing scheme.
However, Nick's habit of stopping to smell the ambulatory undead roses will quickly culminate deeper in Mexico in Season 2B of Fear the Walking Dead when he falls in with another group of survivors with apparently extreme views and methods, notably with a badass femme fatale played by former Prison Break star Danay Garcia. As for the aforementioned Chris, he's also dealing with his own set of demons in the form of his fear and ambivalence that nearly cost group members their lives. Having split off from the group with his father Travis Manawa (Cliff Curtis), Season 2B will also kick off a purported long-running focus on the father-son dynamic. The actor who plays Chris, Lorenzo James Henrie, chimed into the interview, further explaining:
"I don't think Chris or Nick have the intention of going back. I think they are exploring this new universe. Obviously their parents are much more wise [sic] and want to bring everyone back. I think there's going to be hope with the parents. Chris and Nick, those two are the two primary characters I think that are really branching off with their own ideals. I think it's the journey of season two, or the second half of the season."
Thus, while Fear the Walking Dead initially came out of the gate as the (frustration-inducing) travails of Madison and Travis's embattled blended family in Los Angeles, which quickly transported its dynamic to life on the seas, the show will return in Season 2B in an extremely altered form. Indeed, expect the fractured family dynamic to help shape the arc of these formerly-hapless characters at a rapid pace that veteran audiences of The Walking Dead will find welcome.
Fear the Walking Dead Season 2 Photos
New photos have arrived for the second half of Fear the Walking Dead season 2. One of the pictures introduce three new characters to the show: Danay Garcia as Luciana, Carlos Sequra as a scout, Alfredo Herrara as Francisco, according to EW. We also get our first look at Nick out on his own after leaving the group during the midseason finale. Click through the gallery below to see the new photos:
[gallery:0]
AMC's spinoff series of its crown jewel juggernaut Fear the Walking Dead has experienced several transformative shifts in such a short amount of time. Surely, that was intentional, as the West Coast-set series showcases the abrupt zombie-apocalypse-caused plunge of civilization during a time when Rick Grimes was still vegetating on a hospital bed in Atlanta. However, after its recent dramatically destructive events, Season 2 soon resumes, apparently making another shift, setting Madison and company for a rough life on the road.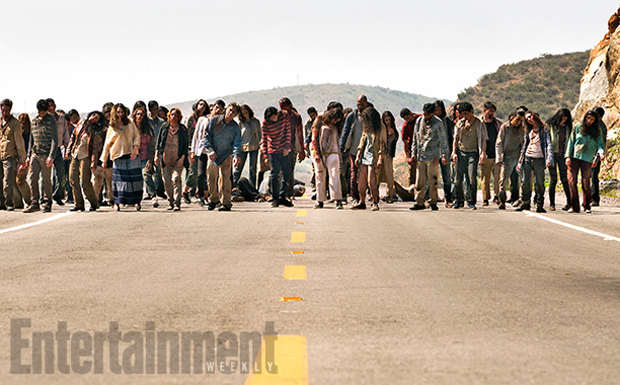 Thus, EW has released a preview photo from Season 2B, literally showing the idyllic road on which the group must travel that's filled with walkers! Yet, said group will be fundamentally fractured in the aftermath of the May 23 mid-season finale "Shiva," in which their visit to Mexico in the compound of the walker-hoarding maternal manipulator Celia (Marlene Forté) only ended with an unquenchable blaze. Season 2 started with maritime mayhem aboard the yacht Abigail, then shifted to the desert terra firma of Mexico with a new dynamic in the luxurious compound… which was burned to the ground. As Fear the Walking Dead's showrunner Dave Erickson explains of the group's predicament:
"This is the first time, for all of them, where they have to survive on the land for a time and they have to figure out a way. That's going to be a crucial step for Nick, especially, when we first return next season. We're going to see each group, with one exception, struggling to find a place. There are going to be some close calls for everybody."
The upcoming mid-season premiere will pick things up with the group after they experienced a dramatic split that left a dispirited Nick (Frank Dillane) to go solo, Travis (Cliff Curtis) and his psychologically-breaking son Chris (Lorenzo James Henrie) setting off on their own, with Madison (Kim Dickens), Alicia (Alycia Debnam-Carey), Ofelia (Mercedes Mason) and the enigmatic Victor Strand (Colman Domingo) leaving in a truck, with the fate of the fiery culprit – and Ofelia's father—Daniel (Rubén Blades) uncertain.
As another recent exclusive EW preview photo reveals, Nick will acclimate himself quite naturally to a solitary existence on the road in the company of an unending array of the undead. Similar to Rick Grimes's East Coast survivors on the mothership show, the Fear group always seem to bring wanton destruction in tow, despite their humble intentions of simple survival. It's an idea that has especially affected the way Nick perceives his place in the new world – and his mother, Madison – as he grieves for the blaze-consumed fellow walkerphile Celia. As Erickson further explains:
"Nick has a certain comfort level with the dead and with this world that is foreign and upsetting to Madison. The truth of the matter is, if you actually look at the structure of the first half of the season, despite their best intentions, they do leave chaos in their wake, anytime the family arrives someplace."
Erickson also implies that the stunning amount of colossal calamities that has befallen this spinoff group will become a rapid whetstone on which the formerly-fumbling survivors of Season 1 will become sharpened into the well-prepared, quick-thinking, walker-slaying machines that Rick's group would become. Thus, many storyline aspects and questionable actions of the characters that frustrated viewers in the early episodes will not likely be present as the separated Fear group go into Season 2B having been seriously hardened by a rough life on the road.
Tons of new photos were released for Fear the Walking Dead season 2, as the survivors of the Los Angeles outbreak take to the sea in a last ditch effort to find a safe place to stay. 
Check them out:
[gallery:0]
Variety unveiled a new poster for Fear the Walking Dead season 2 and it's quite the spooky affair, teasing the horrors that await the survivors at sea. Check it out: