News
Fear the Walking Dead's Major Death Explained
Fear the Walking Dead just killed off an original cast member, and the new showrunners explain why it happened.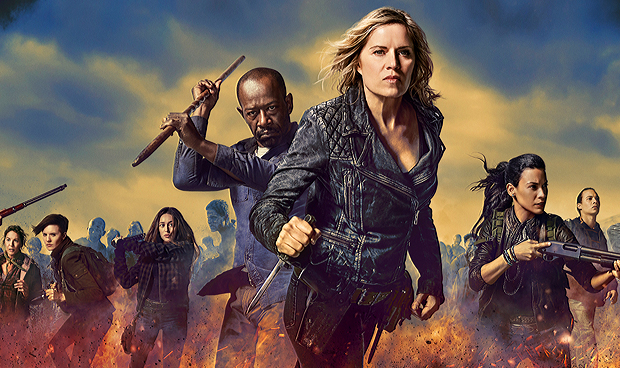 Warning: SPOILERS for Fear the Walking Dead Season 4, Episode 3.
Fear the Walking came into Season 4 as a series that was essentially rebooted, touting new showrunners, the import of The Walking Dead mothership show character Morgan Jones (Lennie James), an impressive trio of newcomers in Althea (Maggie Grace), John Dorie (Garret Dillahunt) and Naomi (Jenna Elfman), as well as a time jump, setting the show an unspecified number of years after the close of Season 3. However, with Episode 3, the show has unveiled what's clearly its boldest move.
The third episode of Fear the Walking Dead Season 4, titled "Good Out Here," showcased – in shockingly random fashion – the death of series original Nick Clark, played by Frank Dillane. The move instantly proves that new showrunners Andrew Chambliss and Ian Goldberg are not exactly shy about radically transforming the show dynamic. While the exit of the ever-eccentric Nick – one of the show's most popular characters – seemed like a vexing move for fans, the new bosses have a good reason. As Chambliss explains to THR:
"It actually goes back to season three, before Ian and I even came aboard. Frank Dillane had asked the producers and AMC if he could leave the show, because he wanted to pursue other opportunities. One of the first things we were tasked with when we came on to run season four was to find a story that would give Nick a fitting sendoff. He's been with the show from day one, so it was very important to us and to Frank to find a death for him that was emotional and one that would ripple forward throughout the storytelling."
As "Good Out Here" seemed to be winding down, Nick – whose motivations were not fully revealed – had just made the conscious decision to kill an enemy named Ennis (Evan Gamble), a main member of a group of plunderers called the Vultures that, as we saw in a flashback, chased his family away from their enclosed agrarian-based stadium community, the Diamond, using a young girl named Charlie (Alexa Nisenson) as a spy/saboteur. However, Nick's remaining affection for Charlie would become his undoing, since Charlie, having seen what Nick did to Ennis, shot him in the chest and ran away, leaving Morgan, Alicia (his sister), Luciana (his girlfriend), and Strand (his longtime friend) to witness his last moments.   
As Goldberg explains of Dillane's reaction to the handling of Nick's death:
"He was really receptive when we pitched him our idea for how he was going to close out Nick's story. We think he played it beautifully. He understood the emotional ramifications of it. He was very complimentary and has been great about the whole thing."
Unlike The Walking Dead's recent midseason cliffhanger demise of Chandler Riggs's Carl Grimes, there's no ambiguity here regarding the inside baseball behind why Nick met his fate, since it was the clear desire of Frank Dillane himself. Yet, it's still a devastating demise for Fear the Walking Dead, since the arc of Nick has been a fundamental aspect since the very beginning, back when the Clark family were still living in their suburban Los Angeles home during the depicted outset of the undead calamity, which was notably showcased through his struggles with heroin addiction, a state that would make him the earliest of the Clark clan to adapt – in morbid fashion – to the rules of the new world.
Nick's evolution, going from smack-addicted opportunist to death-obsessed nihilist to a pragmatic punisher of plunderers, took him to a place that paralleled Morgan's TWD Season 8 position as a cold killing machine, something that Morgan tried (unsuccessfully) to steer him away from becoming.
Interestingly, we have not seen the last of Dillane's Nick on the Fear the Walking Dead! This is due to Season 4's narrative structure, which jumps back and forth to "the present" – following (mysteriously Madison-less) familiars Nick, Alicia, Strand and Luciana with new acquaintances Morgan, Althea and John – and "the past" – a post-Season 3 point in which the Clark family (with Madison) attempt to create a community within a small Texas stadium, and meet newcomer Naomi, while harassed and sabotaged by the aforementioned Vultures. Consequently, while Nick's death eliminates him in "the present," the flashbacks of "the past" portion allows for more appearances (albeit posthumous ones). As Goldberg teases:
"It's safe to say that there's a lot more story to tell with Nick. We understand, to a certain degree, why he's so driven and why he's so violent toward Ennis in this episode. We kind of see the buttons Ennis pushes in him, if it's the fact that Nick essentially lost Charlie to this other family, the Vultures. He taunted Nick about keeping his family fed, playing on Nick's feelings of failure about the crops dying. There's more story to be told with Nick that we think will provide some emotional context for why he's such a different person when we find him in the present-day story than how we've seen him in the Diamond."
Regardless, while there's still a lot of unanswered questions about Nick's death, little Charlie has likely inherited the title of the most-hated kid character on TV from Game of Thrones' Olly. As the still-young season progresses, it will certainly be interesting to see what other tricks Chambliss and Goldberg have up their sleeves.
Fear the Walking Dead airs Sundays at 9 p.m. EST on AMC.