News
Fantasy Island Movie: Cast, Trailer, Release Date, Story, and News
Mr. Roarke is back, played by Michael Peña, ready to host guests in a Fantasy Island reboot, which is actually a horror movie!
"De plane! de plane!," alerted Hervé Villechaize's Tattoo to Ricardo Montalbán's Mr. Roarke before hitting the tarmac to greet weekly crafts filled with wealthy life fetishists on ABC's classic life-affirming adventure television series, Fantasy Island; words that will undoubtedly be shouted once again by another actor – this time to star Michael Peña – in the 2020 movie reboot of said series from the horror auteurs at Blumhouse.
Truth or Dare director Jeff Wadlow helms the film. Ryan Turek will oversee for Blumhouse and Matt Milam will oversee for Sony. Wadlow, who also directed the features Cry Wolf, Never Back Down, True Memoirs of an International Assassin, and Kick Ass 2, is also writing alongside Chris Roach and Jillian Jacobs. The film is being distributed by Sony Pictures.
…And yes, with Blumhouse cooking up Fantasy Island, the reboot effort, is, in surreal fashion, confirmed to go the horror movie route!
Fantasy Island Release Date
Fantasy Island is scheduled to land at theaters on February 14, 2020.
The Valentine's Day release date represents a move up from the film's original February 28 release date.
Fantasy Island Trailer
The final trailer for Fantasy Island is here!
And here's the first trailer:
Fantasy Island Poster
The first poster for Blumhouse's Fantasy Island served as initial confirmation of the film's status as a horror movie with its touting of the ominous tagline, "Never Coming Home," and tweeted teaser pun, "This island is a scream."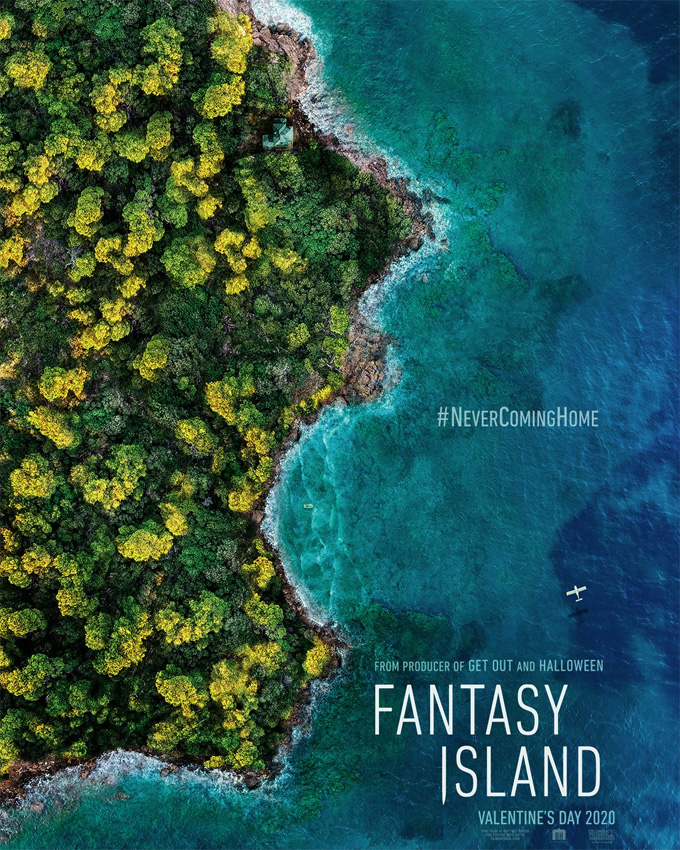 Fantasy Island Story
As the newly-arrived official synopsis for Fantasy Island reads:
The Enigmatic Mr. Roarke (played by Michael Peña) makes the secret dreams of his lucky guests come true at a luxurious but remote tropical resort. But when the fantasies turn into nightmares, the guests have to solve the island's mystery in order to escape with their lives.
Fantasy Island ran on ABC from 1977 to 1984 with a revival that ran between 1998 and 1999. The series was created by Gene Levitt. The series follows starred Ricardo Montalbán as the mysterious Mr. Roarke, who rented his mysterious island to rich people who could afford $50,000 for a fully-immersive fantasies. With small overtones of the supernatural, the series began as two TV movies before launching a TV series in 1978. The series, which guest-starred almost every TV actor of the period, also starred Wendy Schaal and Christopher Hewitt.
Fantasy Island Cast
Michael Peña headlines the film as its version of Mr. Roarke, originally portrayed in iconic, white-suited form by Ricardo Montalbán. Peña has, deservedly, seen his star rise significantly in recent years with scene-stealing performances as Luis in Ant-Man and Ant-Man and the Wasp, and a TV run on Netflix's Narcos: Mexico, with film appearances in The Mule, Extinction, A Wrinkle in Time and Collateral Beauty also banked. He'll next be seen in the August-scheduled live-action Dora the Explorer movie, playing Dora's father.
Lucy Hale (Life Sentence, Pretty Little Liars), Maggie Q (Designated Survivor, Nikita), Ryan Hansen (Veronica Mars, Ryan Hansen Solves Crimes on Television), Jimmy O. Yang (Crazy Rich Asians, Silicon Valley) and Portia Doubleday (Mr. Robot, Carrie remake), Michael Rooker (Guardians of the Galaxy), Charlotte McKinney (Flatliners), Parisa Fitz-Henley (Luke Cage, Jessica Jones), and Austin Stowell (Catch 22, Battle of the Sexes) round out the cast.
There's still no word yet on who, if anyone, will be cast as the movie version of Villechaize's Tattoo.
Culture Editor Tony Sokol cut his teeth on the wire services and also wrote and produced New York City's Vampyr Theatre and the rock opera AssassiNation: We Killed JFK. Read more of his work here or find him on Twitter @tsokol.
Joseph Baxter is a contributor for Den of Geek and Syfy Wire. You can find his work here. Follow him on Twitter @josbaxter.