News
Family Guy Season 15 Premiere Date and Mayor West Details
Fox's long-running, irreverent animated exploits of Peter Griffin and company will return on Fox with Season 15 this fall.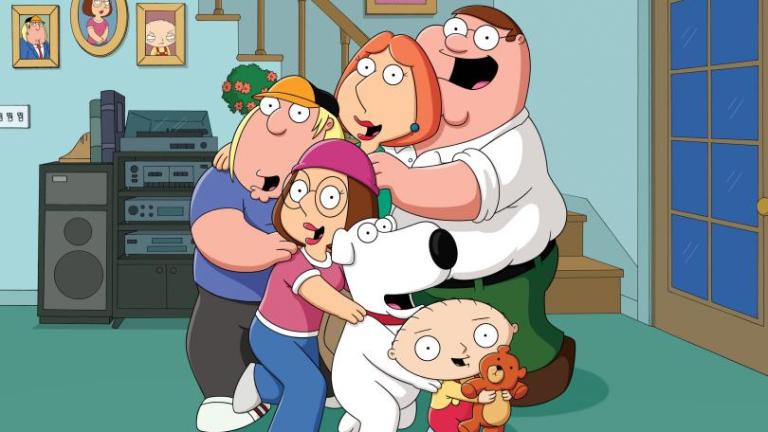 Whether you were tuning into the former "animation domination" block religiously each Fall Sunday, or catching up with the latest cut-away gags via YouTube, Family Guy remains one of the most accessible shows on television for a quick laugh. The show endures as the clear leader of the revival era, going from cancelled cult series to mainstream success and elevating its creator to comedy stardom. 
While creator and primary voicer Seth MacFarlane may have his hands full with upcoming live action sci-fi series, The Orville, he's not quite ready to leave the zany gang of the idyllic Quahog in the lurch, since Family Guy will, indeed, return for another season in fall 2017. In fact, Fox has officially confirmed when we can expect its premiere.
Family Guy Season 15 Details
A major narrative going into Family Guy Season 15 is the June passing of Adam West, who, of course, provided the voice for "Mayor West," a fictionalized, eccentric version of the iconic Batman television actor, who runs the show's little Northeastern hamlet. Thus, it will be interesting to see how the irreverent, levity-infused series handles this tragedy.
Executive producer Steve Callaghan revealed that Adam West had been in the recording booth for Family Guy Season 15. Consequently, Mayor West will be featured in five more episodes in the upcoming outing. When asked whether it is appropriate to use those last voice performances by West, Callaghan tells EW:
"I think the proper way to honor him is to keep the character in the show. There were two or three episodes where his character had been written in, but he hadn't yet recorded those, so obviously we've made accommodations for that. There was one scene where he was officiating a wedding, and it was easy enough to just have a different character do that. I [wouldn't] even consider having someone come in and try to imitate his voice."
However, the Family Guy team are not far enough along to know exactly how the series will address the comedic gap left in the wake of West's passing. Indeed, they're still working out what to do about last December's passing of Carrie Fisher, who also fielded a recurring voice role on the series. For now, Callaghan reveals that the Family Guy team are still going through a grieving process over West, explaining:
"We haven't really even had a full conversation about it. He just seems so irreplaceable. I don't know who could fill those shoes. If we do replace him, it would probably be a character that is very different, or maybe Quahog just goes without a mayor for a little while. There could very well be a situation where we leave that office empty as a tribute for at least some period of time. It's been a little too painful for us really get too deep into that conversation just yet."
On a lighter note, Callaghan discusses the upcoming (final) exploits of Adam West's Mayor West in Family Guy Season 15, revealing:
"At one point, Mayor West comes into possession of the $1 bill as he is hover-boarding through town with a rat in his pocket. Mayor West riding a hoverboard with a rat in his pocket — that's certainly something to look forward to…. Later in the season, Mayor West is called upon to preside over a ceremony for a group of millennials. It does not go well."
Family Guy Season 15 Premiere Date
Family Guy will return for what Fox is billiing as Season 15 (though, technically, it's Season 16,) on Sunday, October 1, 2017 at 9:00 p.m. 
Family Guy Season 15 will also be supporting a promising new Fox series. With The Simpsons anchored at 8:00 p.m. and Family Guy at 9:00 p.m., Fox will be hammocking its supernatural live-action comedy Ghosted (8:30 p.m.) starting on the October 1 premiere night.
While this announcement of another season for one of Fox's main animated staples, which goes back to 1999 (going solid since its post-cancellation resurrection in 2005), might seem like a perfunctory annual event, it actually comes as a relief for fans. Last year, fans had to sweat it out before finally getting the good news. Since MacFarlane has clearly been a busy man from starring-in and writing Fox's The Orville and from his role in director Steven Soderbergh's film Logan Lucky, there was no guarantee that Family Guy would remain on the Fox schedule. Obviously, it did… at least for one more year.
For now, we'll savor every Peter Griffin laugh like it's his last.