News
Fall TV Preview 2016: New Shows To Watch
We look at the incoming freshman shows we're excited about this Fall.
It's harder than ever for networks to make shows stand out. In 2016, #PeakTV means new original scripted series are popping up everywhere and freshman programs can get lost in the shuffle. Before you know it, something with potential is axed after only a handful of underappreciated episodes or that show you were meaning to get around to is all of a sudden four seasons in.
To cut through the clutter and help start your fandom off right by being there from the very beginning, we decided to highlight a few brand new series debuting this fall on network, cable, and streaming services that may have missed your gaze…
Designated Survivor – ABC
Kiefer Sutherland passed up a 10th season of 24, which moves along with the retooled 24: Legacy in 2017, for a different perspective on the fight against counter-terrorism. After spending nearly a decade saving the lives of presidents as Jack Bauer, Sutherland will fill the shoes as commander-in-chief on ABC's political thriller, Designated Survivor. The series from writer David Guggenheim (Safe House, Stolen) follows a Tom Kirkman (Sutherland), the Secretary of Housing and Urban Development, who becomes the "designated survivor" and is sworn in as president after all the members of the cabinent are killed in a terrorist attack.
With a cinematic feel to the trailer and a bankable lead, we'll see if Sutherland's reluctant president can capture the respect and attention of a nation on the rebound. Rounding out the cast is Natascha McElhone, Maggie Q, and Kal Penn. The series premieres September 21st at 10 p.m. on ABC.  
The Exorcist – Fox
Almost 40 years after Regan's head first spun a sickening 360 degrees in The Exorcist (and no doubt had plenty of moviegoers' eyeballs rolling back into their sockets), the diabolical thriller still projectile-vomits on screens everywhere around Halloween—and will now possess Fox as an all-new series. Starring Academy Award and Golden Globe winner Geena Davis (Commander in Chief, Thelma & Louise), Alfonso Herrera (Sense8, The Chosen), Ben Daniels (Flesh and Bone, House of Cards), Brianne Howey (Scream Queens), Hannah Kasulka (The Fosters), Alan Ruck (Spin City, Ferris Bueller's Day Off), the house of horrors is directed by Rise of the Planet of the Apes mastermind Rupert Wyatt off a screenplay by Jeremy Slater. Trust anyone who's dealt with alien gorillas to wrangle a body-snatching demon.
Let yourself get possessed by The Exorcist on September 23rd at 9 p.m. on Fox.
Frequency – The CW
Hollywood execs often sit in their cushy offices and recall Frequency, the feel-good 2000 Dennis Quaid film where a stroke of magic allows calls to the past that alter the future. With remakes and reboots being a costly mistake for some studios and networks, one remake that has a serious chance to stand the test of time is The CW's take on inter-decade radio communications.
Supernatural writer Jeremy Carver took the name recognition and seed idea of Gregory Hoblit's film and created an all-new story that follows a police detective (Peyton List) that connects with her deceased father via a ham radio. However, reconnecting doesn't come without a price. Communicating with the past causes a "butterfly affect," changing the present in unforeseen ways. Because current technology thwarts any contact with those in the past, we can't stop the trend of reboots and remakes. However, Frequency is the latest attempt to bring time travel into the mainstream, a cause we can all get behind when it premieres on October 5th at 9 p.m.
Goliath – Amazon
Goliath creator David E. Kelley is no stranger to the inherent drama of the courtroom. Receiving his Juris Doctor from Boston University School of Law, Kelley pivoted from a future as a lawyer to screenwriting, making his name in Hollywood developing shows about savvy, sometimes scandalous, attorneys like The Practice and Boston Legal. His new series for Amazon Studios, Goliath, treads similar ground. Billy Bob Thronton, who earned high praise for his recent TV work on FX's Fargo, stars as Billy McBride, a boozing, down-on-his-luck ambulance chaser who once was a savant attorney (so basically, a Billy Bob Thornton-type).
McBride lands a career-reviving wrongful death case that pits him against Cooperman & McBride, the big-time L.A. firm he helped found, and his former partner Donald Cooper (William Hurt). With a big, powerful enemy and a sometimes less-than-fair American legal system up against him, McBride tries to find redemption winning one for the little guy. Goliath premieres October 14th on Amazon Video.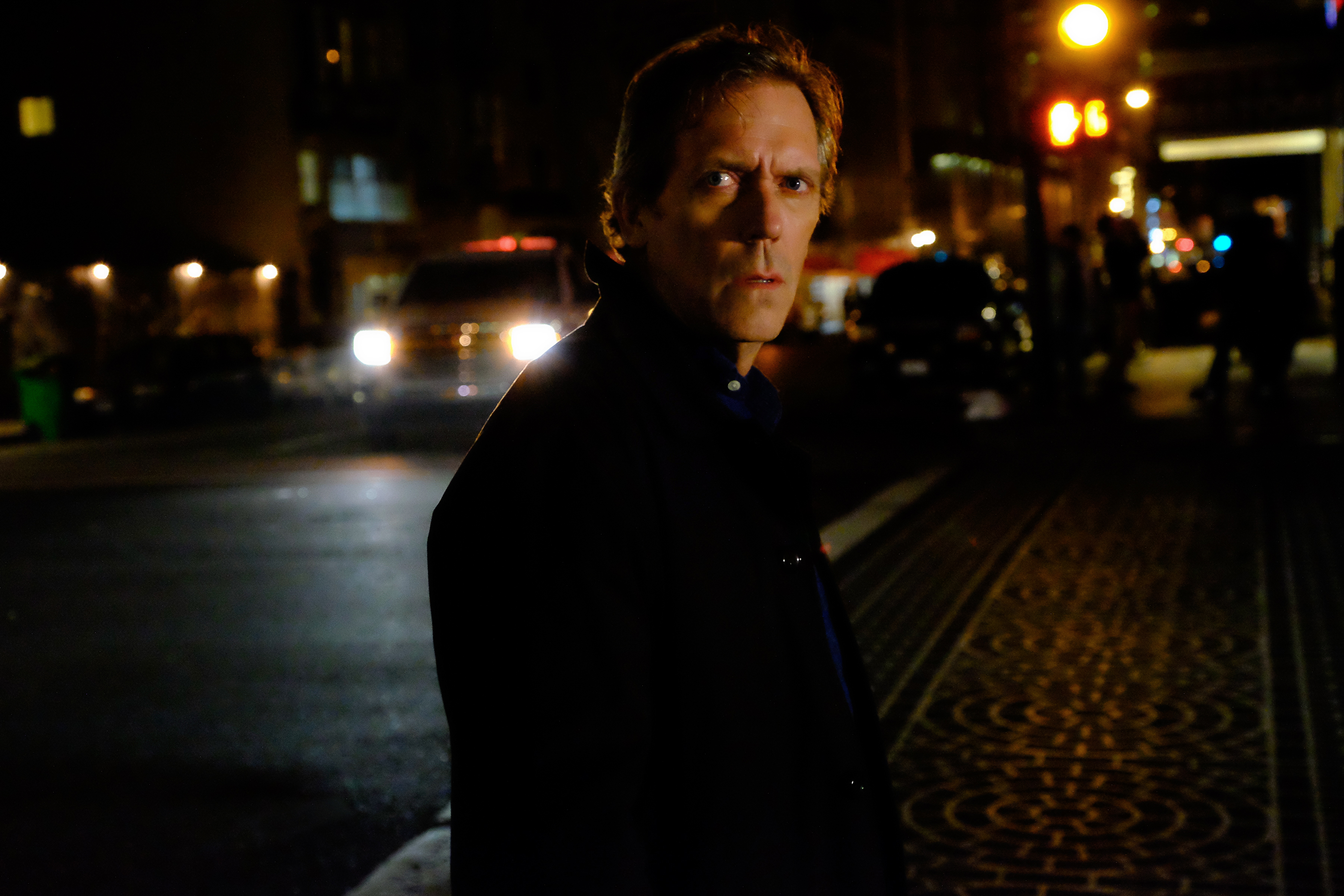 Chance – Hulu
Stop us if you've heard this one before; Hugh Laurie plays a brilliant, yet troubled doctor who is a diagnostic whiz. This isn't House though, the long-running Fox series that turned Laurie into a bonafide American television star – this is Chance, another series where Laurie plays the titular doctor. The similarities end there. Chance is based on the novel of the same name by Kem Nunn. It centers on forensic neuropsychiatrist Eldon Chance, a man going through a midlife crisis who crosses the line romantically with Jaclyn Blackstone (Gretchen Mol), a patient who may or may not have schizophrenia. Their affair puts Chance on a collision course with Jaclyn's husband, an abusive, corrupt police detective.
Their entanglement sends Chance on a downward spiral into California's Bay Area underbelly. Promised to be full of sex, violence, intrigue, and psychological thrills, Chance is set for a 10-episode season on Hulu with a second season already ordered. Academy Award nominee Lenny Abrahamson (Room) directs many of the first season episodes, and the series also stars LisaGay Hamilton, Paul Adelstein, and Ethan Suplee. Chance premieres October 19th on Hulu.
Black Mirror – Netflix
Charlie Brooker's mesmerizing anthology series Black Mirror was swooped up by Netflix and given a third season episode order nearly larger than the current total of episodes (7). Handsomely paying for more Black Mirror (we'll be getting six episodes in this batch) is as good of a use of Netflix's monopoly money as any. With directors like Joe Wright and 10 Cloverfield Lane's Dan Trachtenberg helming episodes, Brooker back doing much of the writing, and actors like Bryce Dallas Howard, Alice Eve, and Mackenzie Davis featured, fans have high expectations for a show that questions our culture of technology in a way that would make Twilight Zone creator Rod Serling proud. Black Mirror season 3 hits the streaming service on October 21st. 
Dirk Gently's Holistic Detective Agency – BBC America
Max Landis (Chronicle) may have a dozen movie projects up in the air in Hollywood, but that didn't stop him from carving out some time to be the writer and executive producer for BBC America's new science-fiction detective series, Dirk Gently's Holistic Detective Agency. Loosely based on Douglas Adams' novel series of the same name, Dirk Gently stars Elijah Wood as Todd, a reluctant participant in the bizarre murder case of a millionaire, who is roped into the wild, surreal mystery by Samuel Barnett's titular time traveling-detective.
Dirk believes he and Todd are destined to solve the mystery together, brought together by the universe, and the pair is soon launched down a dangerous, comical path full of killers, cults, cats, and more. The colorful cast of characters also features Hannah Marks, Richard Chiff, Jade Eshete, Fiona Dourif, Michael Eklund, and Mpho Koaho, among others. Move over, Sherlock and Watson! Premieres October 22nd on BBC America.
Stan Against Evil – IFC
When a network that already has a penchant for odd humor hands the reigns to former Simpsons writer and comedian Dana Gould, it was clear something funny was going to come out of it. What viewers will come to learn is that Gould plans to swing the pendulum of his horror-comedy Stan Against Evil to spooky side of the spectrum far more often than you'd expect.
"There is not a show like it on," Gould told Den of Geek. "It does swing back and forth the trick is to keep them both in the same wavelength so that it's the same reality, that the humor work, and the scares work, and they exist in the same world."
Stan Against Evil stars John C. McGinley as a disgruntled former sheriff of a small New England town who joins the town's new sheriff (Janet Varney) in a battle against a plague of demonic creatures. The series spooks its way onto IFC with a special sneak-peek on Halloween night at 11 p.m. and premieres on November 2nd at 10 p.m. with back-to-back episodes.
Midseason Shows
Since we're spoiled with variety and volume, we couldn't helo but look ahead to the midseason shows we're excited about for early 2017…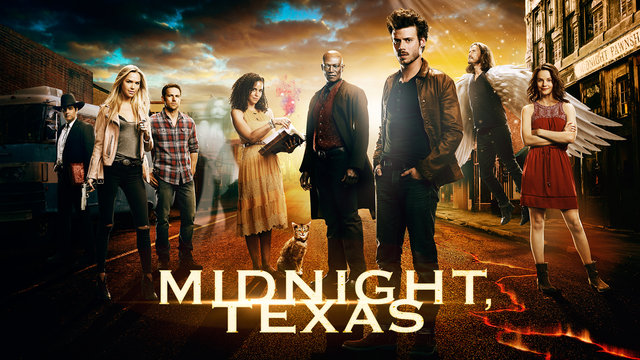 Midnight, Texas – NBC
Rising from the grave will be True Blood author Charlaine Harris' bestselling book trilogy Midnight, Texas, which may be sans Eric Northman but haunted by a new cast of witches, werewolves, psychics, hit men, and, yes, vampires. François Arnaud (The Borgias), Dylan Bruce (Orphan Black), Parisa Fitz-Henley (Jessica Jones), Arielle Kebbel(True Blood,The Vampire Diaries), Sarah Ramos (American Dreams, Parenthood), Peter Mensah (True Blood, Spartacus,Sleepy Hollow), Yul Vazquez (American Gangster) and Sean Bridgers (Deadwood, Rectify) star in Mr. Robot director Niels Arden Oplev's latest supernatural endeavor. Oplev will also executive produce next to David Janollari and screenwriter Monica Owusu-Breen (Fringe, Agents of S.H.I.E.L.D).
Midnight is just your stereotypical Texas ghost town, a dusty graveyard of phantom buildings, boarded-up windows, and tumbleweeds blowing around one lonely traffic light—until you realize it isn't as lifeless as it seems. The corner of Witch Light Road and Davy Road is haunted by peculiar residents with even stranger secrets. There is a psychic who has just found the perfect refuge. A vampire who slinks in the shadows. Someone lurks in the basement of the pawnshop. Rumor has it that even an angel has flown down to what looks like the most forsaken of forsaken places. There is a reason why this off-the-grid haven attracts so many strange residents, and they band together against the threat of exposure to keep their sanctuary in the shadows. 
Midnight, Texas is hiding somewhere on NBC's 2016-17 schedule.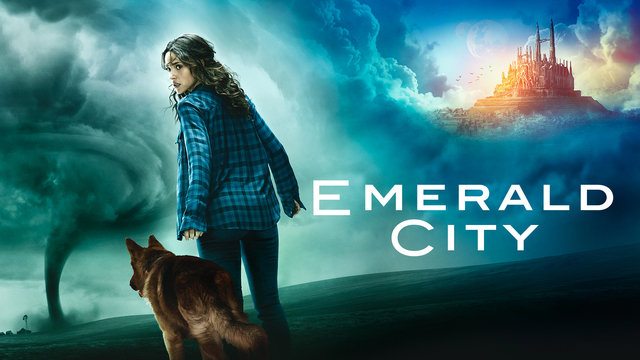 Emerald City – NBC
The Land of Oz has undergone an edgy revamp for NBC's Emerald City. Directed and executive produced by Tarem Singh (Mirror Mirror, The Cell), Josh Friedman (Avatar 2, War of the Worlds), and Matthew Arnold (Sibera), the fantasy/drama series is an even darker take on the movie responsible for scaring every kid since 1949 with the Wicked Witch of the West and the disembodied green head of Oz. L. Frank Baum's mystical world will also be brought to life by co-executive producers and writers David Shulner (Do No Harm, Dracula, The Event) and Shaun Cassidy(Invasion, American Gothic) and stars Adria Arjona as Dorothy, Oliver Jackson-Cohen as her love interest Lucas, and Florence Karumba as the Wicked Witch of the East who doesn't necessarily stay dead.
When Dorothy Gale (in a blue checked button-down that mimics Judy Garland's gingham dress) and her K-9 police dog (a German Shepherd that dwarfs the original Toto) disappear in a tornado, the unsuspecting college student lands in a war-torn world of danger and magic. The yellow brick road is fraught with everything from warring realms to strange creatures to villains gone glamorous—think the Wicked Witch of the East trading in those striped stockings and bedazzled shoes for a sweeping red couture dress. The characters you grew up with and possibly dressed up as for Halloween will show up in totally unexpected ways as the fate of a random girl from nowheresville is entwined with the fate of kindgoms.
Emerald City will start down the yellow brick road in 2017.
Time After Time – ABC
Landing in this era is The Vampire Diaries executive producer and writer Kevin Williamson's Time After Time, a whirlwind TARDIS-esque adventure based off Karl Alexander's 1978 sci-fi novel and the fantastical movie that fast-forwarded H.G. Wells (the same sci-fi genius who frightened a nation into thinking The War of the Worlds was an actual newscast) decades into the future to carry out an unprecedented mission. Freddie Stroma (Harry Potter and the Deathly Hallows), Jennifer Ferrin (Life on Mars, Falling Skies), Josh Bowman (Revenge), Genesis Rodriguez (Big Hero 6, Entourage), Nicole Ari Parker (Boogie Nights, Murder in the First), and Jordin Sparks (Zoe Ever After), star in Williamson's time warp, which he wrote and also produced next to former Vampire Diaries collaborator Marcos Siega.
Launched from the turn of the century and trebucheted through time, H.G. Wells is bent on investigating a case that was never quite buried. It's déjà vu for Wells when he navigates the back alleys of modern-day San Francisco hunting for infamous ladykiller (in both senses of the word) Jack the Ripper (Bowman). What Wells doesn't realize when he is first showing off his shiny new time machine back in the 19th century is that the Ripper, under a pseudonym, is nonchalantly watching among the captivated audience. He hijacks Wells' time machine and escapes into the future just as cops close in. Wells takes off to pursue the killer through the decades as he slips between the shadows—and centuries—ravaging and murdering women at will after dusk. 
Time After Time arrives in 2017, so no time machine is necessary.
For more discussion of the fall TV lineup, listen to the September edition of Sci Fi Fidelity below, and subscribe! iTunes | Stitcher | Soundcloud