News
Fahrenheit 451: Amazing Full Trailer for HBO Movie
HBO's Fahrenheit 451 movie looks awesome.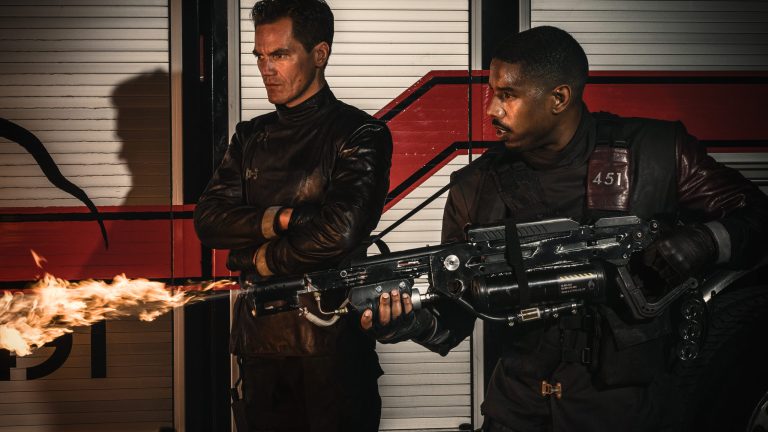 Have you ever seen a physical book before? In the before-time, as South Park might put it, when words were printed on pulped out wood, science fiction writer Ray Bradbury warned about suppressing ideas by limiting thought. Of course, he may have been worried about collecting royalties, but his novel Fahrenheit 451 became a part of the curriculum at schools nationwide. HBO Films' adaptation of that novel will air this spring.
Fahrenheit 451 depicts "a future where the media is an opiate, history is rewritten and 'firemen' burn books," according to the official synopsis.
The movie was directed by Ramin Bahrani, who helmed 99 Homes, from a screenplay by Ramin Bahrani and Amir Naderi (Vegas: Based on a True Story).
"I have always loved Ray Bradbury's prophetic novel Fahrenheit 451," Bahrani said in a statement. "Two years ago, as I looked at the world around me, it seemed like the ideal time to do a modern interpretation. I am grateful to HBO for helping me bring my vision of the film to audiences with this incredible cast."
Fahrenheit 451 Trailer
The first full trailer for HBO's Fahrenheit 451 is here, and it looks amazing…
Check out the earlier trailers…
Fahrenheit 451 Release Date
Your books will burn on May 19.
Fahrenheit 451 Cast
Fahrenheit 451 stars Michael B. Jordan (Black Panther, Creed, Fruitvale Station) as Montag, a "young fireman who forsakes his world and struggles to regain his humanity as he battles his mentor, fire captain Beatty, played byMichael Shannon (The Shape of Water, Boardwalk Empire, Nocturnal Animals, Revolutionary Road). Sofia Boutella (The Mummy, Kingsman: The Secret Service) stars as Clarisse, an "informant caught between the competing interests of Montag and Beatty." Lilly Singh (Bad Moms, YouTube's Superwoman) plays Raven, a "tabloid reporter who works with the fire department to spread the ministry's propaganda by broadcasting its book-burning raids to fans."