News
F is for Family Season 4 Trailer and Release Date
Netflix's adult-aimed animated family comedy, F is for Family, returns for a filthy fourth season.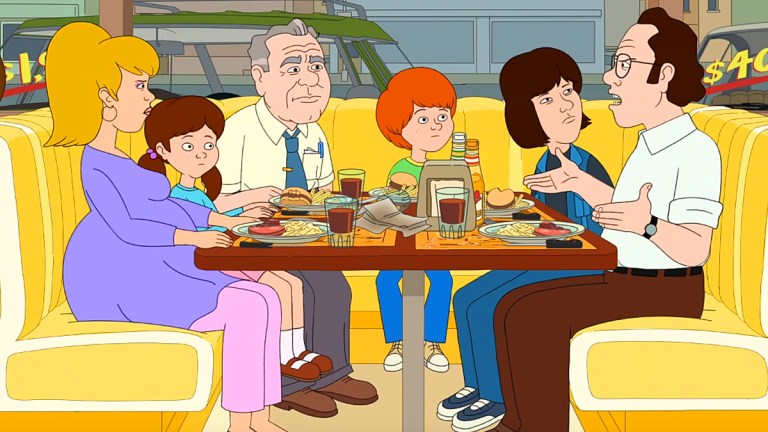 F is for Family Season 4 is coming soon to Netflix.
The animated sitcom, set in the U.S. suburbs in the 1970s, brandishes adult-themes that render it not quite fit for primetime network television. Yet, its driving force has been its central character, irascible family man and Korean War veteran, Frank Murphy, a La-Z-Boy-riding bell-bottom-era bygone generational mouthpiece for the PC-pulverizing rants of comedian (series co-creator,) Bill Burr; a character who could be described as an animated amalgam of Archie Bunker and Al Bundy.
Burr co-created F is for Family with Michael Price, a writer and co-executive producer on Fox's The Simpsons and Lego Star Wars: The Yoda Chronicles and Lego Star Wars: Droid Tales. Along with the creative duo, the show's array of executive producers consists of Vince Vaughn, Peter Billingsley, Katie O'Connell, Elisa Todd Ellis, Sidonie Dumas and Christophe Riandee.
Joining raucous ranter Burr on the series is an impressive voice cast that consists of names like Laura Dern, Justin Long, Sam Rockwell, Debu Derryberry, Mo Collins and David Koechner.
With the fourth season renewal having been secured back in January 2019, F is for Family will assuredly bolster Netflix's lineup of mature animated content, which currently consists of shows such as the popular (Comedy Central rerun-securing) BoJack Horseman, Matt Groening's renewed fantasy series, Disenchantment, Big Mouth and Paradise PD.
F is for Family Season 4 Trailer
The trailer for F is for Family Season 4 previews the arrival of a crotchety wrench in the Murphy family works in Frank's long-estranged father, Bill, voiced in a signature ominously-paternal form by Jonathan Banks. Of course, outside of that demented Cat's in the Cradle quandary, Season 4 is clearly teeming with more of the '70s retro raucousness you've come to expect from the show.
The arrival of Banks's fatherly character was recently previewed in the teaser seen just below.
F is for Family Season 4 Release Date
F is for Family Season 4 hits Netflix Friday, June 12.
The series made its debut on Netflix on December 18, 2015, subsequently dropping Season 2 on May 30, 2017. While the series got back to a fourth quarter release strategy when it premiered Season 3 on November 30, 2018, Season 4's June 2020 date once again makes it an early summer offering.