News
Explorers Reboot TV Series from Cary Fukunaga and David Lowery Set for Paramount
Explorers, the 1985 sci-fi film, is getting adapted as a TV series for Paramount by the impressive duo of Cary Fukunaga and David Lowery.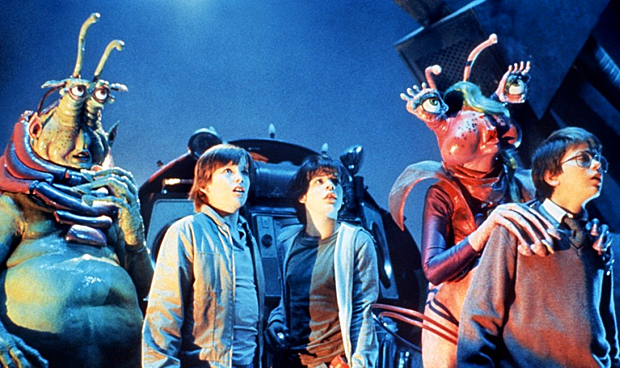 Explorers arrived anemic on the box office scene back in 1985, manifesting as one of several contemporaneous wide-eyed optimistic sci-fi films with prodigious child actors, two of whom were Ethan Hawke and River Phoenix. However, as the 1980s continues to be mined for reboots, it was only a matter of time before the industry revisited Explorers. Indeed, that is now happening in the form of a Paramount TV series. Yet, the names attached to the project might just give knee-jerk skeptics something to ponder.
Cary Fukunaga (Maniac, True Detective) and David Lowery (The Old Man & the Gun, Pete's Dragon) have been tapped to develop a TV series adaptation of 1985's Explorers for Paramount Television, reports Deadline. According to the trade, the duo will collaborate on a script and pen the show bible, and it is expected that one of them will ultimately occupy the director's chair for the prospective pilot. Fukunaga will serve as an executive producer with Hayden Kiessling on behalf of Parliament of Owls. Lowery, along with James Johnston and Toby Halbrooks are onboard in the same capacity on behalf of Sailor Bear Productions.
1985's Explorers, directed by Gremlins and The Howling helmer Joe Dante, and written by Eric Luke, depicts the story of a boy named Ben (Hawke), obsessed with 1950s sci-fi aliens movies, who experiences a recurring dream that incites him to build a circuit board, eventually involving his technically-minded friend, Wolfgang (Phoenix), and another friend in Darren (Jason Presson), with whom he constructs a crude spaceship called "Thunder Road," named after the Bruce Springsteen song. However, the kids' outer-planetary test spin puts them on the radar of friendly aliens – who are also weaned on schlocky Earth sci-fi – and a dangerous group of space pirates.
With Netflix's Stranger Things having successfully revived the genre and tropes from which Explorers was conceived, it's not hard to deduce that Paramount is looking to duplicate that nostalgia-reinventing magic for its own small screen purposes.
Fukunaga recently landed the coveted directorial gig of the 2020-scheduled 25thJames Bond film. Having rose to prominence from his TV work on HBO's True Detective, he is one of the busiest people in the industry, just coming off his written/directorial/executive-producing work on the Emma Stone/Jonah Hill Netflix series, Maniac, and served as executive producer on TNT's imminently-returning early-20th century-set crime series The Alienist. He also directed the Netflix movie that created a distribution uproar in Beasts of No Nation and worked on the screenplay for 2017 Stephen King adaptation, It.
Lowery, who broke out as the writer/director of the 2013 crime drama, Ain't Them Bodies Saints, has since fielded an interesting array of efforts, from Disney adaptation Pete's Dragon, war drama The Yellow Birds, supernatural romantic effort A Ghost Story and, most recently, the Robert Redford-starring comedic crime drama, The Old Man & the Gun. He's also attached to write and direct Disney's developing Peter Pan live-action film.
We'll keep you updated on the Explorers TV series as news arrives.
Joseph Baxter is a contributor for Den of Geek and Syfy Wire. You can find his work here. Follow him on Twitter @josbaxter.