News
Exclusive: US SyFy Channel Unveils Its New Line-Up
As the Sci-Fi Channel changes its name to the far more mainstream-friendly SyFy, we've uncovered its programming plans...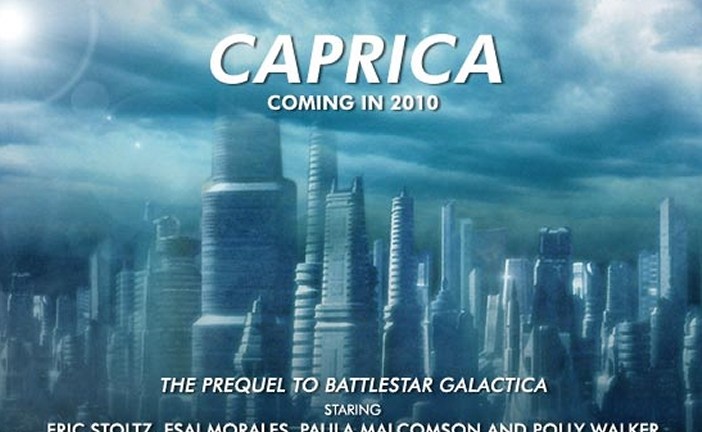 In line with the Sci-Fi Channel's decision to change its name to SyFy, in a bid to remove any association "with geeks and dysfunctional, antisocial boys in their basements" and instead court "the general public and the female audience in particular", Den Of Geek can reveal the early plans for the new channel's line up when the switch happens on. This is all highly confidential, of course, so we're not going to be as stupid as to put it on the Internet or anything. Er…
Caprice (formerly known as Caprica)
The Battlestar Galactica prequel isn't going to be called Caprica any more, instead being named after the new name that SyFy has managed to lure to the show. Caprice will be set 50 years prior to Battlestar Galactica, as humanity strives to simply look as beautiful and glamorous as it possibly can. Rumours are some Cylons may turn up in the third season, "for the geeks", but all the characters will have had so many cosmetic procedures by then, they literally won't be able to see them. SyFy couldn't confirm that it's talking to the cast of Desperate Housewives about cameo roles.
Bionic Women
In the quest for the perfect makeover, this fascinating fly on the wall documentary series will uncover the stories of women who quite literally had their body parts replaced with synthetic new ones, simply to look as beautiful as possible. Plus! For the first season, SyFy will be running a contest where an ORDINARY MEMBER OF THE PUBLIC can join in for season two!A Town Called Alba
In this brilliant, innovative new show, Jessica Alba is drafted in to a small, remote town in America, and gets to run it! Her first decision, naturally, is to change the name of the town to Alba, and she goes about teaching the residents how to be invisible but still show their underwear, how to dance provocatively in bars, and how to pick the wrong remake of an Asian horror movie to star in. Jessica will be available for a webchat after episode three. Send your questions in within the next hour, though, as they need to be 'vetted' in advance to stop anyone asking anything interesting.Flash Gordon
A brand new reimagining of the classic comic strip, this time in the guise of a brand new reality show. Each week, viewers will be able to vote as to who Gordon goes around and flashes, with hilarious consequences. SyFy has promised an unrated DVD complete with the "bits we wouldn't show on TV". The cads!Mission Genesis
A remake of an old Sci Fi Channel show from 1997, although clearly all that spaceship nonsense has to go. In its place is an exciting chance for an ORDINARY MEMBER OF THE PUBLIC to join the band Genesis for a one-off concert. Auditions commence in the next few weeks. SyFy has confirmed that we'll be getting a full 13 week season, with 12 weeks of "hilarious" audition tapes, followed by a 19 hour live finale.Timecop
A new twist on cop reality shows! A series of new law enforcement officers are given just one hour – including ad breaks – to solve a series of crimes! Can they do it, or will they be voted off by the team of big business sharks posing as judges at the end? You'll have to tune in to find out…Starmate
Here's proof that SyFy hasn't lost its science fiction roots altogether! The channel has come to a special agreement with MGM for a special Stargate spin off. It's a dating show with a difference, as, over ten weeks, a team of ten men and ten women will be whittled down to one couple, who will both be sent off into space!
The Real Lost
Teams of celebrities are sent into a maze without a map, compass, Blackberry or assistant, and have to find their way out, after completing some "amazing" and "exciting" challenges. Already confirmed for season one are some washed-up US football stars, that bloke out of Police Academy from the photo booth, and, of course, Donald Trump.
SyFy News On The Hour
Who wants to actually watch the news on the telly? Don't you find it's the boring bit that gets in the way? SyFy agrees! So instead, it's come up with a radical new way of delivering the day's events to you. Every hour, an icon will appear on the screen for 30 seconds. If you push a special button on your remote, the news will be texted to your mobile phone instead! Sample text: K8 Winslet winz Oska 4 gr8 per4mans n Reada. Lol.
The Ex-Files
And finally, here's a coup and a half. SyFy is, we understand, in late negotiations with Jerry Springer to host this "hilarious" show, where couples who split up are reunited to smash the living shit out of each other live on television! This never-seen-before television "event" will feature never before seen viewer interaction, where you can vote – live! – on the website as to which couple should appear on the show next!
In separate news, the channel has also revealed that it's canning its planned repeats of Dark Angel, Star Trek and The Twilight Zone, and is instead bidding to get the rights to repeat seasons one to four of Friends. They'll keep the episode where Rachel dresses up as Princess Leia, in order to – according to this press release – "keep in touch with the audience who got us to where we are today".