News
Exclusive Sneak Peek: Wynonna Earp Season 2 Episode 2
Wynonna struggles to keep her snark in check in this exclusive look at this week's episode of Wynonna Earp...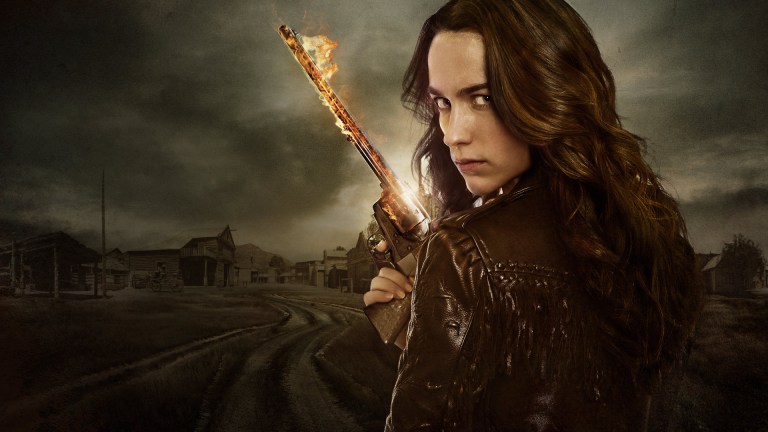 We have an exclusive sneak peek at tomorrow's episode of Wynonna Earp! In it, we see Wynonna (Melanie Scrofano) playing relatively nice with Agenty Lucado (Kate Drummond) — don't worry, there's still plenty of signature snark. This wouldn't be Wynonna Earp without it.
In the scene from "Shed Your Skin," Lucado and Wynonna's crew work to come up with a strategy for taking out all of the demonic entities that fled into the Black River Triangle. As you might expect, Wynonna and Agent Lucado have some different ideas about how to go about it. While Lucado is all about a meticulously-outlined strategy, Wynonna has always operated more on instinct.
Meanwhile, Dolls (Shamier Anderson) is still missing, Doc (Tim Rozon) has a mysterious "prior commitment" (could it have to do with Dolls?), new guy Jeremy (Varun Saranga) is coming up with a revenant-tracking algorithm, and (Waverly Dominique Provost-Chalkley) mentions Nicole (Katherine Barrell). Check it out…
Here's the official synopsis for "Shed Your Skin":
While Waverly's change accelerates and Doc makes a dangerous deal, Wynonna must fight spider creatures. Yep.
If you want to find out more of what's in store for Wynonna in Wynonna Earp Season 2, check out our updated news hub. If you're wondering what we thought of the Season 2 premiere, check out our review of "Steel Bars and Stone Walls."
Wynonna Earp's "Shed Your Skin" airs Friday, June 16 at 10pm ET on Syfy. Check back here after the episode for our full review!