News
Exclusive: Bravest Warriors Get Brainwashed
In this exclusive clip from the newest episode of Bravest Warriors, Chris gets his mind messed with!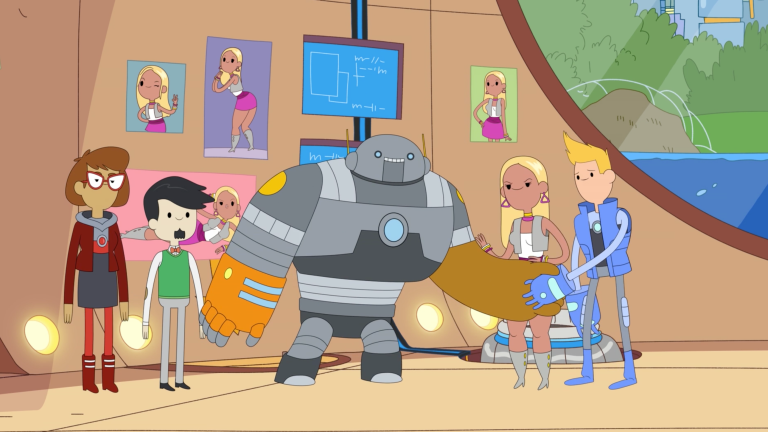 The Bravest Warriors heroes aren't immune to the power of brainwashing! Are any of us, really? We've got an exclusive clip from an upcoming Bravest Warriors episode that features Chris' mind getting scrambled by imposters. Watch it below!
Okay, Water is amazing. The disturbingly authentic human arm really makes it. How can you not be ensared by those perfectly human like fingers? Let's let this guy show up every episode. What if it slowly become a disturbingly authentic human in every single respect, not just with the arm? Pendleton Ward's series always have a way with this kind of stuff and we love it.
Bravest Warriors
exclusivly airs on VRV
on the Cartoon Hangover Channel
and is in its fourth season. The series follows four teenaged heroes-for-hire as they warp through the universe to save adorable aiens and their worlds using the power of their emotions. Here's the description for the episode this clip comes from!
After Jenna and her gang infiltrate the Hideout, the Bravest Warriors must fight to reclaim their home and compel Chris to remember that he's on their side! Then, when he thinks Plum is in danger, Chris's Emotion Lord powers get the best of him, and he winds up stalking her super creepy-like while she runs a series of mysterious errands.
Super creepy? That sounds messed up (but in a way we can't wait to see!) This episode of Bravest Warriors airs Friday, October 26th on VRV. Make sure to catch it and see how Chris gets out of this! Will all those posters trick him? How will he remember his true friends? You'll have to watch the newes episode and find out! 
Shamus Kelley is a pop culture/television writer and official Power Rangers expert. Follow him on Twitter! Read more articles by him here!