News
Everything Sucks! Trailer, Release Date and More for Netflix 1990s Comedy
Everything Sucks!, a quirky 1990s-set comedy following teen misfits, will arrive at Netflix.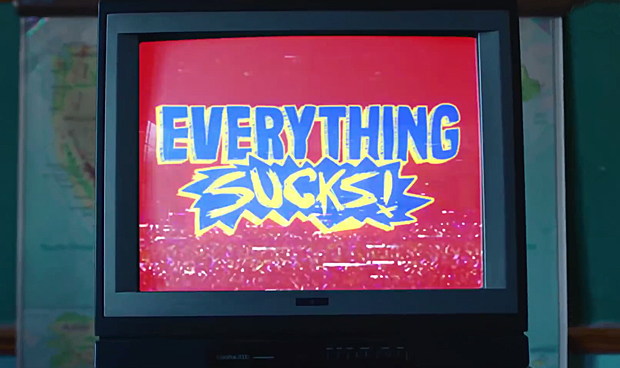 While the insane array of originals on Netflix's backlog probably can't be accurately categorized by any one offering, the streaming giant has taken a special shine to nostalgia, evidenced by the embracing of the 1980s-era idiosyncrasies of Stranger Things, its fostering of the 2001 (early 1980s-set) cult film Wet Hot American Summer into a television franchise, as well as Full House spinoff Fuller House. However, teen comedy series Everything Sucks! brandishes a mantra that fits in the angsty era in which it will take place: the 1990s.
Everything Sucks! Trailer
"God, I love the Net!"
…And "the Net" still loves you, evidenced by the fact that it has, by way of Netflix, provided the first Everything Sucks! trailer, minus the dial up modem cacophony.
Amongst the array of 1990s iconography and tropes lies an irreverent take on the high school experience, that – in a comparison that can't be evoked enough – is clearly reminiscent in tone of the early-1980s-set hijinks of the bellwether 1999-2000 dramedy series, Freaks and Geeks. Of course, the primary difference is that this show takes place in an era in which Alternative Rock and Gangster Rap ruled, and the basic day-to-day operation of the overwhelming Windows 95 operating system upgrade required an instructional video cassette starring the cast of Friends.
However, the trailer reveals that the trials and tribulation of its pubescent cast will be complemented with the equally confused existence of their parents, specifically the ones who find themselves single (a phenomenon that became more common in the 90s), whose stories seem to share the spotlight in the series.
Below is the first teaser for Everything Sucks!, which served as an announcement video for the series, showcasing the young high-school-aged cast.
In the town of Boring, Oregon, we are introduced to the show's 1996-set environment in a classroom, with a jaded substitute wheeling out the familiar teaching tool of a thick TV on a cart attached to a VHS, while the bored kid cast use Wite-Out to correct assignments still crudely done on paper, showcase iron-ons on denim jackets, listen to a Discman and hash out dirty pics on a calculator – you know, things that kids in 1996 would purportedly do?
On a side note, the clip's effective usage of Pop-Up Video pop-ups is especially sobering, since the 1996-launched VH1 video series itself was often a 1990s-era nostalgia dive that looked back at popular music videos of the 1980s. It's as if the concept of nostalgia is starting to cannibalize itself.
Everything Sucks! Release Date
With that first morsel of Everything Sucks! in the teaser comes the announcement of its release date of February 16.
Everything Sucks! Poster
Netflix also released a poster for series, along with a handful of stills.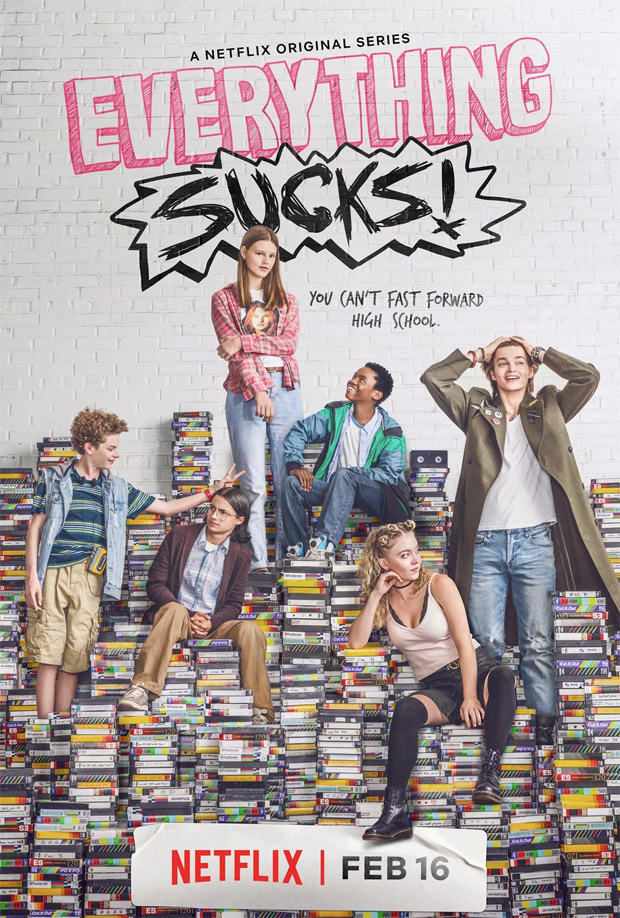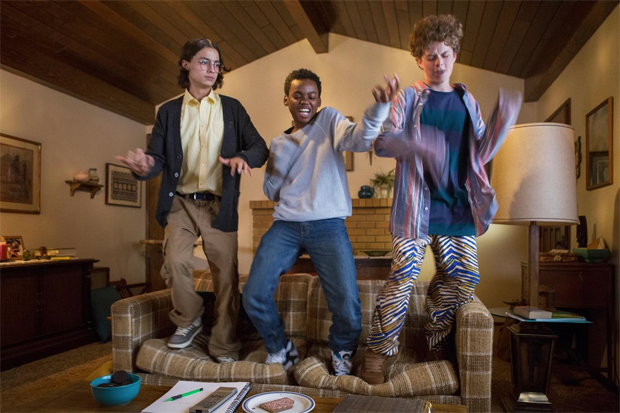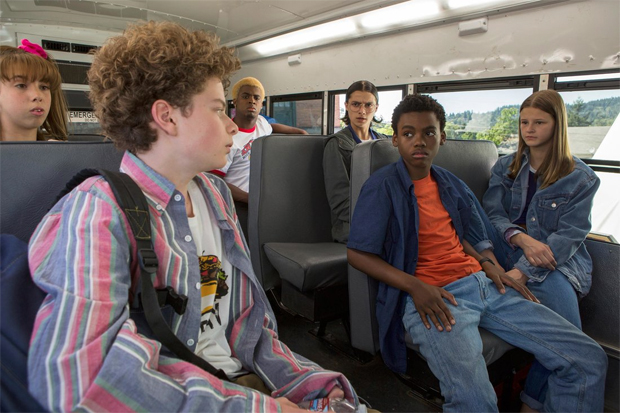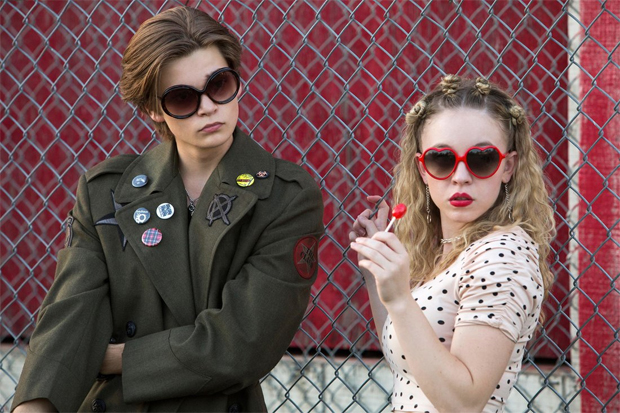 Everything Sucks! Details
Everything Sucks! manifests as a half-hour dramedy with a 10-episode inaugural season. The series, which will properly tap into 1990s nostalgia by setting itself in 1996, is the brainchild of writers/executive producers Ben York Jones (Like Crazy) and Michael Mohan (Save the Date). The duo will also direct some of the episodes. As the Jones/Mohan team express in a statement:
"Some of our favorite shows of all time — The Wonder Years, Happy Days, That 70s Show, Freaks and Geeks — looked back at bygone eras with 20 years of hindsight. We think this is a great time to take a look back at high school and relive the fashion, music, and attitudes of the mid-'90's the way we remember it. Not sensationalized, not watered down; but desperate, heartfelt, awkward, and exciting."
Everything Sucks! is described as "a quirky, funny coming-of-age story that follows two groups of high school misfits, an A/V club and a Drama club who collide in 1996 Oregon." The two main star students in the series are Peyton Kennedy (American Fable) as Kate Messner and music/acting prodigy Jahi Winston (The New Edition Story) as Luke O'Neil. They are joined by parental figures with Patch Darragh (Boardwalk Empire) as Kate's father and Claudine Nako (Grimm) as Luke's mother. Sydney Sweeney (Emaline), Elijah Stevenson (Oliver), Quinn Liebling (Tyler) and Rio Mangini (McQuaid) also appear.
Joining Jones/Mohan for Everything Sucks! are producers Josh Appelbaum, André Nemec, Jeff Pinkner and Scott Rosenberg; a quartet, operating under the collective name Midnight Radio. Their company is responsible for the CBS sci-fi drama Zoo and the upcoming History Channel Templar Knights series Knightfall.