News
Game of Thrones: Emilia Clarke Confirms Coffee Cup Culprit
Game of Thrones' Mother of Dragons, Emilia Clarke, reveals which cast mate told her the coffee cup was his...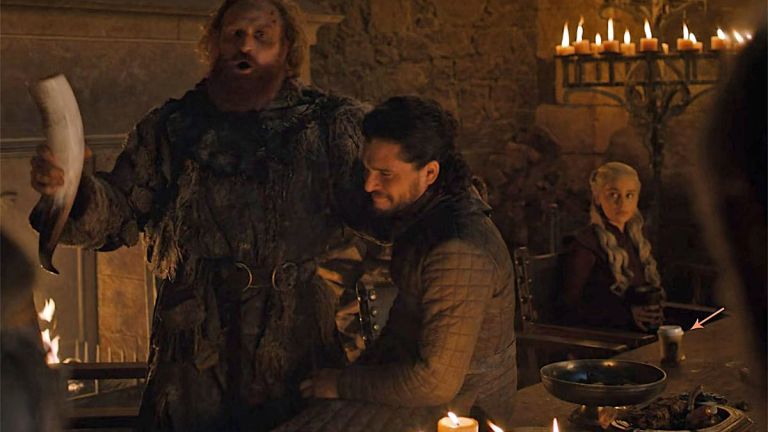 In a testament to the probing issues fans like to debate in the age of social media, one of the biggest "controversies" from the final season of Game of Thrones is just who exactly did THAT coffee up belong to? You know the one of which we speak. Marked by what appears to be a Starbucks lid, the very modern coffee cup appeared in the fourth episode of Game of Thrones Season 8 when Daenerys Targaryen attempts to lead Winterfell in a gregarious mourning of the recently fallen dead. But sitting by her side at the high table in a shot is a decidedly un-Westeros, and non-medieval, cup of joe.
For months fans have speculated with memes and hashtags who is responsible for the gaff, with many fingers pointing toward the Mother of Dragons herself, Emilia Clarke. However, Clarke is having none of it. Appearing on The Tonight Show with Jimmy Fallon earlier this week in promotion of her new holiday rom-com, Last Christmas, Clarke attempted to set the record straight when Fallon reminded her that co-star Sophie Turner mockingly suggested on The Tonight Show that Clarke was responsible. Yet since that Sansa appearance on NBC, there have been developments that Clarke thinks settle who is to blame.
"We had a party before the Emmys recently," Clarke said, remembering Varys actor Conleth Hill coming up to her then. "He pulls me aside and he's like, 'Emilia, I've got to tell you something, I've got to tell you something, love. The coffee cup was mine.' It was his! It was Conleth's coffee up."
A shocking revelation, at least by social media standards. And it was that very oversized reaction that caused Hill to apparently keep quiet. As Clarke tells it, Hill said, "I think it was, I'm sorry, darling. I didn't want to say anything, because it seemed the heat was very much on you." Clarke's incredulous reaction to the seeming confession can be seen in the clip below.
So is this just one more development that Dany has been unfairly maligned by? Let us know in the comments below.