News
Eliza Dushku to Star in TV Fantasy Book Adaptation of The Black Company
The Black Company, the popular hybrid fantasy novel series of Glen Cook, heads to television starring Eliza Dushku.
It's safe to say that HBO's Game of Thrones remains the gold standard for television adaptations of epic fantasy novel series. However, with that series heading for a designated conclusion in 2018, it appears that more fantasy novel television adaptation projects are stepping up to fill the vacuum left in its wake. One such project, a promising adaptation of Glen Cook's The Black Company, comes to the table with a star in place and a celebrated executive producer.
It has been announced (via Deadline) that Cook's popular hybrid fantasy series The Black Company is getting the serial television treatment developed by IM Global Television and a company coalition of David Goyer's Phantom Four and Eliza Dushku's Boston Diva Productions. Pertinently, regarding the latter, Dushku, a perennial favorite actress of the sci-fi/action genres, will also star in The Black Company television project for a most potent of roles, playing "the Lady," a dark sorceress who becomes a fundamental figure regarding the balance of power in the centuries-sprawling mythology.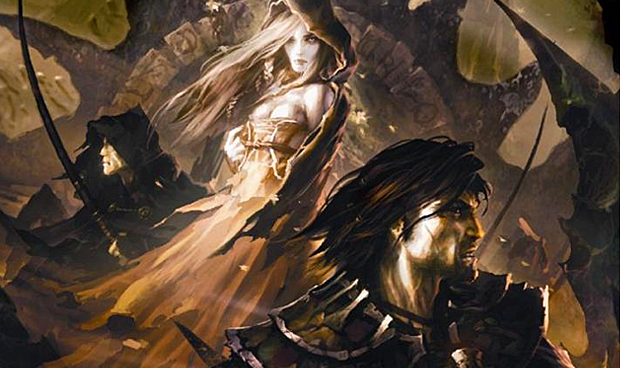 The ever-prolific David Goyer (The Dark Knight Trilogy, Da Vinci's Demons) will executive produce alongside with Kevin Turen (Birth of a Nation, All Is Lost). Eliza Dushku will be credited as a producer through Boston Diva along with Nate Dushku and Ami Lourie, joined by Sam Maydew of Silver Lining Entertainment. As IM Global Television President Mark Stern states:
"Glen Cook's books turn the traditional fantasy adventure tropes on their ear with wry, dimensional characters and a modern sensibility. We're excited to explore this intricate and exciting world for television with David and Kevin along with Eliza, Nate, Ami and Sam."
The Black Company is set in a world ruled under darkness by the Lady (Dushku), who, after being freed from centuries of imprisonment, betrayed her more powerful spouse the Dominator, taking control of the world. The Lady often utilizes the lethal services of the titular Black Company, a unit of amoral mercenaries, to keep potential usurpers at bay. However, members of the Company start to question their deeds upon learning that a messianic embodiment of good, the White Rose, has been reborn. The series follows the Company across forty years through an epochal war. Dushku herself is keenly aware of the ambitions involved, stating:
"The Black Company is vast in scope yet remains fundamentally relevant through the morally ambiguous choices it presents at every turn. We are excited to bring Glen Cook's classic story to life with Mark and David, luminaries in the cinematic pursuit of science fiction and epic fantasy, who will inevitably assemble poignant characters embroiled in jaw-dropping action."
Indeed, "vast" is putting things mildly, since The Black Company, published from 1984-2000, currently spans nine novels (ten, counting a spinoff,) and a 2018 release imminent called Port of Shadows taking place between the first two entries. Thus, there is already a sprawling mythology in place from author Glen Cook (also known for the Garrett P.I. series,) from which to draw inspiration for a very long time. Of course, we'll have to wait a while to see how and where this series manifests.