News
Eddie Murphy Will Return to Host Saturday Night Live in Season 45
One of SNL's most distinguished alumni, Eddie Murphy, will return this season to host, marking the first time since 1984.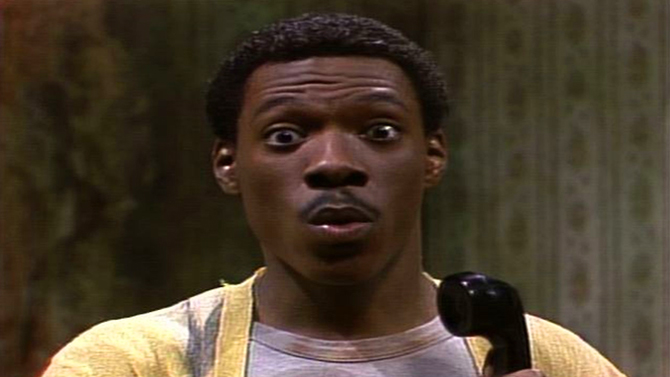 Eddie Murphy is, at long last, coming back to Saturday Night Live!
The return of Eddie Murphy – who had one of the show's most successful runs, off which he became one of the biggest film stars in the world – was revealed as part of the first round of host announcements for SNL Season 45. Murphy's returning hosting gig – his first since 1984 – will be for the Christmas-break-sendoff December 21 episode, in which he'll be paired with a yet-to-be-announced musical guest. He will most likely be there to promote his Netflix movie, Dolemite is My Name, which has yet to announce a release date.
Murphy's SNL run, besides being hilarious on an organic level, was existentially crucial in the show's history. He came into the cast in Season 6 (1980-1981), a transitional period after which the show's 1975-1980 golden era ended with the mass exodus of the last remnants of the original cast and writers as well as creator Lorne Michaels (who would eventually return… permanently). Yet, in a season that was widely maligned, Murphy was a diamond in the rough, emerging as only one of two cast members – along with cohort Joe Piscopo – to survive a massive cut of cast and creative personnel for the on-the-bubble show.
Further Reading: Coming to America 2 Release Date, Cast, Story and Everything to Know
Starting in Season 7 (1981-1982), with producer Dick Ebersole in the driver's seat, a new era of SNL would begin with Eddie Murphy as its showcase star, who, with Piscopo, led an all-new cast consisting mostly of refined Second City alumni. At this point, Murphy quickly became known for several recurring sketches such as seedy Mr. Rogers parody "Mr. Robinson's Neighborhood," a singing adult version of The Little Rascals character Buckwheat (also brilliantly used to parody repetitive news coverage of the 1981 assassination attempt on President Ronald Reagan), a comically heartfelt version of singer Stevie Wonder, an over-the-top hot-tub-enthusiast version of singer James Brown, smooth-talking infomercial pimp Velvet Jones, and played a foul-mouthed insult comic version of the emerald Claymation icon, Gumby, along with many others.  
Interestingly, Murphy's first SNL hosting gig occurred on December 11, 1982 – while still a cast member – after the scheduled host, Nick Nolte fell ill, leaving Murphy to handle those duties. After all, Nolte was there to promote the release of the groundbreaking buddy cop movie, 48 Hours, in which Murphy co-starred. While Murphy moved on from the show after Season 9 (1983-1984), he made a quick return to host in Season 10 on December 15, 1984. This episode would – at least, until this December – stand as Murphy's last significant SNL activity, notwithstanding an appearance on the Saturday Night Live 40th Anniversary Special, which aired on February 15, 2015, disappointing fans, since he only ended up making a wistful monologue and didn't participate in any sketches.
While the exact reason for Murphy's prolonged absence from the show is not known, it is often attributed to an infamous joke told in a 1992 episode, in which cast member David Spade used his "Hollywood Minute" segment to take a shot at his then-box-office-declining career, saying, "Look, kids! It's a falling star. Make a wish." Indeed, Murphy was allegedly offended and saw the joke as out of line and an ungrateful move by SNL, since it's feasible to argue that his rise during the show's bleakest period essentially saved it from cancellation.  
Regardless, fans of Eddie Murphy's legendary SNL tenure will have months to speculate about which characters they'll see in his 35-years-in-the-making hosting gig.
Saturday Night Live Season 45 premieres on September 28 with host Woody Harrelson with musical guest Billie Eilish. After that, Phoebe Waller-Bridge will host on October 5, with musical guest Taylor Swift, followed by David Harbour and musical guest Camila Cabello on October 12, and Kristen Stewart with musical guest TBA on November 2.
Read and download the Den of Geek SDCC 2019 Special Edition Magazine right here!
Joseph Baxter is a contributor for Den of Geek and Syfy Wire. You can find his work here. Follow him on Twitter @josbaxter.