Features
Eastbound & Down: Kenny Powers and the Lessons of Life After Baseball
You may chuckle at the antics of washed-up baseball player Kenny Powers on the hilarious HBO series, Eastbound And Down, but there's a hint of truth in what the show tells us about the perils of sports superstardom.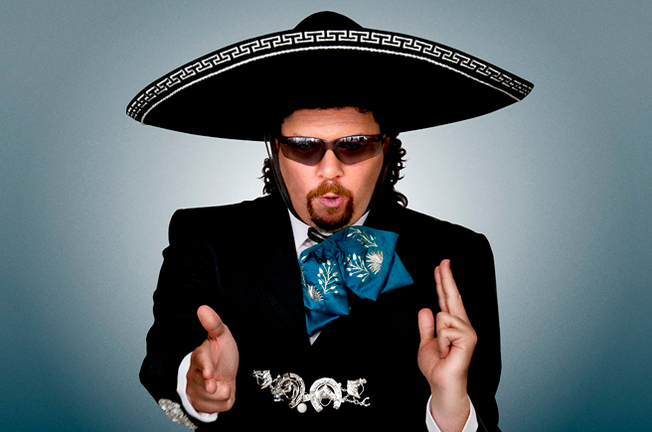 Doc Gooden had just won it all. The cold splash of champagne against the back of his neck reassured him of it. He was standing on baseball's proverbial mountaintop, a bubbly-soaked blue carpet crowded by men whistling and howling in celebration of bringing an improbable World Series title to New York. Ask any athlete who wins a championship in New York and they'll tell you how there is nothing like it — the feeling of being on top of the world.
Gooden was the ace of the Mets, a slender frame bookended with lanky arms that could sling a baseball more than 95 mph on a warm summer night. Coming up as a 19-year old, Gooden entered baseball in a whirlwind of fame. After winning the Rookie of the Year Award in 1984 and Cy Young Award in 1985, he had the façade of baseball's bright young star — highlighted by 100-foot tall murals of Gooden firing fastballs near Times Square and outside Penn Station — and the World Series ring would only further prove he was larger than life.
It took being on top, the sweet taste of the 1986 World Series, to make Gooden realize how unstable it all was from the start. After almost three decades of speculation, he picked up a pen and finally described what happened in the wee hours of the Mets championship celebration in his 2013 memoir.  "In the early craziness of the locker room, two thoughts were crowding all the others out of my head," Gooden writes. "I gotta call my dealer. And I gotta call my dad." While his teammates poured out of the locker room and headed to their usual watering holes, Gooden's cocaine addiction led him to celebrate in a shady Long Island apartment surrounded by people he barely knew, doing lines he barely remembered. After battling addiction throughout the 90s and 2000s, a now sober Gooden only now recounts all the messy details of a drug-induced haze that left him paranoid and unmotivated to attend the Mets championship parade the morning after winning it all.                                             
Much of Gooden's memoir parallels the rise and fall of fictional flamethrower Kenny Powers: bursting onto the scene at a young age, getting caught up in the money and fame, turning to drugs and the eventual arrests. They even share willingness to document how a person's highs can become their embarrassing lows – though Kenny has a tendency to embellish key details. 
In many ways, Jody Hill and Danny McBride created Eastbound and Down as a drama before coating it with the tart crunch of comedic genius. The story of Kenny Powers "the man" and Kenny Powers "the legend" mirrors similar themes that resonated in Gooden's memoir.
The show, with no apologies, peels back the layers of the man behind the legend — what Gooden has come forward to the public with all these years later. Hill and McBride contend that Gooden's story — or any other specific athletes for that matter — wasn't an inspiration for the character we now know as "La Flama Blanca." Kenny Powers rose to fame with a patented catch phrase ("You're fucking out!"), an arm like a "fucking rocket" and the "cock of a Burmese python," but as much as he's a brash character all of his own, Kenny is a caricature of professional ballplayers who face the inevitable realization that life must go on after the final out. Intentionally or not, Kenny's story is a perfect summation of the players who find no peace in backing down the social ladder step by step. "It's always fun to play a character separated from reality in his way, that deals with things regular people don't deal with," McBride said in a 2012 interview with ESPN the Magazine.
*****
Everything on the outside registered as calm. Doc Gooden regularly stood in front of 50,000 fans and reared back his long right arm, tallying strikeout after strikeout. He was the last person you'd believe was tormented by anxiety. A man who could fill up a stadium and quickly empty it out on a positive note — with the fans chanting his name as they shuffled down the exit ramps of Shea Stadium — was emotionally crippled by the thought of judging eyes following his every step. Over the course of his career, and the years after leaving baseball, Gooden made five trips to rehab, was arrested six times, and eventually spent seven months in jail. In that time, Gooden lost many battles but one constant remained: each time he fell off, he stood up with the intent to return to baseball.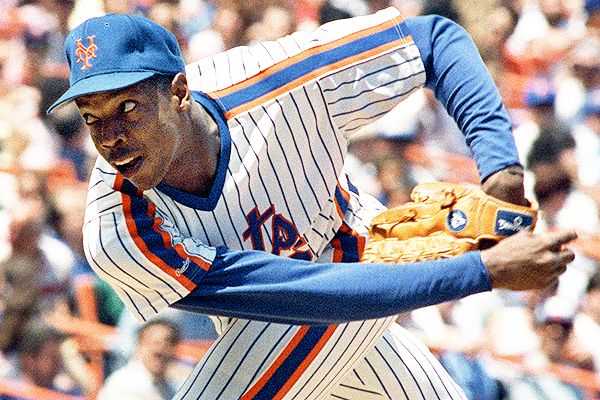 Athletes embrace and abuse the drug culture in different stages: for some it starts off as a right of fame, then a crutch to leverage their emotional instability, and after their career ends it becomes a placeholder, a fleeting reminder of something lost. For Kenny, drugs are as much of a status symbol as a sparkling clean Jet Ski or a brand-spanking new BMW off Ashley Shaffer's lot. Back in his Seattle days, blow was as decorative as a stack of magazines on his coffee table when he was throwing wild parties attended by the "god damn Spoonman from the Soundgarden videos." In his audiotapes, Kenny tells it like it is: when you're on top, everyone wants a piece of you. When it's hard to find people to trust, a dealer could take on the silhouette of a friend. He's always there when you need him and with him comes sweet relief. After Reg Mackworthy (Craig Robinson) ends the first phase of Kenny's career with a long home run, Clegg, a rambunctious bartender/drug dealer, was a person Kenny turned to because drugs were the last remnants of fame in a suburban town. With April in the arms of another man, his brother and sister-in-law tied up in parenthood and only the sleaziest of the jersey chasers left to claw at Kenny's back, whom else did he have to fill the void in his life?  In early episodes of Eastbound and Down, Kenny's drug use is prominent because he's scared of facing reality.
As Kenny really dug into why his life was in shambles, he saw that the reality wasn't as bad as he feared. Though his rhetoric is often articulated in utter hyperbole, Kenny, in a sense, isn't being overly cocky when he says needs to realize that he is better than everyone. What made Kenny Powers able to fall so low is how hard he worked to get to the top. He's a piece of shit and everyone around him knows it. But Kenny is also a businessman, a dreamer and someone who gets the job done. Eventually he figured out that watching Clegg get high on metallic spray paint with homeless men in a park or even gently cupping April's lovely breasts couldn't keep the fallen icon from his true calling.
*****
Pat Jordan, one of the great sportswriters of this era, went on a mission to interview Jose Canseco, one of the great steroid abusers of his era, in the months before Canseco's second book, Vindicated, hit shelves. Though Jordan was never able to sit down with Canseco for an interview, a piece Jordan penned for Deadspin, "Chasing Jose," reveals more about the character of a man who if he had it his way would "slap" all of his haters on Twitter. Canseco built his legacy based on the premise that excess would transform him from human to superhuman. He tacked on pounds of muscle, spent until his bottom line was bleeding red and became the Walter White of baseball, tinkering with a bevy of drugs like a chemist until he found the right formula to turn a routine popup into a no-doubter.
Canseco's career, his entire life at that, is an attempt to build on, and eventually hang on to his dwindling relevancy. As Jordan describes the interactions with Canseco's agent, he takes into account Jose's philosophy, "see ball, hit ball," which paid off in 462 home runs, undoubtedly the mark a successful career. Many have entered Cooperstown with far less. 
"See girl, fuck girl." "See Ferrari, buy Ferrari." "See money, take money," Jordan writes. "Admittedly, Jose's philosophy of life has brought him some success with girls and fancy cars, but it has not, of late, brought him much success with money." 
A broke Canseco, whose career earnings totaled more than $45 million, has spent his second act trying to extort enough money to make a movie of his life while paying off various lawsuits and ex-wives. In between all that, he rambles about how he saved Major League Baseball, hates Bud Selig and how his 49-year old body could make a comeback at any point, all in 140 characters or less. The scary thing about Canseco is that he speaks with enough conviction to make you think he really believes everything he says. Kenny Powers gives off that appearance of unwavering confidence but we've been around the character long enough to know that his hard shell exterior can be penetrated. Like Canseco, Kenny is fueled by the idea of excess. Strip the expensive clothes, cars and jewelry and there is just Kenny Powers, the man, left standing. If he doesn't have the biggest, shiniest everything, what is there to set him apart from average Joe schoolteacher?
Kenny's comeback attempt in season one was fueled by the lack of respect he felt entitled to upon returning home. "I'm like Neil Armstrong," he posits in his audiobook. "I went to space and now I'm back and nobody gives a shit." Kenny's attitude toward his own fame at times reaches Canseco-esque levels. Kenny spent and fucked his way to the top and when he eventually bottomed out and had to rehabilitate his fastball, it became clear that his love of the game was no longer there. The comeback became about his ego, his thirst to recreate a lifestyle others could only dream of. 
The most common name that comes up when comparing real-life baseball players with Eastbound and Down's protagonist is former Atlanta Braves closer John Rocker. The similarities are obvious: they both rose to fame in pressure packed situations for Atlanta, they both have given the New York media a few anti-Semitic sound bites and both have injected a needle in the pursuit of a more vivacious fastball. Rocker's post-baseball days are playing out like an Eastbound and Down episode, where Rocker peddles his last-ditch attempt to stay relevant by writing a tell-all book and starting a campaign to bring back English to America by, and you guessed it, discriminating against Spanish speaking people.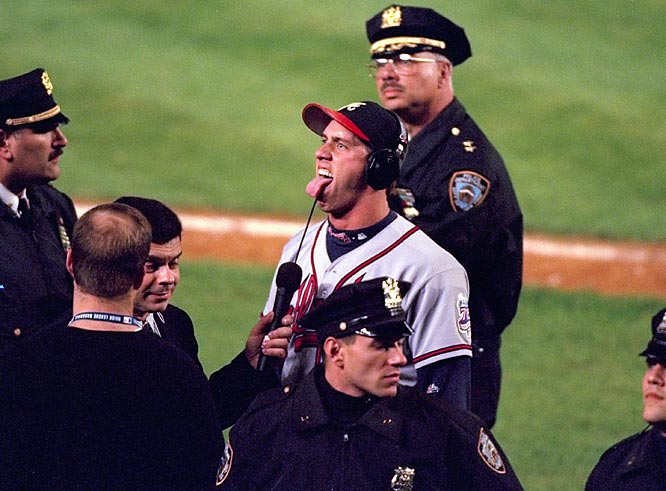 Being a divisive figure in sports will only get you attention to a certain point. Rocker blasting minorities in a racist rant about the New York subway system will live on in infamy but beyond that, who will recall his two-year stint as a respected, if not feared, relief pitcher?
Rocker is the kind of guy who goes down in flames based on principle. That's what Kenny Powers became the day he walked off the field before he was able to complete his long road to redemption. He drops the ball in the middle of the inning because he understood that his whole life wasn't about baseball. He returned to relevancy, something Rocker and Canseco will continue to fight for, and that not only satisfied Kenny, but also made him realize why he made a comeback in the first place. 
*****
In the fourth season of Eastbound and Down, Kenny Powers is a suburban father living out his days in the afterglow of a storied career. His cleats are buried in a closet somewhere in North Carolina. He's reclaimed the girl he walked off the field for, and knocked her up again. After three seasons of surviving based on the sole idea that he would one day return to baseball glory, Kenny is now at the crossroads of his professional life. He quickly gets fired from his 9-to-5 job and is ready to find his place in the universe. Eastbound and Down returned to HBO for one last dance because it's important to have the story come full circle.
With the many avenues available to players after the game is over, the story of Kenny Powers wouldn't be complete if we didn't get at least a glimpse what direction the rest of his life is heading. Would Kenny dig around to find any possible way to stay relevant like a Rocker, or pull a Canseco by shouting from the rooftops that the game needs you more than you need the game? Maybe Kenny could eventually be involved in baseball in a new capacity like Gooden, now sober and once again welcomed to be apart of his old team and recognized for all the good, while the bad is swept under the rug.
In a radio interview following the release of his memoir, Doc Gooden was asked what he would tell himself if he could go back in time. "Be honest with yourself," Gooden says. "Remove that mask."  
From the first episode, we see a Kenny that has squashed his old habits and committed to re-inventing himself. In the second episode of the final season, Kenny is already back to his old ways — buying an $80,000 car and begging for another opportunity to get famous — a troubling sign to the person he loves most.  "I'm scared I can't have my husband Kenny and the famous Kenny at the same time," April admits.  
In writing Eastbound and Down's grand finale, Jody Hill and Danny McBride will face the challenge of giving their audience closure while knowing that there is no climactic ending to Kenny's story. His love, his maniacal ego, his life, will go on long after the final chapter ends. The ride has revealed a lot about Kenny Powers, the legend. But it's the end that will strip La Flama Blanca down to the man that has been underneath all along.