News
Dynasty Season 3: Release Date, Cast, Episode Guide
Dynasty Season 3 was one of the many renewal announcements The CW made at this winter's TCA presentation.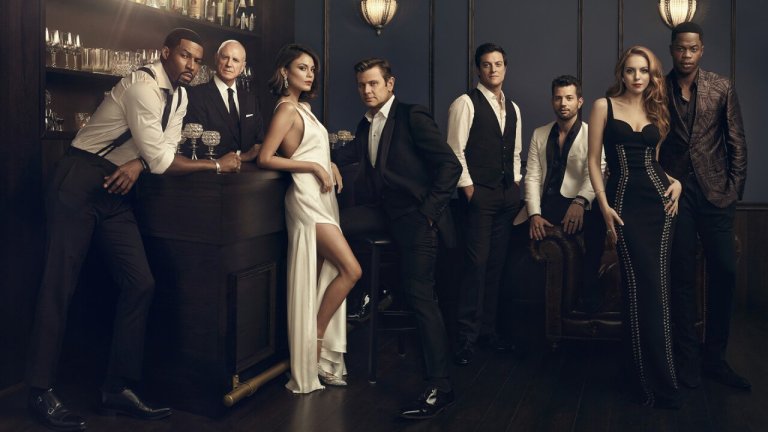 He continued: "In addition to growing our schedule across the week, we also continue to add more year-round programming. The early renewal of these signature CW series gives us a head start on laying out the 2019-2020 season, and this is just the beginning. These shows provide a strong foundation for our multiplatform programming strategy, and we look forward to building on this with even more returning and new shows as we approach the May upfront."
Dynasty Season 3 Release Date
The CW announced its fall lineup at this week's upfronts, including the information that Dynasty will stay on Friday nights, with Charmed as its new night buddy. Dynasty Season 3 will premiere on Friday, October 11th at 9pm ET.
We also got a monster of an official synopsis for Dynasty Season 3. Check it out:
As DYNASTY hurtles into its explosive third season, the Carrington family will face the unknown on all fronts. Dealing with the fallout from the startling second season finale, Fallon (Elizabeth Gillies) is surrounded by a host of rivals looking to destroy her, the most wicked of which is her own brother, Adam (Sam Underwood), who takes the idea of "sibling rivalry" to a whole new level of crazy.
At the same time, Fallon and Liam (Adam Huber) attempt to keep their romance sane, but secrets and skeletons from her closet will make that more difficult than ever. And after a year of "me" time, Blake (Grant Show) will jump back in the game, ruthlessly determined to reclaim what's rightfully his: the family company Fallon sold out from under him. Only problem is that the newest Colby in town, Blake's half-sister Dominique (Michael Michele), is here to stay and she isn't backing down from a fight over what's rightfully hers, either.
Meanwhile, Sammy Jo (Rafael De La Fuente) enters an exhilarating phase of the upper-class life, but amongst the thrills of his newfound freedom, there will be dangers lurking. Plus, who knows what faces – new and old, friendly and unfriendly – will pop up! The road ahead is full of the shocking twists and turns you've come to expect from the Carrington world. And if we know anything by this point in the series, it's that our fractured family will have to find a way to come together if they are to claw their way back to the top of the billionaire mountain. 
Dynasty was created by Josh Schwartz and Stephanie Savage, the award-winning team behind Gossip Girl, The O.C., and Marvel's Runaways. It stars Elizabeth Gillies as energy tycoon/heiress Fallon Carrington. Nathalie Kelley was the season one co-lead as Cristal Carrington, nee Flores, who married Blake in the pilot to become Fallon's stepmother in spite of being of a similar age. Kelly left after the first season, and telenovela star Ana Brenda Contreras (Por Amar Sin Ley) came in to take on the role of the "real" Cristal Flores.
read more: Riverdale Spinoff Katy Keene Ordered at The CW
We've yet to get updates on which cast members will be returning for Season 3, or what the story might look like, but we'll keep you updated with all of that when news breaks. For now, keep up with all our Dynasty news and reviews here.
Dynasty Season 3 Episode Guide
Dynasty Season 3, Episode 1: Guilt Trip to Alaska
On the eve of the Carrington Foundation Fundraiser, drama immediately floods the scene as bodies are pulled from the lake on the Carrington Estate.  As reporters and detectives move in, Blake (Grant Show), Fallon (Elizabeth Gillies), Cristal (Daniella Alonso), Adam (Sam Underwood), and Anders (Alan Dale) realize they need to get their stories straight very quickly.  Dominique Deveraux (Michael Michele) focuses on her missing son, while Michael Culhane (Robert Christopher Riley) tries to prove that he's been framed…from behind bars. Sam (Rafael De La Fuente) plays comforting friend to both Fallon and Kirby as he continues to work on the hotel.  Fallon visits a comatose Liam (Adam Huber) in the hospital and finds herself haunted by Trixie's death in unexpected ways. Kirby (Maddison Brown) visits Culhane in the slammer and returns to Carrington Manor to find she is no longer welcome. Dominique tries to steal the spotlight at the Fundraiser, Fallon becomes charitable, and Blake loses something incredibly valuable.
Original airdate: 10/11/19
Dynasty Season 3, Episode 2: Caution Never Won a War
As Blake (Grant Show) and Fallon (Elizabeth Gillies) face legal troubles, Fallon and Adam (Sam Underwood) handle the outcome of Liam's (Adam Huber) accident in very different ways.  Anders (Alan Dale) visits Sam (Rafael De La Fuente) at the hotel where they break ground and discover a room filled with valuable historical artifacts. Michael Culhane's (Robert Christopher Riley) jail stint takes an interesting turn while Cristal (Daniella Alonso) and Dominique (Michael Michele) make power moves.
Original airdate: 10/18/19
Kayti Burt is a staff editor covering books, TV, movies, and fan culture at Den of Geek. Read more of her work here or follow her on Twitter @kaytiburt.