News
DuckTales Season 2 Episode Guide and Reviews
DuckTales Season 2 was a blast and we've got a complete guide to the whole thing!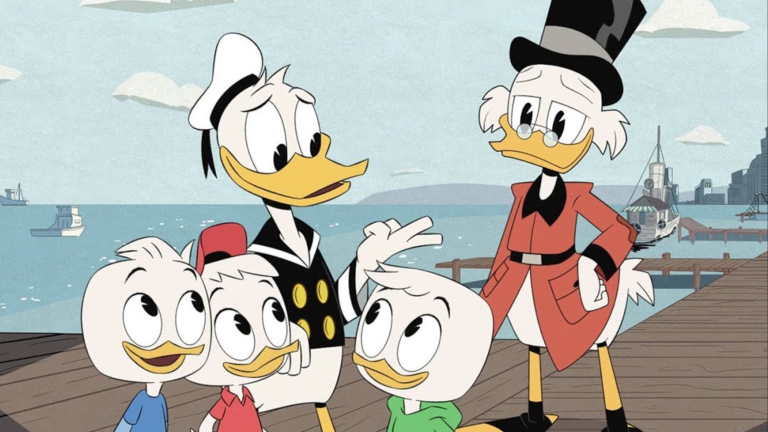 DuckTales Season 2 continued the incredible adventures of Scrooge McDuck and his family. Below we've got the full guide to the season, including links to all of our reviews!
DuckTales Season 2 Episodes
Preoccupied with his lack of purpose during the family's adventures, Louie attempts to avoid another one by proposing a family game night at home. 
Huey and Dewey trick Launchpad into taking off with a submarine to go visit Donald's oddball cousin, Fethry Duck, who resides at one of Scrooge's marine science stations.
Glomgold goes missing for four months after Magica De Spell's attack on Duckburg, and he's later found at sea by a couple of fishermen while also getting amnesia. He then adapts to being a fisherman named Duke Baloney.
The family visits a Brazilian town to celebrate the mysterious festival, "The Feast of The Flower." While at the festival, Donald reunites with his old friends, José Carioca & Panchito Pistoles.
Louie hires Storkules for his monster extermination business. 
In a nod to "Mickey's Christmas Carol," Scrooge avoids the pressures of the holidays by traveling back in time with a trio of fun-loving ghosts to crash history's greatest Christmas parties instead. Meanwhile, time-lost Dewey teams up with young Donald Duck to find his mom on Christmas.
Della struggles to try to find a way to get back to her kids on Earth. 
As the boys track a missing artifact across Duckburg, Scrooge and Webby stall the warrior looking for it with a phony quest.
After Louie gives up a business venture because of an obstacle, Scrooge tells him a story of when he was a prospector in the Old West in the hopes of inspiring him to be just like him.
The kids must stop Scrooge's unhealthy obsession with a few missing coins to keep him from becoming the next Glomgold. 
As Della rebuilds her ship, Penumbra becomes convinced Della's planning an attack. Meanwhile, Donald's nap keeps getting interrupted by adventure.
Della Duck has faced every danger the moon has to offer to reunite with her family, but her greatest challenge is one she might not be able to fight her way out of. 
Dewey tries to prove himself by exploring a frozen fortress in search of a money tree seed, but Glomgold has kidnapped Scrooge in order to find it first. 
Stuck as a shadow, Lena tries to protect Webby from her suspicious new friend Violet during a supernatural sleepover. 
With Huey's and Webby's help, Fenton woos a punk-rock scientist, Gandra Dee, only to uncover her dangerous plans for Gizmoduck. 
Launchpad and Dewey meet Jim Starling – the former star of action series "Darkwing Duck" – at a sofa store opening, and find out that Scrooge is making a Darkwing Duck movie with Alister Boorswan directing it. 
Donald and Penumbra must break out of a Moon Prison and send a warning to Earth about a looming invasion. Dewey and Webby uncover a sinister conspiracy targeting their family. 
Louie and Goldie crash Doofus' birthday party to con their way into some million dollar gift bags as Della trains Huey in her favorite online game.
The kids are pulled into a world made of their wildest dreams. Unfortunately, Lena's worst nightmare comes true: Magica De Spell is back and coming to reclaim what's hers.
Webby leads the kids in a race against the Beagles to find a secret treasure while hiding a secret of her own. Della is forced to teach Launchpad how to actually fly a plane.
When Louie uses Gyro's Time Tub to steal lost treasures from the past, a mysterious storm in the present sends all of space and time crashing down onto the mansion.
Glomgold forms his own team made of all of Scrooge's greatest villains to defeat Scrooge's family once and for all.
Louie, Scrooge, and Owlson must escape from an unstoppable monster cursed to hunt down and destroy the richest duck in the world.
The moon invades Duckburg, forcing Scrooge to join forces with an unlikely ally in an effort to save the earth. Meanwhile, Della and the kids search the globe for reinforcements.
DuckTales Season 2 Cast and Characters
Season two guest stars included Julie Bowen ("Modern Family"), Edgar Wright ("Baby Driver" director), Jack McBrayer ("30 Rock"), John Hodgman ("Vacationland: True Stories from Painful Beaches"), Jameela Jamil ("The Good Place"), Libe Barer ("Sneaky Pete") and Lance Reddick ("John Wick"). 
Shamus Kelley is a pop culture/television writer and official Power Rangers expert. Follow him on Twitter! Read more articles by him here!