News
Drunk History Takes on Star Trek
The hilarious Comedy Central program turns its drunken spotlight on Nichelle Nichols and her role in Star Trek.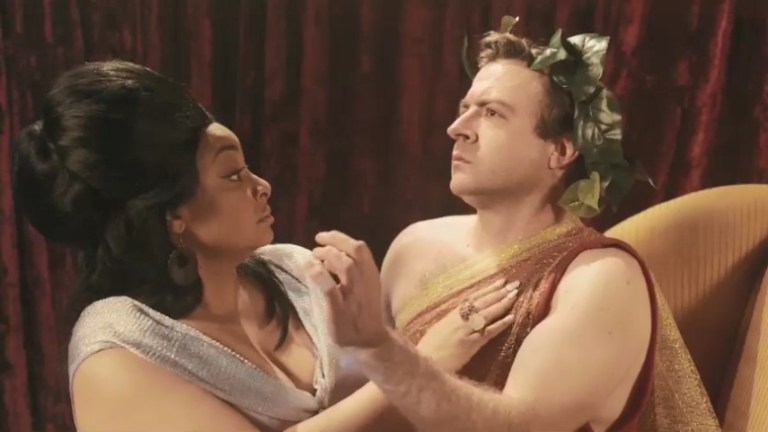 The only thing better than an episode of Star Trek or an episode of Drunk History? An episode of Drunk History about Star Trek.
The Comedy Central show, which sees actors acting out historical andetoes told from others' drunken memories, is taking on the subject of Star Trek in its next episode—specifically, the role of Nichelle Nichols (aka Uhura) on the groundbreaking series.
Stories told include an account of how the first interracial on-screen kiss (between Kirk and Uhura) came to air, despite hesitancy from network executives, as well as how Dr. Martin Luther King Jr. convinced Nichols to stay on the show. The stories are recounted by comedian and Samantha Bee writer Ashley Nichole Black.
Raven Simone plays Nichols in the episode, with Jaleel White playing MLK, Craig Cackowski as Gene Roddenberry, and Drunk History creator Derek Waters taking on the role of William Shatner. 
Waters told TrekMovie of the decision to tell a story about Star Trek and in particular Nichols:
Hearing what Nichelle Nichols had done and how Martin Luther King inspired her to stay and the importance of her is just a great moment in history, not just Star Trek, that more people need to know about. And on top of that there is the first inter-racial kiss and recruiting astronauts like Mae Jemison. It's one of those stories like 'yeah, but did you know this? and did you know that?' How did I not know all of that?
What does Nichols think of the episode? According to Waters, who didn't have a chance to meet the actress, but did send the episode to her: "She said that she loved it and couldn't stop laughing, so that is the seal of approval."
Check out a clip from the episode, which airs tonight at 10 p.m. on Comedy Central, below…