News
Drew Galloway Makes TNA Impact Wrestling Debut
Drew Galloway debuted with Impact Wrestling, where he can reclaim his "chosen one" character …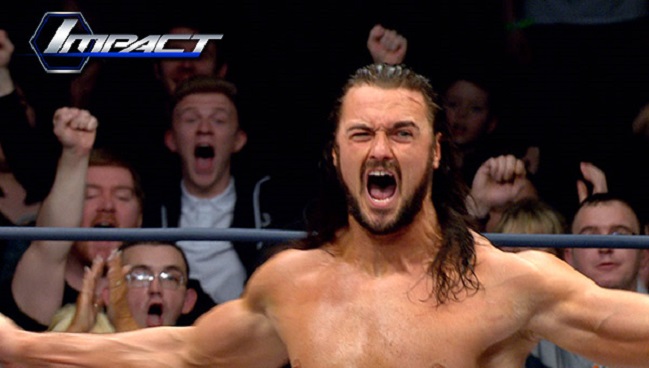 Seven years ago, Drew Galloway, then named Drew McIntyre, debuted in WWE with chairman Vince McMahon personally appointing him as "the chosen one," calling him a future World Champion and a wrestler that Vince McMahon personally signed himself.
That's a hell of an endorsement.
But WWE never followed through. Some behind-the-scenes ruffles, which many say were not even entirely his fault, set Galloway's WWE career back and he was eventually saddled with 3MB. He was released last year.
The WWE "machine" often works, cranking out stars. But in Galloway's case, it highlighted a fatal flaw. One misstep in WWE, and you're off their grid.
Galloway debut with Impact Wrestling last night, and if TNA is smart, they'll fulfill McMahon's prophecy, and Galloway will one day be a World Champion.
Here's the crazy thing about Galloway: he's 29 years old! That's it. He'll turn 30 later this year, which in wrestling terms makes him practically an infant. His worldwide career (he's well known overseas) hasn't even begun yet. TNA is sometimes criticized for taking WWE castoffs, but in the case of Galloway, he's an untapped resource. Much in the same way Mr. Anderson, ECIII, and Tyrus were when they were signed to the roster.
Debuting Galloway the way TNA did, in his home country, was brilliant booking. The crowd reaction was off the charts and making the save on another hometown hero, Grado, bloodying Low Ki in the process only made it bigger.
TNA can't afford to drop the ball with Galloway. They have a future "face of the company" under contract. He has appeal not only in the United States, but in some of TNA's strongest markets in the United Kingdom. If they treat it right, Galloway will prove to be TNA's biggest signing since Kurt Angle.
MVP Becomes No. 1 Contender
MVP will challenge Bobby Lashley for the TNA World Title after becoming the No. 1 Contender in a 20-man gauntlet match. It's an inevitable match, with Lashley and MVP splitting earlier this year on Impact. MVP and Kurt Angle have also found a nice groove as adversaries. There is a chemistry there that comes across on screen when they're in the ring, or on the mic opposite each other.
If MVP wins the World Title, or even if Angle can somehow get his hands on the belt, a feud between MVP and Angle could make TNA some serious money for a prolonged stretch on Impact.
Quick Strikes
1) James Storms' Revolution faction has a real Wyatt-Family feel to it. After losing to Matt Hardy and The Wolves on Friday's show, Storm ordered Abyss to attack Manik has punishment, and The Revolution carried Manik to the back. It was a powerful visual on television. Unlike last year when TNA seemed to be blatantly ripping off WWE by putting the World Title on Eric Young, this is a new spin on the Wyatt Family concept. It feels more like a cult, and Storm has been fantastic in his portrayal as the leader.
2) Rockstar Spud shaved Tyrus' head. When and why did head shaving become such a thing in pro wrestling? I don't necessarily have a problem with it, but I wonder why or how head shaving ever became a go-to angle in wrestling.
3) Taryn Terrell seemed like an afterthought in an angle surrounding her Knockouts Title. After a successful defense against Angelina Love, Awesome Kong confronted Terrell. After a staredown and attack by Kong, Gail Kim entered the ring and to make the save. Terrell had her KO Title draped over her motionless body by Kong, but the focus was clearly on Gail-Kong, and seemed to leave Terrell as an afterthought. That could be indicative of a title change coming, and Kong feuding with Kim for the belt.
Match Results
1) Matt Hardy & The Wolves def. The Revolution
2) Grado def. Al Snow
3) Taryn Terrell def. Angelina Love to retain the Knockouts Title
4) Eric Young def. Tommy Dreamer
5) MVP won a 20-man Gauntlet to become No. 1 Contender to the TNA World Title
The Finish
TNA continues to do a real good job building its television program on a week-to-week basis, despite not having a pay-per-view to build to. As evident with the No. 1 contender's match, and eventual title match, they're building to crescendo episodes, which still gives the product a feel of building to a boiling point.