News
Double Dare Revival Heads to Nickelodeon This Summer
Nickelodeon is choosing the physical challenge… to bring back its iconic mess-making game show, Double Dare.
Double Dare obviously evokes nostalgia amongst a generation who associates cable channel Nickelodeon with green slime and overall zaniness. Indeed, while the 1980s and 1990s-era kid-aimed hybrid quiz show/obstacle course series, has flirted with nostalgia culture with sporadic revivals, reunions and even a Comic-Con setup a few years back, it appears that – in a landscape filled with revivals and reboots –Nickelodeon is finally pressing the proverbial buzzer on a revival series.
Nickelodeon has officially announced (with a teaser video,) that Double Dare will return (mind you, not "reboot,") with 40 brand new episodes, set to arrive this summer. – It'll be like the show never left!
The new series will bring the classic quizzes and messiness (and obligatory gross-out moments,) to a new generation. Indeed, the infamous obstacle course will make its return to television, featuring familiar parts such as the human hamster wheel, the classic gigantic mouth, the wringer and the (iconic-in-its-own-right) Double Dare nose.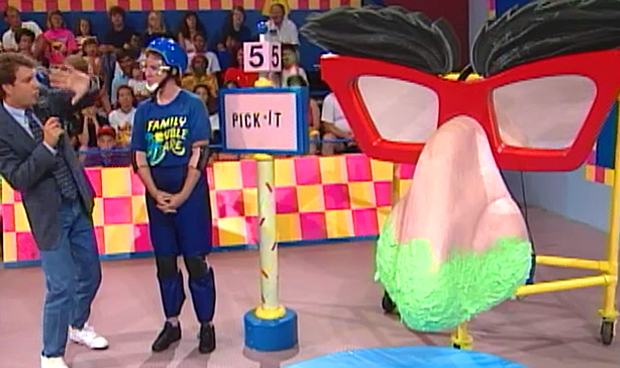 As Nickelodeon puts it, "the new version will feature the gameplay and challenges they remember, as well as appearances from blasts from the past and stars from today." 
That, however, is the extent of the Double Dare details, with no mention of either a new host, or the possible return of its classic host, Marc Summers, who, these days, is a producer of food-centric shows, currently on The Grill Dads, with stints running Six Degrees of Everything and Restaurant: Impossible.
Double Dare originally manifested on Nickelodeon with its premiere back on October 6, 1986, running – in its original form – until 1993. The popular series, which also started to run in syndication in 1988, would reinvent itself over the years with later iterations such as Family Double Dare in 1988, Super Sloppy Double Dare in 1989 and, years later, Double Dare 2000, the latter of which saw Jason Harris as host in the only iteration to not feature Marc Summers.
We will certainly keep you updated on what's happening with Nickelodeon's revival of Double Dare.