News
Donald Glover Debuts Lando And New Song On SNL
Donald Glover brought his multi-hyphenate talents on a very musical Saturday Night Live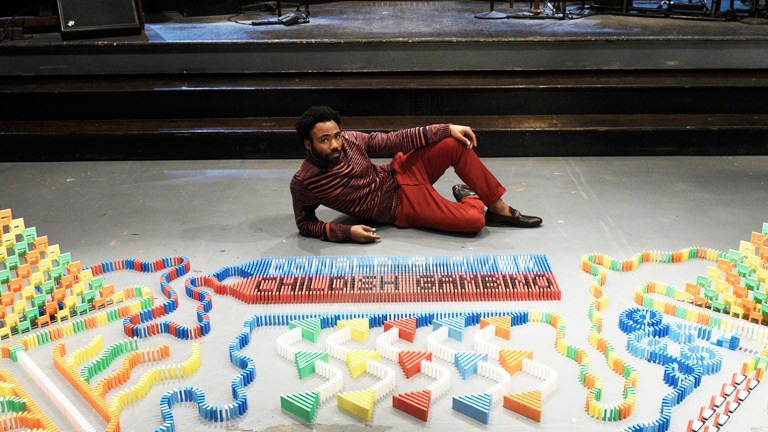 Donald Glover made his triumphant return to sketch comedy last night, having taken a few years off to prove he could do pretty much everything else in the world too. 
In fact, Glover's opening monologue on this week's SNL poked fun at his "good at everything." Spoiler alert: there are some things he's not perfect at. 
While we all may know Glover from his time on Community, and as Lando Calrissian in the upcoming Solo: A Star Wars Story (or as the creator of "Redbone" and Atlanta "if you're black"), he has some other interests like skateboarding, stage lighting, and playing the clarinet. He's awful at all of them.
Ironically, Glover may have accidentally proven that he's good at SNL monologues in the process as keeping the monologue under five minutes and having it move throughout the studio is always a titanic achievement. And closing things out with the clarinent foreshadowed what ended up being an unsurprisingly musical episode of Saturday Night Live.
Glover, Kenan Thompson, and Chris Redd all debuted the definitive Migos impression that we didn't know we needed in "Friendos."
Then the show touched on another pop music artists fall from grace in "A Kanye Place." Yes, the characters of A Quiet Place likely would have been screwed if they had to parse through Kanye tweets on social media while outrunning sound-detecting monsters. 
And then there was Childish Gambino. Glover's musical alter-ego debuted a new song directly to Twitter shortly after his monologue, titled "This is America."
It was accompanied by an absolutley wild, strangely violent, yet captivating music video. 
Glover/Gambino debuted "This is America" as his second song of the night as well. NBC hasn't made the video available.
Among all the music, however, was some Star Wars. Funnily enough, Saturday Night Live may have provided us with the most extended look at Glover's Billy Dee Williams impersonation before Solo debuts on May 25. So far so good.
It is now official Star Wars canon that Lando frequents the Naboo Beach Front Hotel and the galaxy contains four black humans.