News
Dolph Lundgren's Sylvester Stallone-Produced TV Pilot Heads to CBS
CBS has ordered action pilot The International, starring Dolph Lundgren and produced by Sylvester Stallone.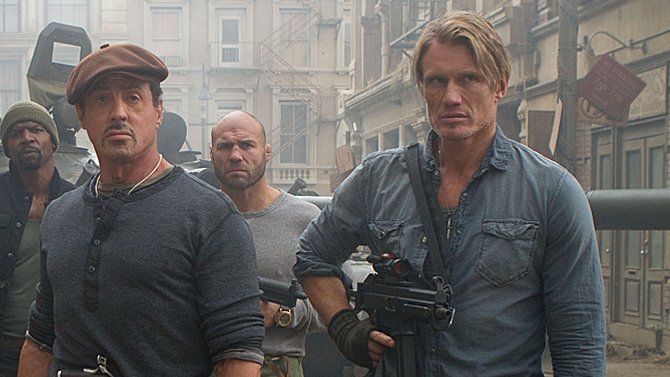 Dolph Lundgren has been putting in a lot of work with onscreen Rocky IV rival Sylvester Stallone ever since their reunion in 2010's The Expendables, which yielded sequels and substantially improved opportunities. Indeed, this imminently-ending decade has seen a proper comeback for the '80s action icon; a comeback that will shift to the small screen as the star of a TV project, with Stallone involved.
The International is the newly-revealed title of said TV project, which – in the latest development – has procured an order by CBS. The move is the culmination of some solicitation after the hourlong action pilot, with Lundgren set as its star, was shopped around back in August by Tony Krantz's Flame Ventures, reported Deadline.
The CBS-set pilot, which will see Lundgren's old pal Sly Stallone onboard as an executive producer and director, will show the Swedish strongman playing a covert operative, named Anders Soto, who works for the United Nations' Department of Safety and Security. The character is described as "the U.N's secret special agent, a one-man S.W.A.T. team and hostage negotiator."
CBS's The International TV project was also pitched to television networks Fox and NBC, with ABC's absence explained by a current initiative for female-fronted fare. Additionally, streaming services Netflix and Apple reportedly showed interest. However, with the Eye Network's pilot order, the would-be series is set to be produced and overseen by CBS Television Studios.
Further Reading: Dolph Lundgren Recalls His First Acting Roles
Ken Sanzel is handling writing, executive producer and showrunner duties for the pilot. He's currently fielding writing/executive-producing duties on ABC's currently-running, Poppy Montgomery-headlined crime series, Reef Break, bringing similar show experience from NBC's short-lived reboot of Ironside, as well as CBS's Blue Bloods and Numb3rs. He also penned the screenplay to upcoming Nicolas Cage vehicle Kill Chain, and wrote the script to the 1998 Chow Yun-Fat/Mira Sorvino actioner, The Replacement Killers.
Sanzel is joined on The International project by fellow executive producers in the aforementioned Stallone and Balboa Productions partner Braden Aftergood, along with Flame's Krantz, as well as Lundgren's manager, Zero Gravity's Craig Baumgarten.
For star Lundgren – also the onetime big screen portrayer of He-Man and The Punisher – this TV prospect arrives after having recently fielded roles in two major November 2018 blockbuster hits in DC movie Aquaman and a role reprisal as Rocky IV's Ivan Drago – again opposite Stallone – in Creed II. He also fielded a villain stint on The CW's Arrow, and served as a stand-in of sorts for Arnold Schwarzenegger in the direct-to-DVD sequel Kindergarten Cop 2. He was also recently seen in actioner The Tracker.
We will certainly keep you updated on Dolph Lundgren and Sylvester Stallone's The International as the news arrives!
Joseph Baxter is a contributor for Den of Geek and Syfy Wire. You can find his work here. Follow him on Twitter @josbaxter.