News
Does WWE Need a Seth Rollins Backup Plan?
With Rollins still injured ahead of WrestleMania, are there contingency plans? ...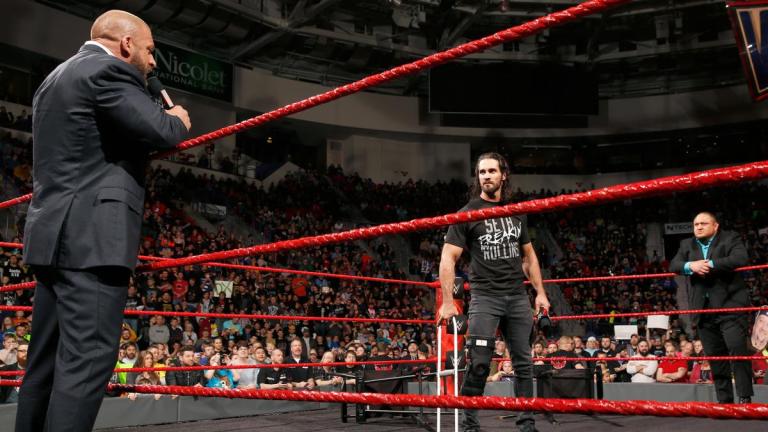 WWE has to have a backup plan when it comes to Seth Rollins.
Last night, the company appeared to further push towards a match between Rollins and Triple H at WrestleMania 33 next month. That's been a long-rumored match, going back to the end of last summer, but recently it was put in jeopardy after Rollins injured his knee in an attack from Samoa Joe.
Last night, Rollins and Triple H had a back-and-forth promo at the 10 p.m. hour of Raw, and Rollins appeared to indicate that he plans on being at WrestleMania and facing Triple H 1-on-1.
But, they fell short of promising it. Triple H even made a comment that he would see Rollins at the show, if doctors cleared him.
There was a lot of passion and intensity between Rollins and Triple H in this segment, with Rollins at one point standing with the aid of his crutch to stay upright. But let's say there is a worst-case scenario. Let's say that they get to the end of March and WWE realizes that Rollins isn't going to be cleared. What do they then do what Triple H at WrestleMania, because you know he's going to be on the show.
The first option would be just some sort of angle between Triple H and Rollins. I could see them going in that direction, but I could also foresee a scenario where Triple H isn't happy with just an angle, and wants to go back and put an actual match together with someone.
If that were the case, who is the best person for Triple H to work him
I think Triple H would have a great match with Sami Zayn. That's not a huge stretch, because most wrestlers have great matches with Zayn, but I think it's a possible road for Triple H at WrestleMania. 
What about a storyline with Samoa Joe? It seems like they could tell a quick and believable story between Joe and Triple H, where Joe turns babyface after getting sick of doing Triple H's bidding. My gut would be that's the favorite for where WWE would go, forced to take an alternate route due to Rollins' injury.
What about Shane McMahon? There's obviously a natural story there between Triple H and his brother-in-law, and where Stephanie has been pitted against Shane in storyline with Raw vs. SmackDown, this also seems like a natural story to tell with an easy tie-in that they could roll into quickly.
1. New Day beat Jinder Mahal and Rusev
Rusev was really good in this match, which went about 10 minutes. There are certain guys on both WWE and TNA's roster who are heels, but they're not really 100 percent willing to be heels. Rusev embraces that role. That being said, the crowd was almost dead silent for this match, and it set the tone for what was a lackluster crowd for most of the show.
2. Akira Tozawa beat Noam Dar
I feel like it's the same story each and every week with the cruiserweights. This was a good match and a good showing for Tozawa, but at the same time, the match was incredibly short, especially considering the type of matches the cruiserweights typically have.
3. Nia Jax & Charlotte beat Bayley and Sasha Banks
Just more misusing of Bayley. It's really a shame what they're doing to her. I thought that her title win was a nice moment, but WWE has done almost nothing to follow-up on that, and even then, you could argue that more should have been made out of that moment.
This was a good win for Jax, but the problem here is that WWE has two women in this match that both need to be built up. Jax and Bayley are two talents that both need to be pushed right now, and it feels like the put the brakes on one of them here (Bayley) for no real good reason. 
4. Big Cass beat Luke Gallows
Things aren't looking good for the long-term prospects of Gallows and Karl Anderson as tag team champions. The champs were taken care of by Roman Reigns – solo – in recent weeks and now here, Gallows loses a clean decision to Big Cass in only a few minutes. You never can tell with WWE's booking, but it doesn't seem as though they have high hopes for their current title holders.
5. Sheamus beat Titus O'Neil
I hope you didn't blink, or you would have missed the entire match. I wouldn't even call this squash match. This was just a quick domination. There were problem some fans in the crowd who would have lasted longer against Sheamus in a legitimate fight.
6. Big Show beat Primo and Epico 
The spotlight was more on Braun Strowman last week, but I wished there was better follow-up for Big Show coming out of a very strong main event one week ago against Strowman.
I'm not sure where they're going with Big Show. There have been rumors of Big Show against Shaq, but there have also need rumors that Shaq is not likely to go through with the match, so where does that leave Big Show?
Either way, it feels like they're trying to keep Show relevant ahead of WrestleMania 33. 
7. Jack Gallagher & TJ Perkins beat Neville & Tony Nese
Man, I thought the Tozawa match was fast! This was even quicker! And, there were more wrestlers involved!
8. Samoa Joe beat Cesaro
I liked the booking a lot here. While some might complain that they weren't given enough time to really have a classic — and they weren't — that wasn't the purpose of this match. The purpose of this match was to get Joe over as a legitimate badass. At some point, he'll have the five-star classic that he's capable of having, but a random Raw in February isn't the time to do it, especially with WrestleMania still on the horizon. Save your best.
If you want something closer to that classic match, Joe-Zayn on Sunday at Fastlane should deliver, although I am expecting Joe to dominate there as well.