News
Documentary Now Season 3 Release Date, Cast, Guest Stars, and More
IFC's Documentary Now is getting some big guests for season three.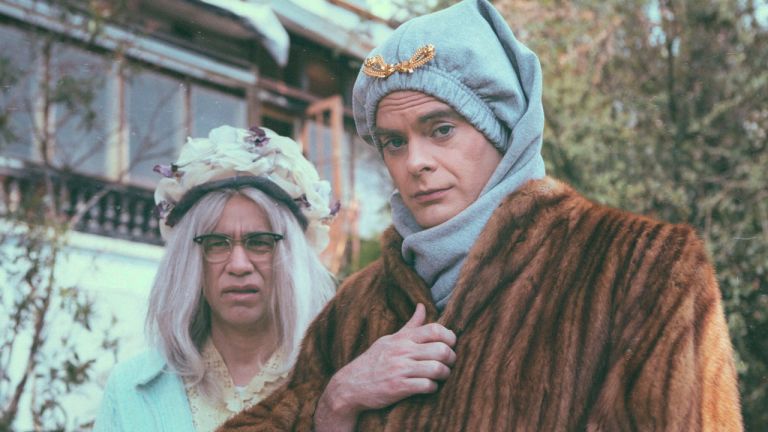 The world is a better place because of the documentary genre. The world is a funnier place when Documentary Now, a loving spoof on the genre, airs on IFC. Unfortunately, there's been a longer-than expected hiatus for the series, which last aired in 2016. While its stars and creative talent–Bill Hader, Fred Armisen, John Mulaney, and Seth Meyers among them–have no shortage of projects in front of them, IFC confirmed that Documentary Now Season 3 will finally premiere on February 20th at 10:00 p.m.
Now we have the first footage of season three in a new trailer: 
Documentary Now Season 3 Trailer
Documentary Now Season 3 Cast and Episodes
The series will have its biggest group of guest stars yet. Headlining the season premiere is Owen Wilson and Michael Keaton in an episode titled "Batsh*t Valley," a sendup of Wild Wild Country and the 2012 feature documentary The Source Family. Here's the episode synopsis from IFC: "Batsh*t Valley" follows Father Ra-Shawbard (Wilson), a self-proclaimed spiritual leader who, with the help of his loyal and strong-willed assistant Ra-Sharir (Zadegan), creates a commune of devoted followers in the small town of Chinook, Oregon in the 1980s. When the activities of the Shawbardite commune become public, FBI agent Bill Doss (Keaton) takes it upon himself to reveal the truth about their peculiar leader."
Two-time Oscar winner Cate Blanchett, who we'll add is coming off a fantastic turn as Hela in Thor: Ragnarok, will star in the episode titled "Waiting for the Artist." The episode was inspired by the 2012 documentary "Marina Abramovic: The Artist is Present," which follows conceptual artist Abramovic as she prepares for her art exhibition at the Museum of Modern Art. Blanchett will play acclaimed performance artist Izabella Barta as she "prepares for a major career retrospective, while reconciling her relationship with her former lover Dimo Van Omen (Armisen) – an infamous provocateur of the art world."
Here are the synopsis and cast for the other episodes via IFC: 
Inspired by the 2006 professional bowling documentary League of Ordinary Gentlemen, "Any Given Saturday Afternoon" follows the new maverick head of marketing for the Professional Bowling League, Rob Seger (Kevin Dunn, Veep), through a season on the pro-bowling circuit with top bowlers Billy May Dempsey (Michael C. Hall, Dexter), Rick Kenmore (Tim Robinson, Detroiters) and Larry Hawburger (Bobby Moynihan, Saturday Night Live).
"Long Gone" pays homage to Bruce Weber's 1988 documentary Let's Get Lost, which traces the tumultuous life and career of American jazz trumpeter Chet Baker. Shot on location in Budapest, Hungary, "Long Gone" tells the life story of jazz musician Rex Logan (Armisen) and features those who were most influenced by him, including his girlfriend and vocalist Carla Meola (Natasha Lyonne, Orange is the New Black).
"Original Cast Album: Co-op," is a parody of a 1970 D.A. Pennebaker documentary that follows the strenuous overnight cast recording of Stephen Sondheim's hit musical. In the episode, producers Benedict Juniper (Taran Killam, Saturday Night Live), Simon Sawyer (John Mulaney, Big Mouth) and Howard Pine (James Urbaniak, Difficult People) oversee the recording for the cast album of the musical Co-Op. The star-studded cast of Co-Op includes Kenny (Alex Brightman, Broadway's School of Rock), Larry (Richard Kind, Red Oaks), Patty (Paula Pell, A.P. Bio), and Dee Dee (Renee Elise Goldsberry, Broadway's Hamilton).
Documentary Now Season 3 Release Date
Documentary Now will return February 20th at 10:00 p.m. on IFC.
Documentary Now has a cult following, but earned IFC Emmy nominations for Outstanding Variety Sketch Series in 2016 and 2017, and a Critics' Choice nomination for Bill Hader for Best Actor in a Comedy Series. In a far more prestigious feat, Documentary Now was bestowed the coveted top spot in the 2016 Den of Geek Best TV Comedy Awards. As of this writing, they've yet to collect their trophy.
Documentary Now was created by Armisen, Hader, Meyers and Rhys Thomas. Thomas has co-directed every episode of the series with Alex Buono, who is also an executive producer. The series is produced by Lorne Michaels' Broadway Video.