News
Doctor Who's Charlotte Ritchie on wearing a Dalek: 'It really stank!'
Charlotte Ritchie tells us a little bit about smelly creature prosthetics and playing Lin in Doctor Who New Year special, Resolution…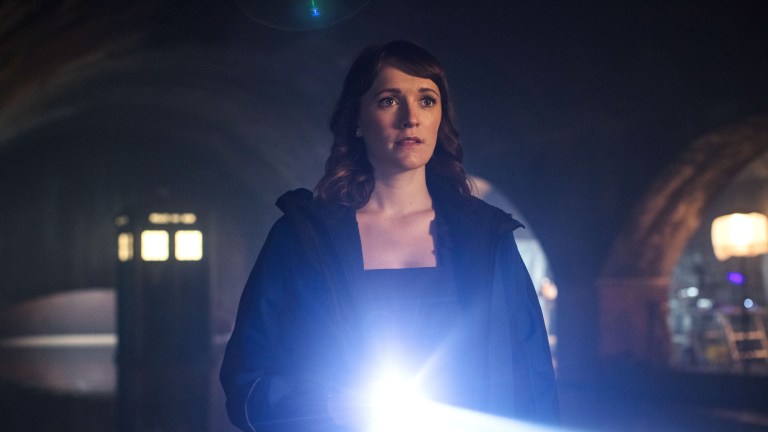 Contains spoilers for Doctor Who: Resolution
It's an experience only select actors can claim: playing a character controlled by an on-board tentacled squid alien set on world domination. That was the fate of archaeologist Lin in this year's Doctor Who New Year special, Resolution.
Played by Charlotte Ritchie (Fresh Meat, Siblings, Call The Midwife), Lin and colleague Mitch (Nikesh Patel) uncovered the ancient remains of an alien enemy underneath Sheffield Town Hall. That alien, as we all now know, was a Dalek.
Speaking to Ritchie while promoting her ace new gaming sitcom Dead Pixels, coming next week to Channel 4, she told us a little bit about her experience on Doctor Who.
Den Of Geek: Tell us about wearing that Dalek prosthetic and how it worked
The prosthetic was really cool actually, it was designed by these two guys [Lee Radford and Robert Allsopp, we think] with very little notice. I think like, a week's notice, maybe two weeks, something insane like that.
They made this animatronic sort of squid monster that was connected to me with a weighted harness that was strapped around my belly and over my shoulders, like a backpack. It had some arms that were pinned to me and two animatronic arms that would wiggle around in my face. They were controlled by remote-control, a bit like a joystick and that was really cool.
It smelled so bad! Weirdly, the material that they used really stank.
How did you go about channelling the Dalek in your performance?
The way I channelled the Dalek was just being terrified of the fact that I had to portray someone being piloted by a Dalek so it sort of came through as like, genuine fear that I was experiencing. It was really cool. It was really cool. I found it very scary to do because it's quite an action-packed episode [directed by Wayne Yip], and something I'd never done before but it was great to watch.
I actually really enjoyed it. I so rarely really enjoy things when I'm in them. You feel so stressed but I managed to forget about it, and it was just so fun. Good show!
Doctor Who: Resolution is available now on BBC iPlayer.