News
Doctor Who: the online reaction to Catherine Tate
A flavour of some of the more, ahem, 'passionate' comments about the casting of Catherine Tate in Doctor Who. BE WARNED! THERE ARE VERY RUDE WORDS IN HERE!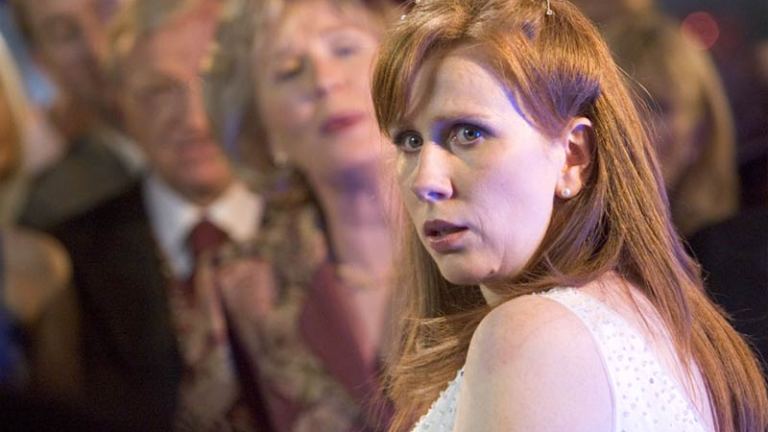 In the 24 hours since it was announced that Catherine Tate was Doctor Who's new companion, the Internet has reacted. Here, er, are some of the more printable. Very rude words ahead… 
Christopher Ecclestone to Catherine Tate in the space of four seasons, makes you wonder who they have got in mind for series 5 – Peter Andre and Jordan, maybe, that'll appeal to the readers of OK, won't it? – Denise Powis, BBC Online
*
Only the announcement of Lou and Andy as the new companions could have been any worse. There's no way I'm allowing Tate on my telly for a combined ten hours next summer. – fitzpas, The DVD Forums
*
"I just woke up,my chinese girlfriend looks beautiful sleeping,it's raining outside and so it's not too warm in Wuxi,I have some really cold orange juice to cure my slight hangover and I log on to the net.It's my one day off of the week and it feels nice not to worry about work.Im fairly broke but I feel hungry so I ask my girl if she wants to gout for dinner.She does.Then I see this news.TATE???FUCKING TATE???FUUUUUUCCKKK OOOFFFFF.I ran all the way to China to escape talentless fucks like Little Britain and Tate.FUCKING HELL.Trust me ,escape that pit of a country for a while and you slowly realise what a load of fucking shit some hairbrained yokels think is talent and/or funny.FUCKING HELL.I have just got into REALLY enjoying Who (apart from that awful last episode) and now this.The only fucking thing worth watching on English tv has just lost the trust of a fan.Not only is she fucking annoying,she's going to win the award for least fuckable companion on Who.No romance from now on then.Freema was a babe.From Martha to TATE,how to destroy some kids first wank experience" – AinItCoolNews.com talkback
*
"OH MY HOLY GOOD GRAVY WHOSE FUCKING STUPID IDEA IS IT TO LET THAT IRRITATING BITCH BACK INTO THE TARDIS? NOT HAPPY. I may actually not be able to watch the next series. Seriously. Hateful stupid ****. ARGH.
I HATE HER FACE AND I AM NOT HAPPY. EVEN THE POWER OF DAVID TENNANT MAY NOT MAKE ME ABLE TO WATCH. WHEN FREEMA COMES BACK COULD SHE KINDLY KILL THE STUPID TALENTLESS HARPY? KTHNXBAI." … 14 minutes later "Oh yes…and further to the point… "one of Britain's greatest talents" No. NO NO NO. You CAN NOT apply that phrase to HER. That phrase applies to people like Alec Guinness, Judi Dench, Alastair Sim, James McAvoy (yes he IS a good actor when he doesn't have goat legs for a stupid rehash of a damnfine book), Helen Mirren (as much as I dislike her), Julie Walters etc. etc. I could go on… But HER?! The woman CANNOT ACT. And as for her alleged comedy…dude…she's just ripped ideas off other people and done them BADLY and not used any sort of actual inventiveness to change her incredibly boring and repetitive skits. Did I mention I HATE HER? I will keep screaming this forever. My father, who has a severe lack of taste and actually likes this silly cow, has also registered displeasure at her being completely in the new series. He says she wasn't actually that bad before, but he is still not that happy about her being in it. Mostly because he knows how much I WANT TO KILL HER FOR BEING CRAP AT EVERYTHING AND INFLICTING HER STUPID TALENTLESS SELF ON THE AIRWAVES." – LiveJournal of KitKatDoll
Simon still argues that Catherine Tate is a good actress, by the way. Even if he's not a mad fan of the casting decision…