News
Doctor Who: The Edge of Time Features a Brand New Monster
Meet the Hydrorks, a brand new villainous race that will appear in Doctor Who: The Edge of Time.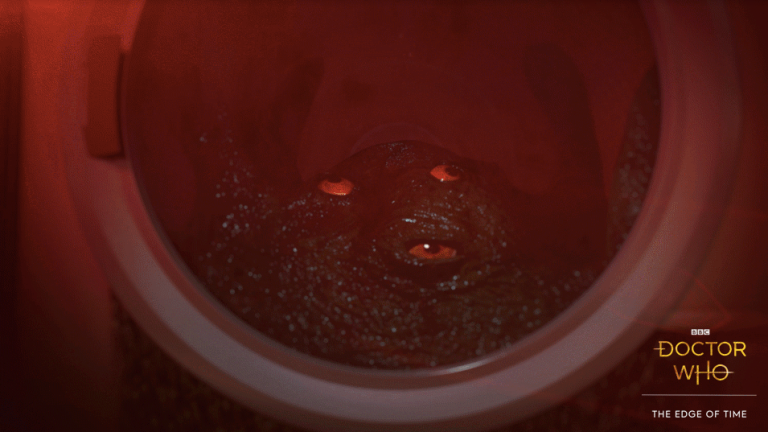 Doctor Who: The Edge of Time is an upcoming VR game from the developers at Maze Theory and the publishers at Playstack, which is expected to materialize in our lives this September. Today, we've learned that the game will introduce a brand new monster to Doctor Who lore. These new baddies are called the Hydrorks, and we've got a video of them to share.
The Hydrorks are described as "vicious amphibians sometimes used as guards by races like the Stenza and Zygons." And in case you were wondering, they do sound pretty gross: "They are incredibly eerie, slimy and stare at you! These deadly carnivores have no table manners and a real taste for human flesh. Yep, they're always hungry."
You can get your first look at the Hydrorks in the behind-the-scenes video below. As you can see, they're covered in goo and have a fair number of eyeballs, and they've taken a shine to an otherwise ordinary-looking laundromat…
The exact nature of the Hydrorks and their abilities is yet to be seen, and we look forward to finding out exactly how they factor into the story and provide a threat to the player. You'll take on the role of a companion in the game, with Jodie Whittaker lending her voice to The Doctor to help guide you through various worlds, times, and puzzles.
Further Reading: How Doctor Who Games Have Evolved Since 2005
The Hydrorks aren't the only baddies in the game, either. Maze Theory has also shared this behind-the-scenes video of Daleks being made…
And here's a video pertaining to the Weeping Angels, whose "move when you're not looking" abilities arguably make them a perfect villain for VR…
You'll come face to face with all these monsters when Doctor Who: The Edge of Time launches in September for PlayStation VR, Oculus Rift, Oculus Quest, HTC Vive and Vive Cosmos. We'll be sure to keep you posted as we hear more.