News
Doctor Who: Steven Moffat on his advice for Chris Chibnall
The advice that Steven Moffat gave his replacement? Don't forget "to have a life while you're running Doctor Who."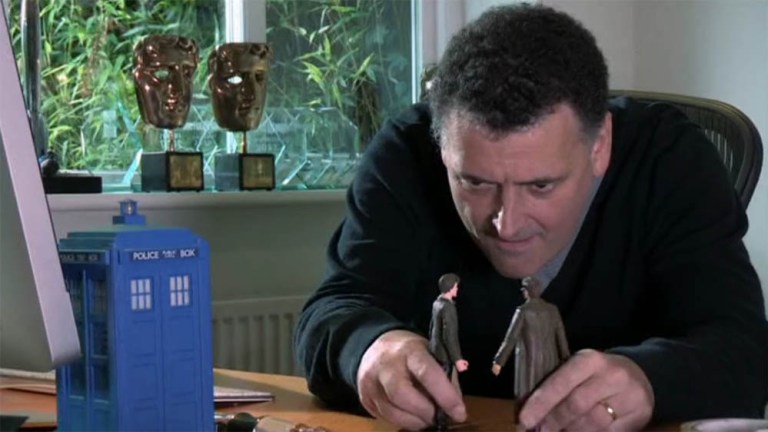 Say what you will about the Steven Moffat era (for the record, this writer has loved most of it), but there's one undeniably sad thing about The Moff's departure from Doctor Who: we won't have a reason to use this image of him playing with toys anymore. We really love this image.
But yes, Moffat will leave Doctor Who at the end of 2017, after series 10 and this year's Christmas special have waved Peter Capaldi off. Stepping in to manage the show will be Chris Chibnall, who's currently airing his final series of Broadchurch.
In a new interview with Worldscreen, Moffat was asked the age-old question of what his advice for his replacement will be. Here's what he said..
"Advice, oh Lord! [Laughs] First of all, he's a very, very experienced showrunner himself, so he doesn't need advice. The advice I gave him, which I won't share, was not about how to run Doctor Who but how to have a life while you're running Doctor Who. The things you must make sure of. He's a family man, like myself. You've got to make sure that you survive it! [Laughs]

"And the support you're going to need and what it's going to be like at 4 in the morning when you're rewriting some other bastard's script and not even putting your name on it. What that's going to feel like. That is what I talked to him about. He has his own ideas about how to do Doctor Who. The advice I've given him is all prosaic and all quite, make sure this happens, make sure you get that and don't let them do this. I won't tell you what those things were! [Laughs] But it's really about, you've got to see your kids now and then. You've got to go home now and then. You've got to keep living. It is a monstrous workload, Doctor Who, monstrous."
And of his own future, Moffat said this: "I'd probably like to do some things that are quite different because it does feel like, by accident rather than by design, I've been involved in curating two enormous behemoths, two enormous, showbizzy things that everyone in the world wants to have the most interesting opinion about."
Right now, though, he's a bit busy to be thinking about the specifics of those future plans.
"I'm still absolutely in the storm of Doctor Who," The Moff explained. "I'm writing my last finale just ahead of my last Christmas special; they're both staring me in the face right now. But it's still full on. It will be full on until the second it's not. There is no process of leaving. One day you're doing the job fully and completely, the next day you're not. It will be as simple as that."
The full interview with Worldscreen, which is well worth a read, can be found here.
More as we hear it.