News
Doctor Who series 9: Hell Bent finale trailer
Our review and geeky spots for Doctor Who series 9: Heaven Sent, and the 'Next Time' trailer for series 9 finale, Hell Bent...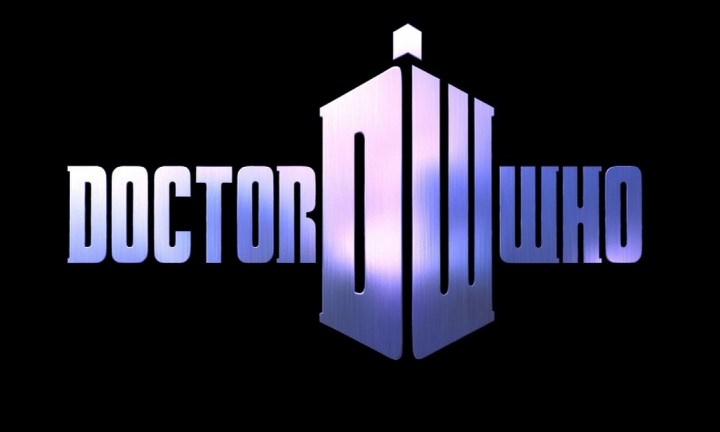 FINALE NEWSNow that Face The Raven has been and gone, we only have two Doctor Who episodes left until Christmas. Both of these episodes will have extended running times.First up, we'll get Heaven Sent, which airs on Saturday the 28th of November. This episode – touted as something of a solo outing for Peter Capaldi – will be 55 minutes long.Here's a new clip from the episode…
Here's the 'Next Time' trailer for series 9's penultimate episode, Heaven Sent…
And here's another trailer for Heaven Sent…
The following weekend – on Saturday the 5th of December – we'll witness the series finale, Hell Bent. This episode will be a whopping 65 minutes long. The synopses for these episodes have also landed online. We're going to stick those in a different article, because they could be deemed a little spoilery. You can click here to see the synopses, if you're that way inclined.FACE THE RAVEN ANALYSISHere's our review of the latest episode, Face The Raven. And here's our regular geeky spots and viewing notes piece. Both contain spoilers!FACE THE RAVEN PREVIEWSDoctor Who's next episode, Face The Raven, sees both Jovian Wade's Rigsy and Maisie Williams' Ashildr return to show.Here's a preview clip…
And here are a couple of trailers…
And here's the synopsis…"The Doctor and Clara, with their old friend Rigsy, find themselves in a magical alien world, hidden on a street in the heart of London.""Sheltered within are some of the most fearsome creatures of the universe… and Ashildr (Maisie Williams)! With a death sentence hanging over their heads, not all of the intruders will get out alive."Face The Raven airs on Saturday the 21st of November at 8.10pm, on BBC One.SLEEP NO MORE ROUND-UPOur spoiler-filled review of Sleep No More is here. Our geeky spots and viewing notes are here.ALSO ON SLEEP NO MORESleep No More is the episode tasked with the tough job of following on from last Saturday's incredible Doctor Who outing The Zygon Inversion. We've got two preview clips and two trailers here, to whet your appetite. Our spoiler-free review is here and a clutch of official images from the episode are available to peruse, here.Here's the latest clip…
And here's the previous clip…
Here's a trailer…
And here's another trailer…
Our review of The Zygon Inversion is here, and our viewing notes are here.Sleep No More airs on BBC One on Saturday the 14th of November, at 8.15pm.PREVIOUSLYToday, we've heard about some American cinema screenings of the Doctor Who Christmas special of 2015. You can read more about that right here.We also got this brief plot summary…"It's Christmas Day in the future and the TARDIS is parked on a snowy village street, covered in icicles, awaiting its next adventure. Time traveler River Song meets her husband's new incarnation, in the form of Peter Capaldi, for the first time this Christmas."And this image…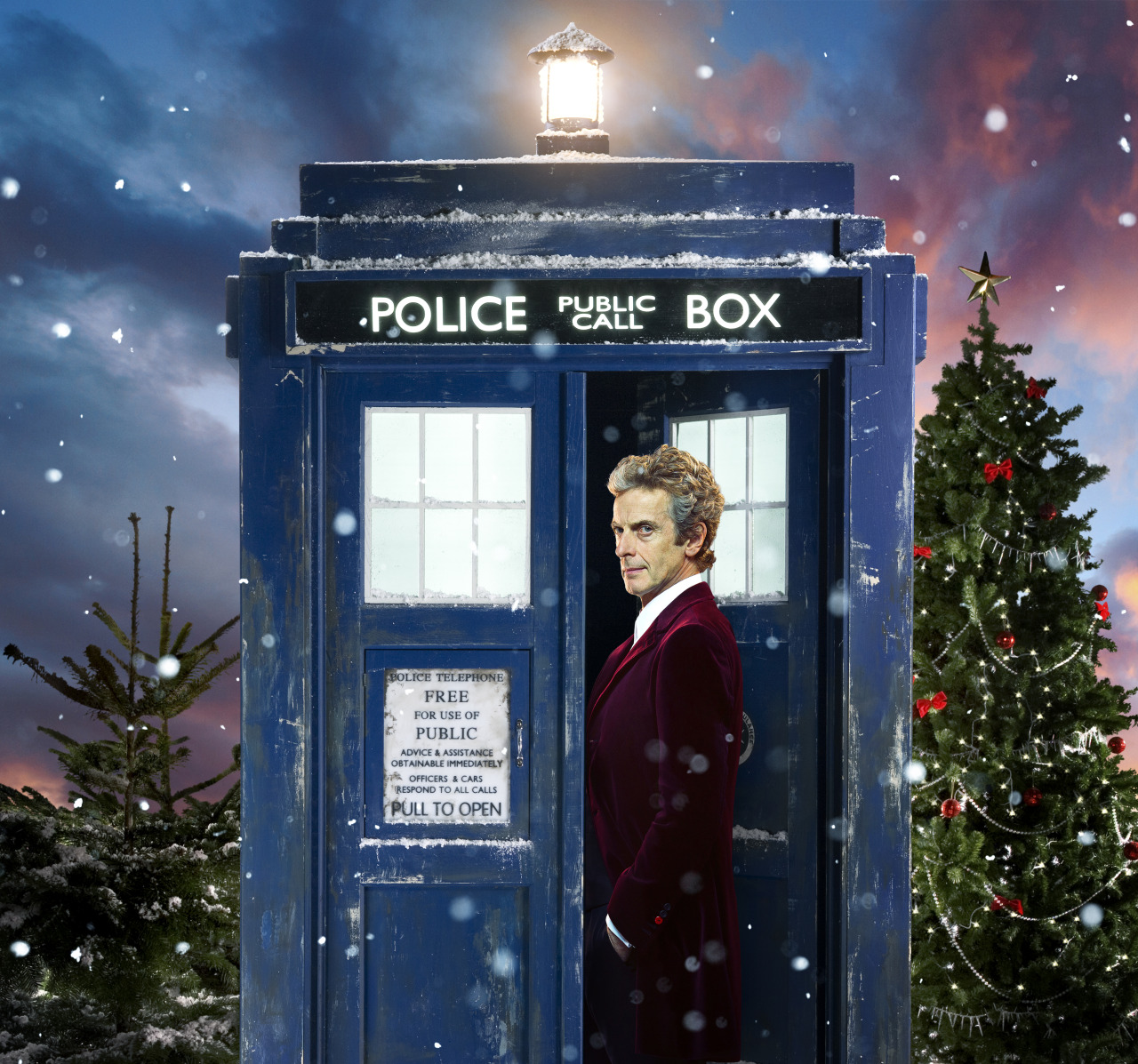 More on the Christmas special as we hear it.
Doctor Who Tumblr
LAST WEEK
This Saturday, we'll see 
The Zygon Inversion 
tying up the plot threads left dangling by 
The Zygon Invasion. 
To get you prepared, we have three promotional videos for you.Here's a clip from the episode…
Here's another…
And here's an introduction video from the cast and crew…
We also have lots of The Zygon Inversion images right here.The episode airs at 8pm on BBC One, this Saturday.EARLIER THIS WEEKRecurring guest stars Maisie Williams (the immortal Ashildr) and Jovian Wade (Bristol graffiti artist Rigsy, from last year's Flatline) both feature in this synopsis for series 9 episode 10, Face The Raven…"The Doctor and Clara, with their old friend Rigsy, find themselves in a magical alien world, hidden on a street in the heart of London.""Sheltered within are some of the most fearsome creatures of the universe… and Ashildr (Maisie Williams)! With a death sentence hanging over their heads, not all of the intruders will get out alive."Blogtor WhoPREVIOUSLYDon't expect that guitar amp to be ripped out of the TARDIS any time soon – Mr Peter Capaldi will remain in Doctor Who's title role for series 10. "Peter Capaldi is going nowhere," showrunner Steven Moffat told Variety when asked recently about series 10. Moffat didn't have much more to add, except for jokingly mentioning – when asked about his and Capaldi's shared Scottish heritage – that "it's a conspiracy. Piece by piece, person by person, we are replacing the English." Asked if he saw a five-year future for the show, Moffat said this: "It is definitely going to last five more years, I've seen the business plan. It's not going anywhere. And I think we can go past that. It's television's own legend. It will just keep going."EARLIERThe Zygon Invasion aired on Saturday night, picking up a few threads from The Day Of The Doctor, re-introducing some classic baddies, and teeing up next week's concluding instalment of the two-parter.Our spoiler-filled review of The Zygon Invasion is here, and our geeky spots viewing guide is here. Here's a trailer for this Saturday's follow-up, The Zygon Inversion…
You can also find lots of The Zygon Inversion images right here.PREVIOUSLYThe Zygons are back! They'll begin wreaking shapeshiting havoc tomorrow night – Saturday the 31st of October – in The Zygon Invasion, which kicks off on BBC One at 8.15pm.Here are two new clips to tide you over until then… 
BBC YouTubePREVIOUSLYIf you watched The Woman Who Lived and wondered how long it'd take for Maisie Williams' Ashildr/Lady Me character to return to Doctor Who, we've got the answer for you here.She'll show up again in series 9 episode 10, in an adventure entitled Face The Raven. Jovian Wade is also returning in that episode, reprising his role as Rigsy from last year's Flatline. Steven Moffat and Sarah Dollar broke the news at an MCM Doctor Who panel over the weekend.The synopsis for Face The Raven – which was written by Sarah Dollard and directed by Justin Molotnikov – teases the episode thusly:"Have you ever found yourself in a street you've never seen before? The next day, could you not find that street again? You weren't dreaming. Your memory isn't playing tricks. Like many lost souls throughout the ages, you have stumbled on an extraordinary secret – be grateful you survived it. The Doctor and Clara, with their old friend Rigsy, find themselves in a secret alien world, folded away among the streets of London. Not all of them will get out alive. One of the three intruders must face the raven…"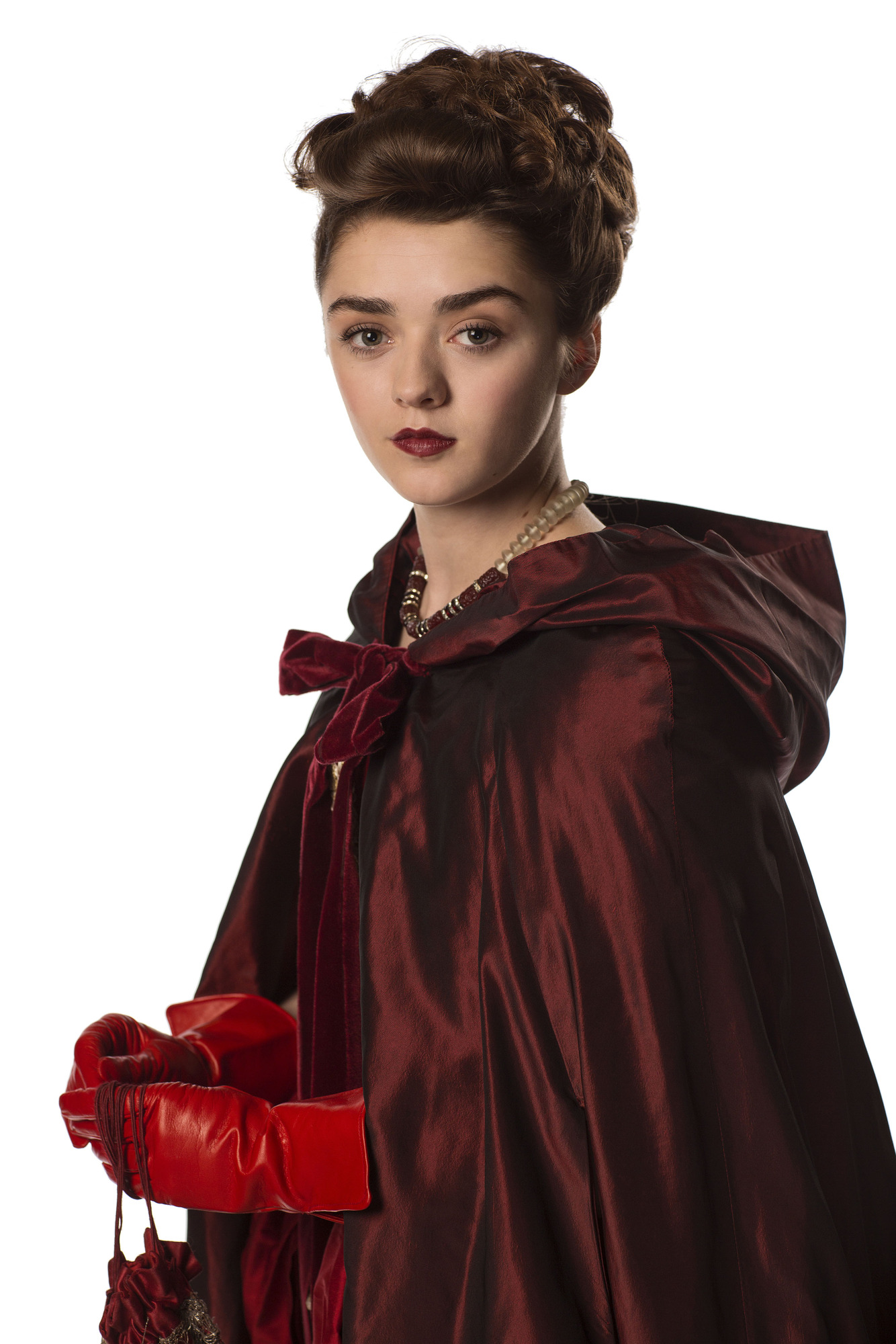 PREVIOUSLY-EROur spoiler-free review of the next episode of Doctor Who, The Zygon Invasion, written by Peter Harness and directed by Daniel Nettheim, is here. The episode airs this Saturday the 31st of October at 8.15pm on BBC One.BEFORE THATThe Woman Who Lived has now reached our screens. You can read our spoiler-filled review here, and our geeky analysis here.Next up, we've got The Zygon Invasion, which looks set to be Doctor Who's version of Marvel Comics' Secret Invasion, playing with the idea that shapeshifting aliens could be infiltrating society and causing chaos without our knowing. Here's the synopsis…"Shapeshifting Zygons are everywhere in the UK, and there is no way of knowing who to trust. With UNIT neutralised, only the Doctor stands in their way. But how do you stop a war? And what can the Doctor do to save his friends?"Here's the 'Next Time' trailer…
And here's the full TV trailer…
The Zygon Invasion airs on BBC One on Saturday the 31st of October at 8.15pm.PREVIOUSLYSo, The Girl Who Died has been and gone with some hefty revelations therein. This Saturday, Maisie Williams will return in The Woman Who Lived. Comedian Rufus Hound guest stars. You can click here to see a shed-load of new images from the episode.Here's the synopsis…"England, 1651. The deadly Highwayman 'The Nightmare' and his sidekick stalk the dark streets of London. But when they find loot that's not of this world, they come face to face with the Doctor. Who is the Nightmare in league with? And can the Doctor avoid the hangman's noose and protect Earth from a devilish betrayal?"Here's a new clip, clealry inspired by a certain Blackadder moment…
Here's the Next Time trailer…
Here's a promo pic…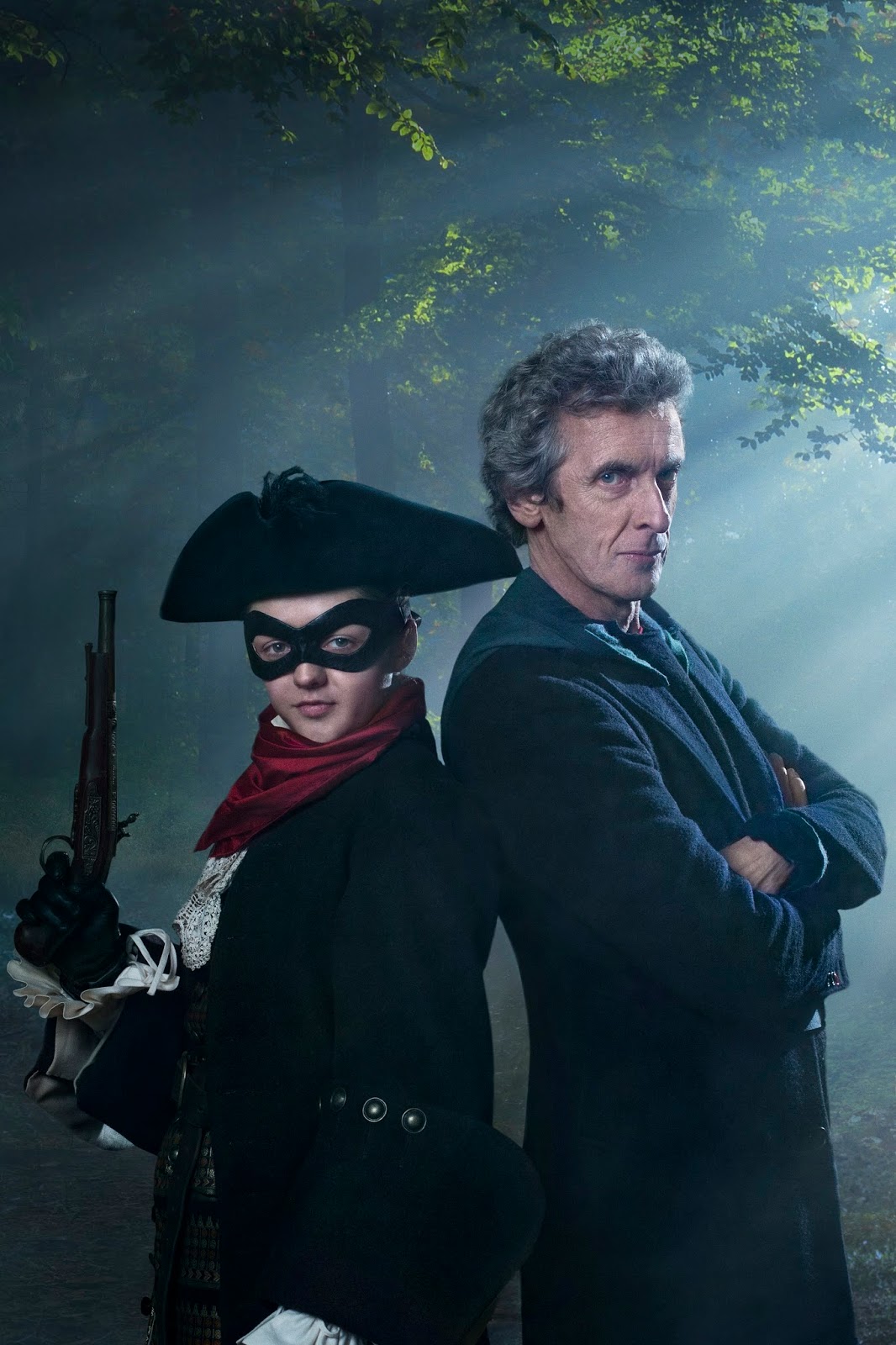 And here's the TV trailer…
Our review of The Girl Who Died is here, and our geeky spots piece is here.PREVIOUSLYLast Saturday we saw Before The Flood tie up the loose ends of Under The Lake. This coming Saturday, we'll get The Girl Who Died, followed by The Woman Who Lived the week after. The BBC has now released the trailers for The Girl Who Died. You can get an eyeful, here, starting with a new Star Wars-inspired clip…
Moving on to the Next Time trailer…
And the full TV trailer…
And we also have synopses for these next two episodes. Here's the synopsis for part 1, The Girl Who Died: "Captured by Vikings, the Doctor and Clara must help protect their village from Space Warriors from the future: the Mire. Outnumbered and outgunned, their fate seems inevitable. So why is the Doctor preoccupied with a single Viking girl?"And here's one for The Woman Who Lived: "England, 1651. The deadly Highwayman 'The Nightmare' and his sidekick stalk the dark streets of London. But when they find loot that's not of this world, they come face to face with The Doctor. Who is the Nightmare in league with? And can the Doctor avoid the hangman's noose and protect Earth from a devilish betrayal?"These episodes will both guest star Maisie Williams of Game Of Thrones. Curiously, those snyopses suggest that the stories may not be as closely linked as we first thought. It remains to be seen whether or not this is a traditional two-parter.There are also lots of pictures from this episode doing the rounds. You can have a look at them by clicking here.PREVIOUSLYThis Saturday's episode, Before The Flood, will unravel the ghostly goings on of Under The Lake. In the meantime, there are plenty of promotional materials doing the rounds online. First up, here's the trailer for the episode…
And here's a little preview video featuring Capaldi, Coleman and Moffat…
And here's a great big pile of pictures…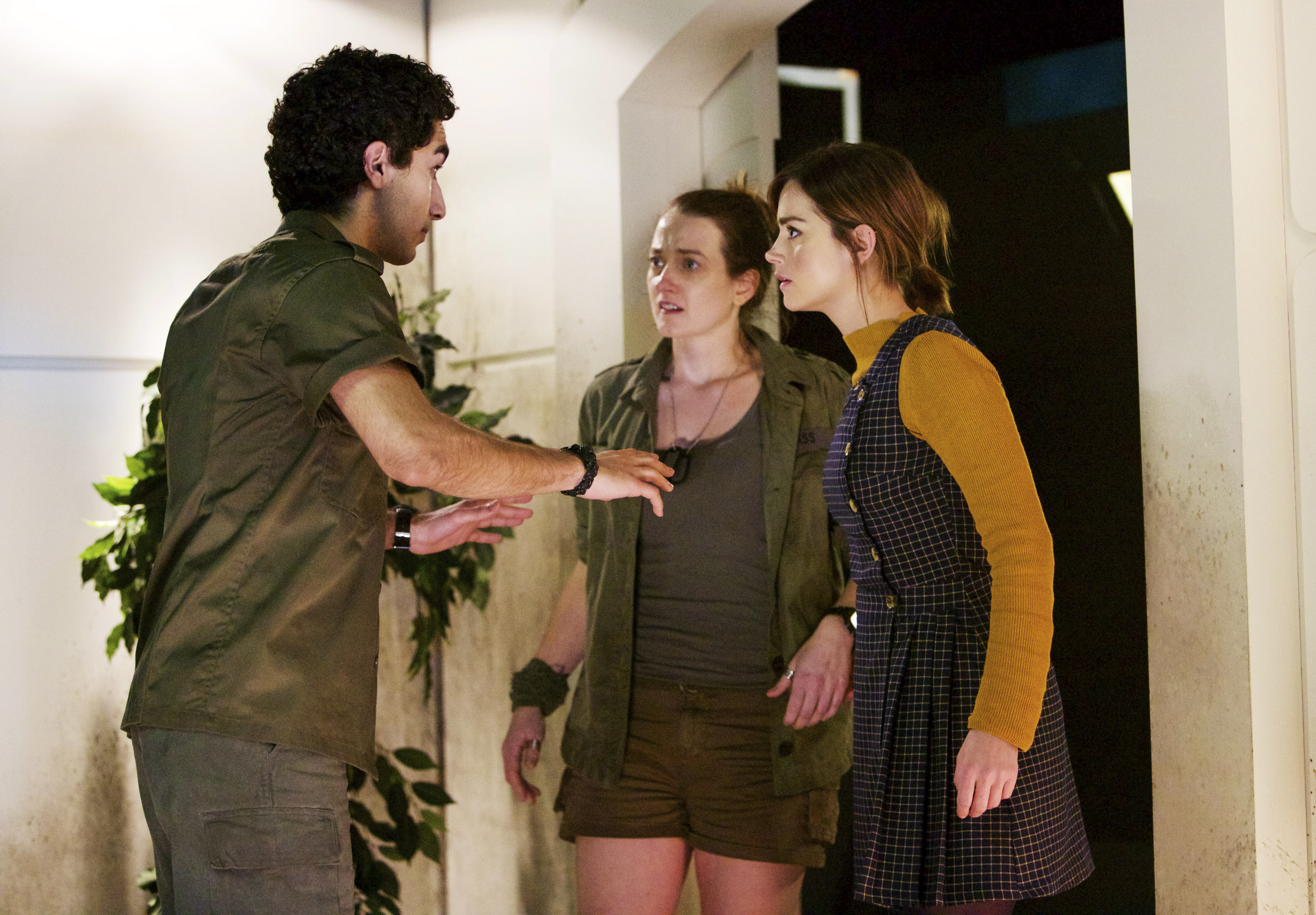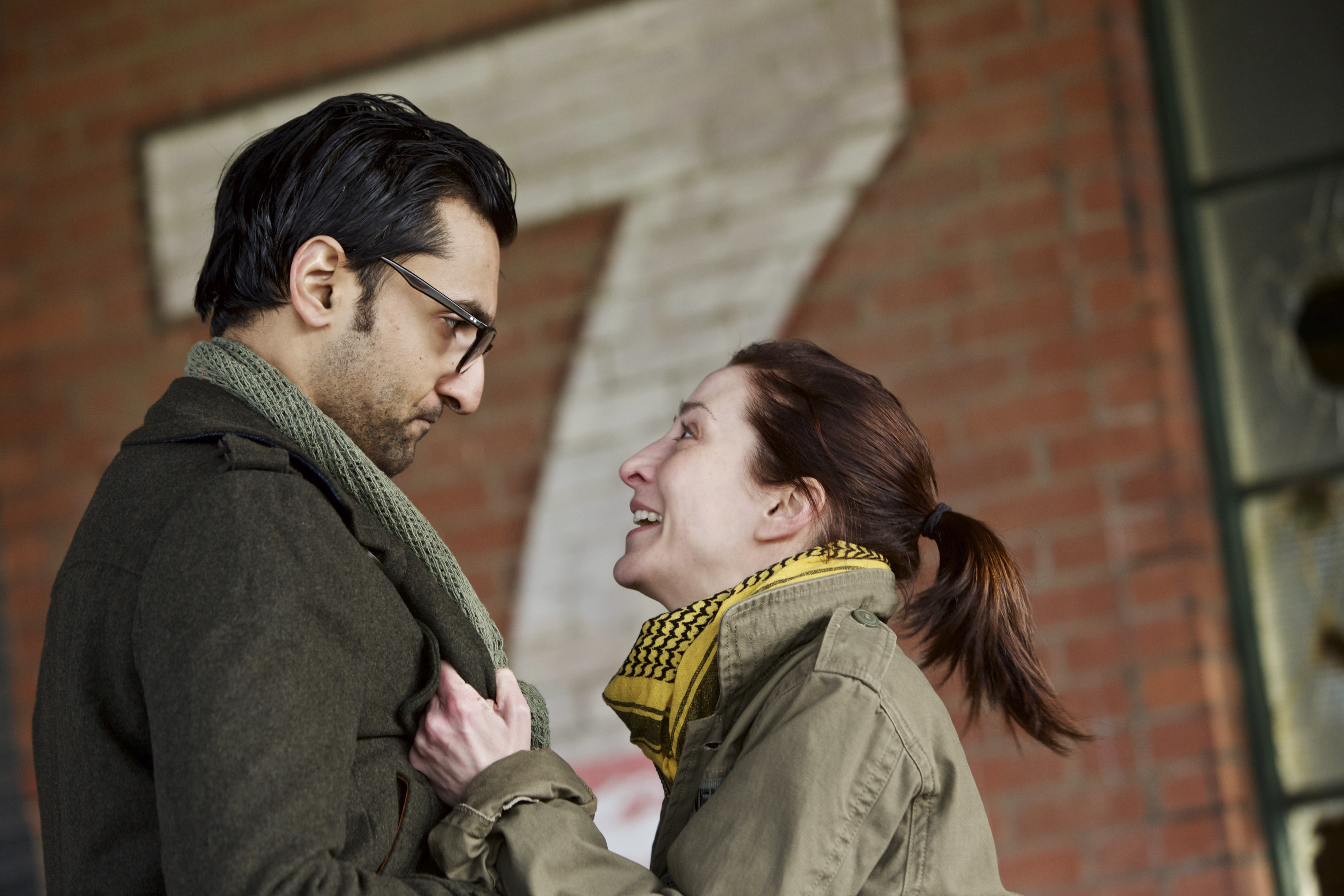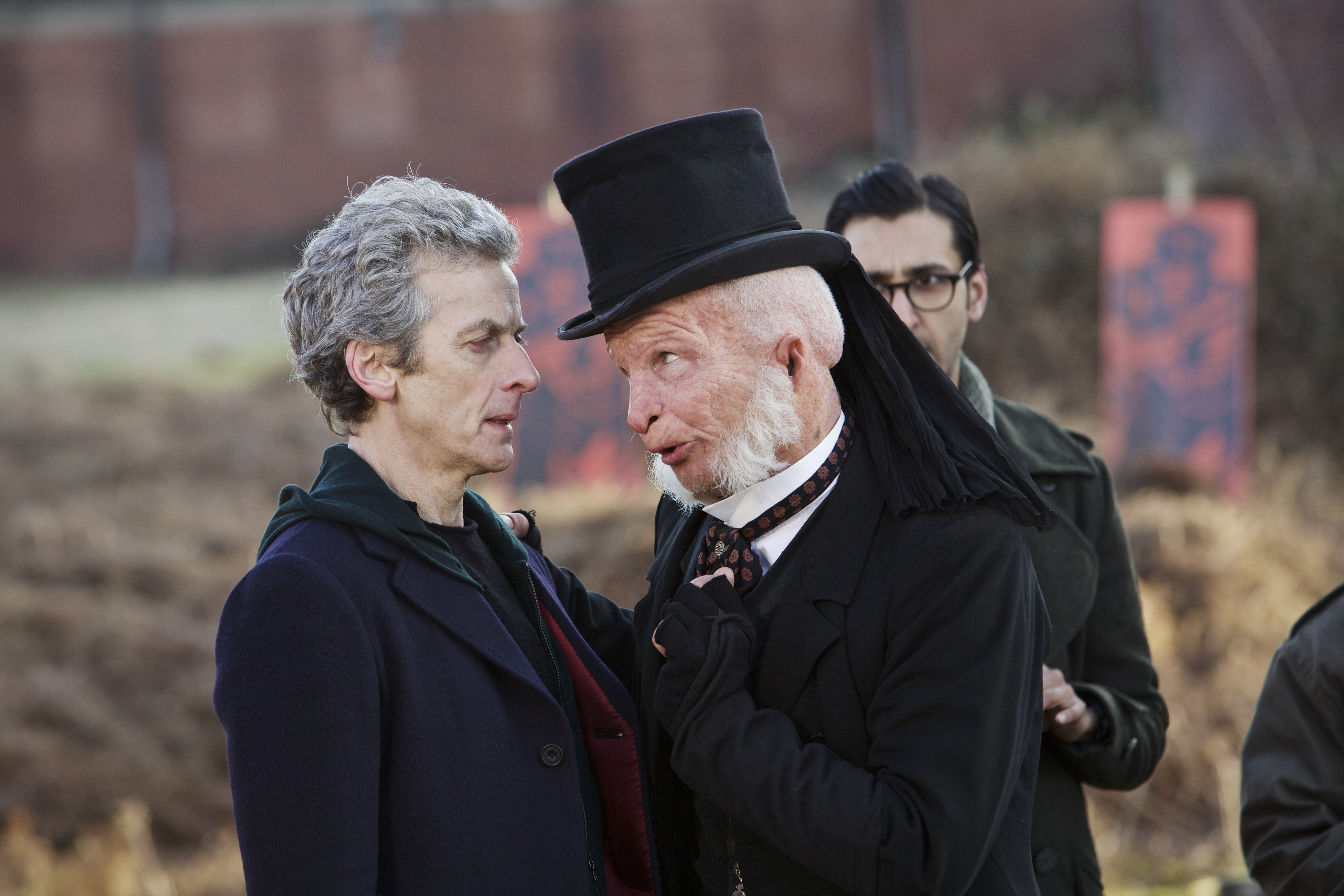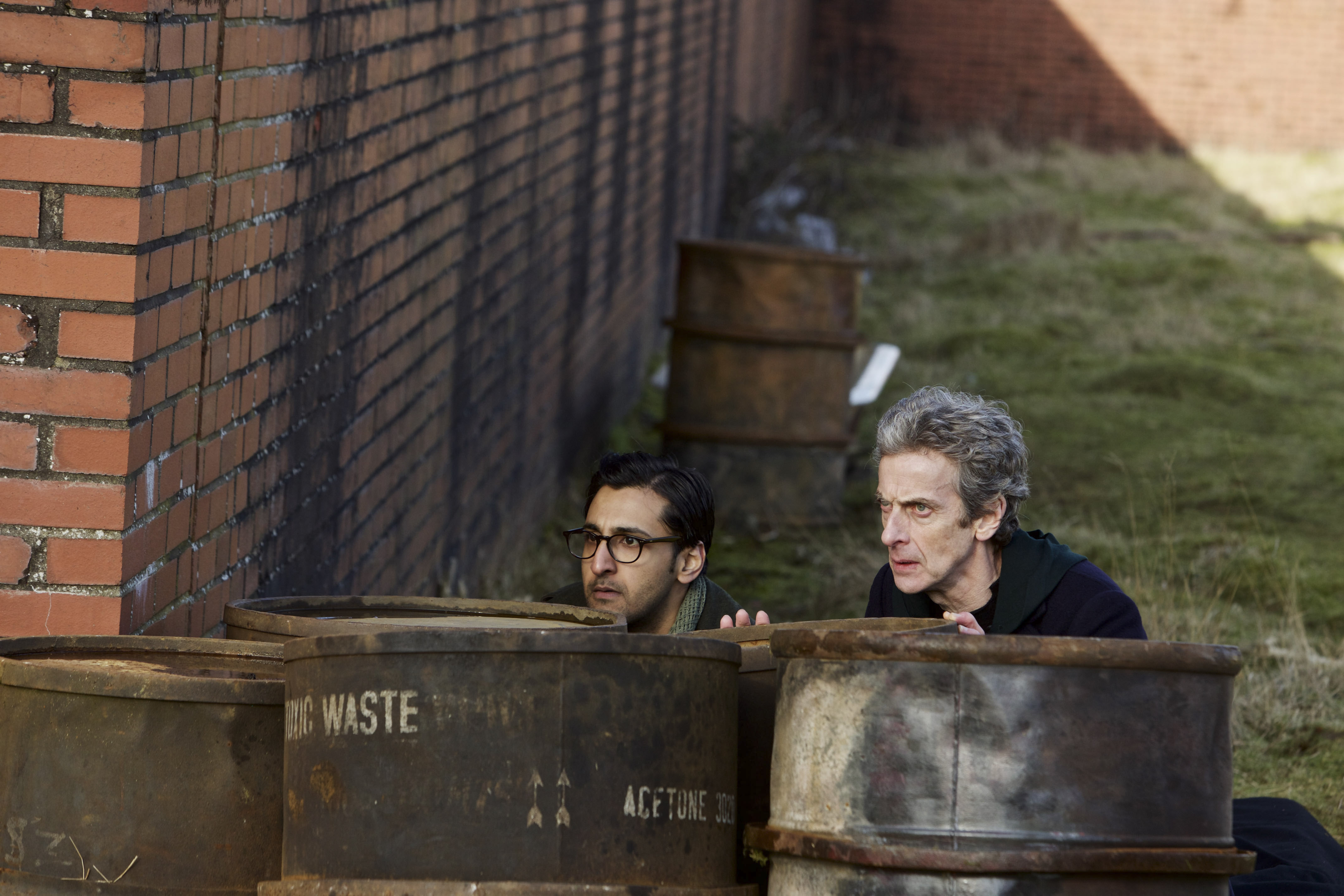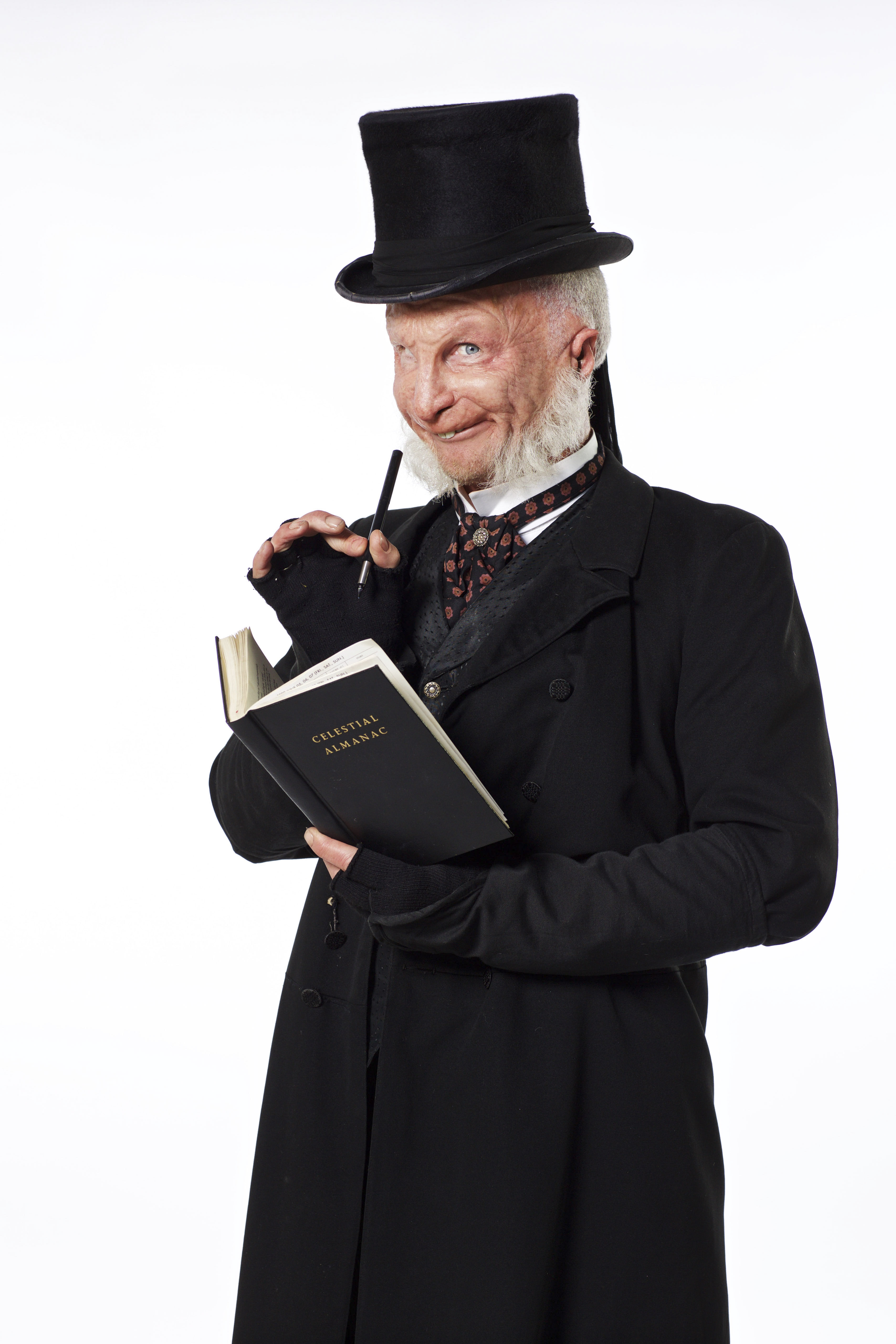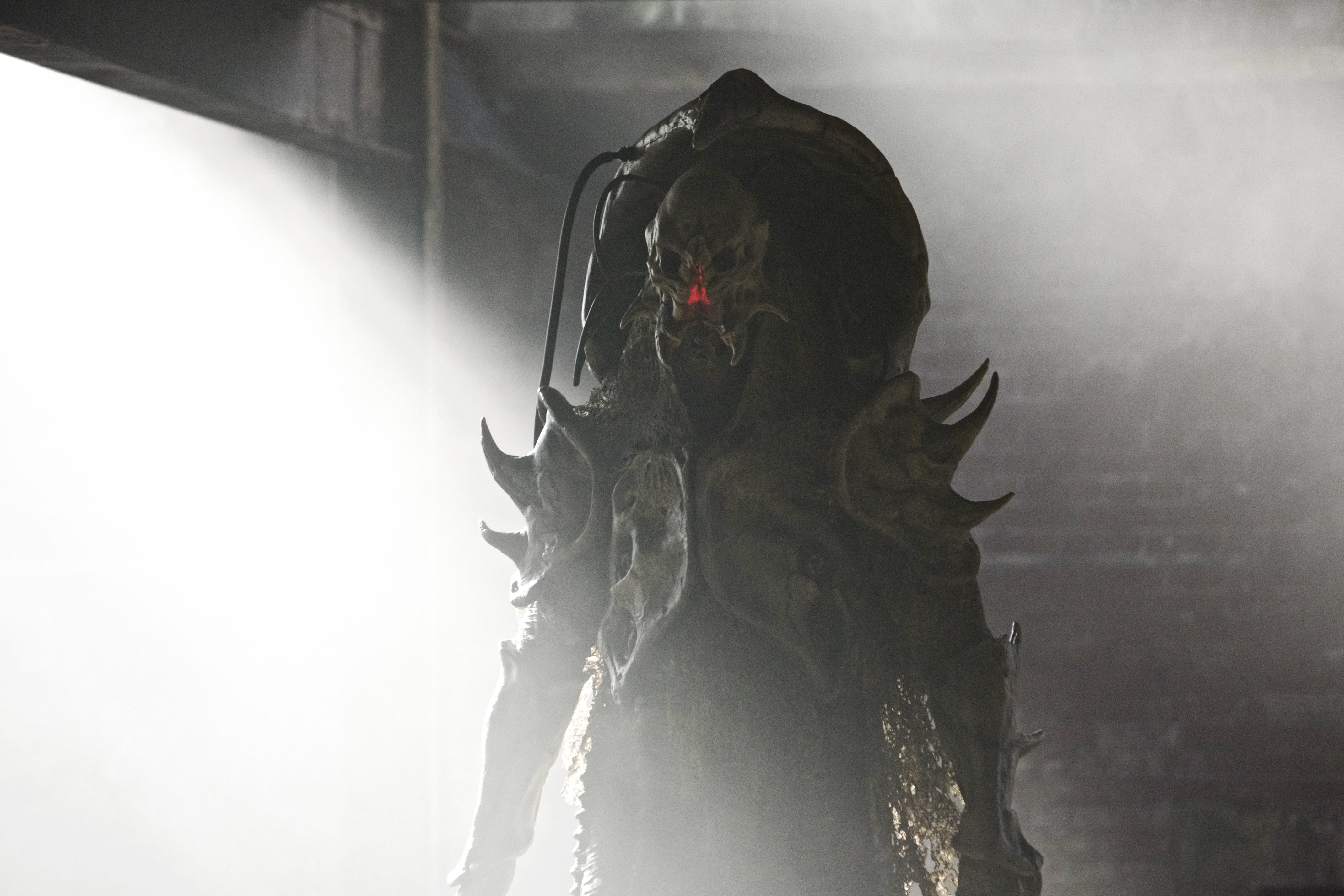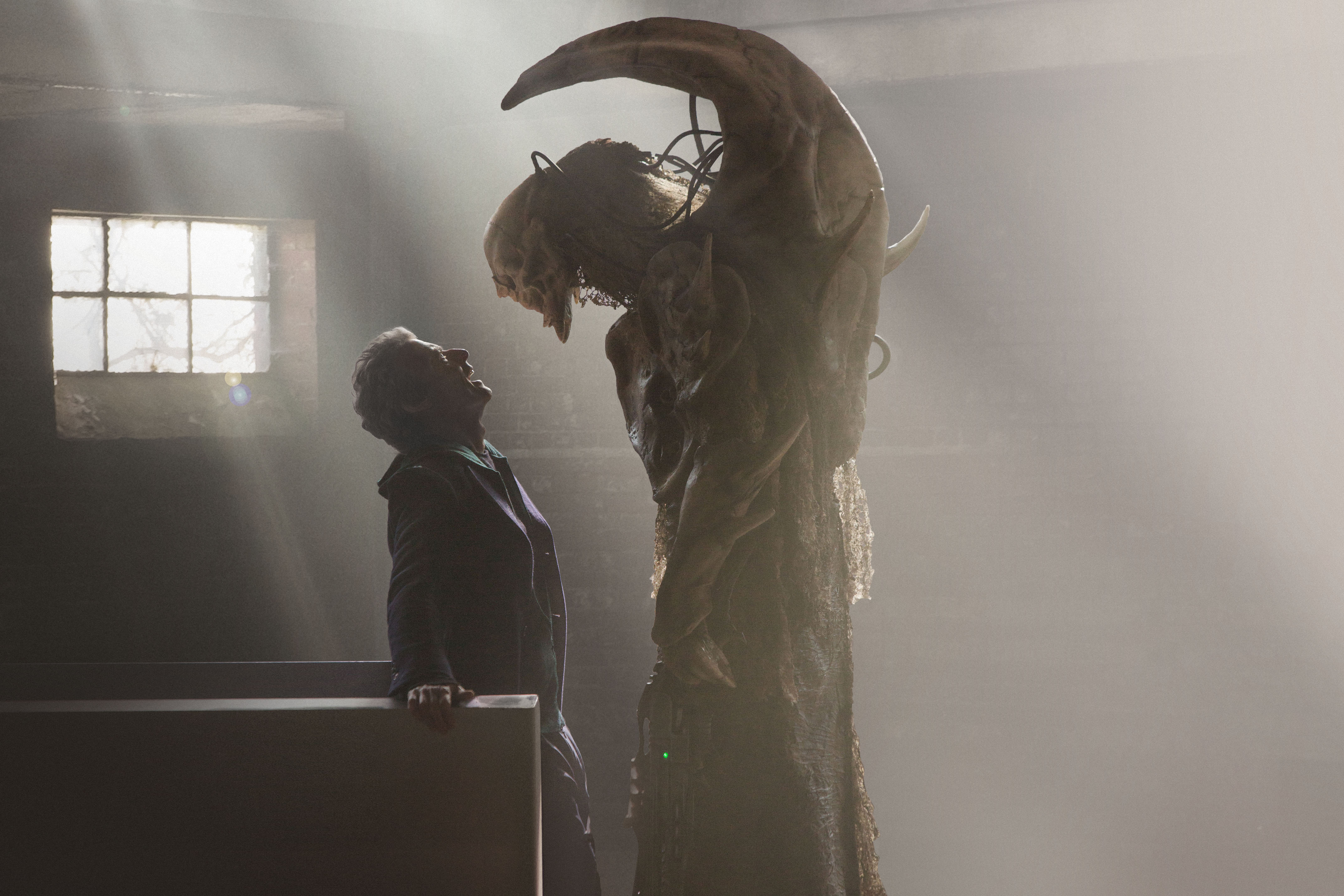 If you need more stuff to tide you over, here's our
review
 of
Under The Lake
, and our round-up of
geeky spots
in the episode. There's also our
spoiler-free review
of 
Before The Flood
.
EARLIER
So, 
The Witch's Familiar 
has been and gone, rounding off the opening two-parter for series 9.
Next up, it's 
Under The Lake, 
which looks like a classic base-under-siege story with added ghostly goings-on. We've got loads of preview material for you here, starting with the trailer…
Followed by a special video intro from Steven Moffat, Peter Capaldi and Jenna Coleman…
And finally, a big pile of promo pictures from the episode…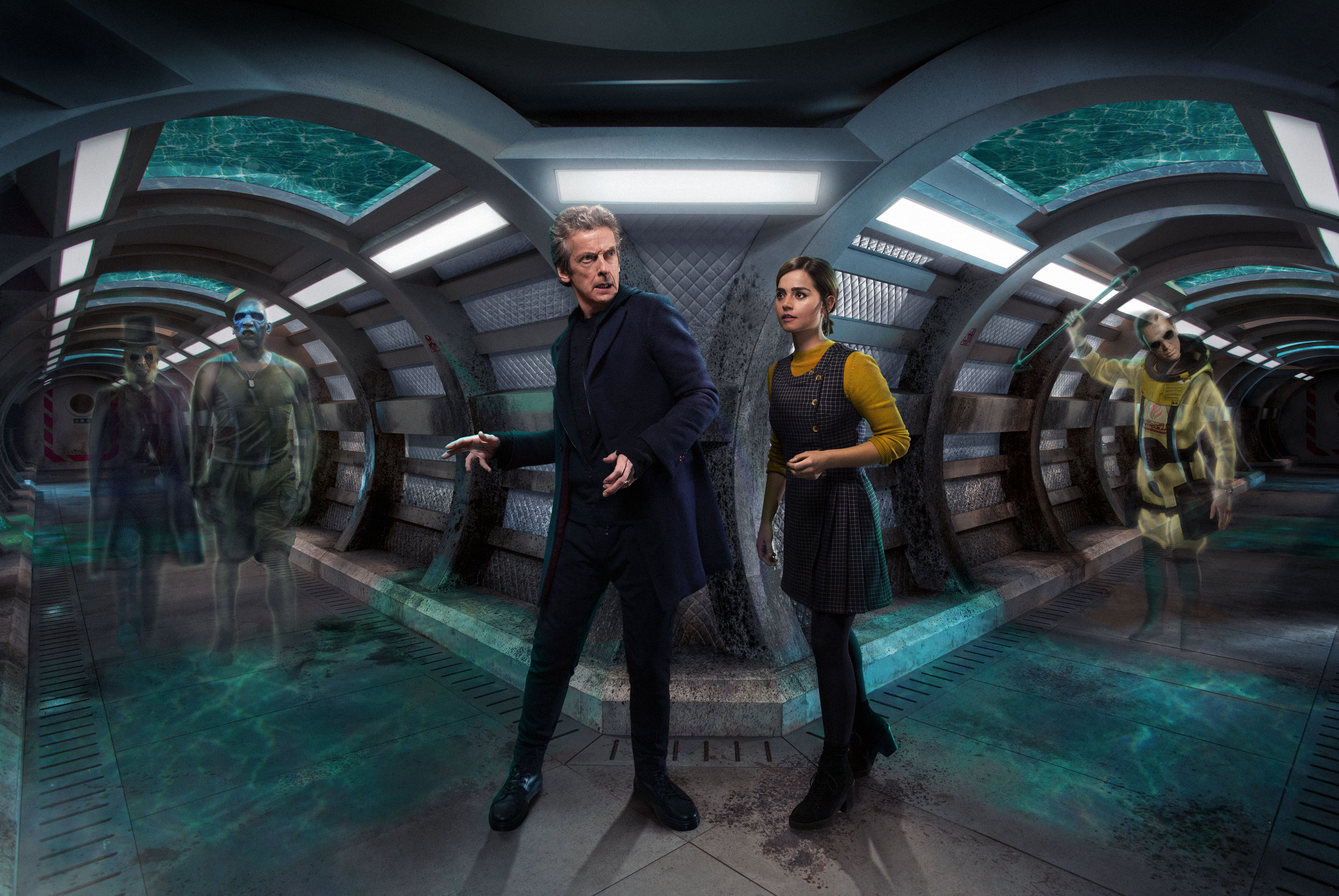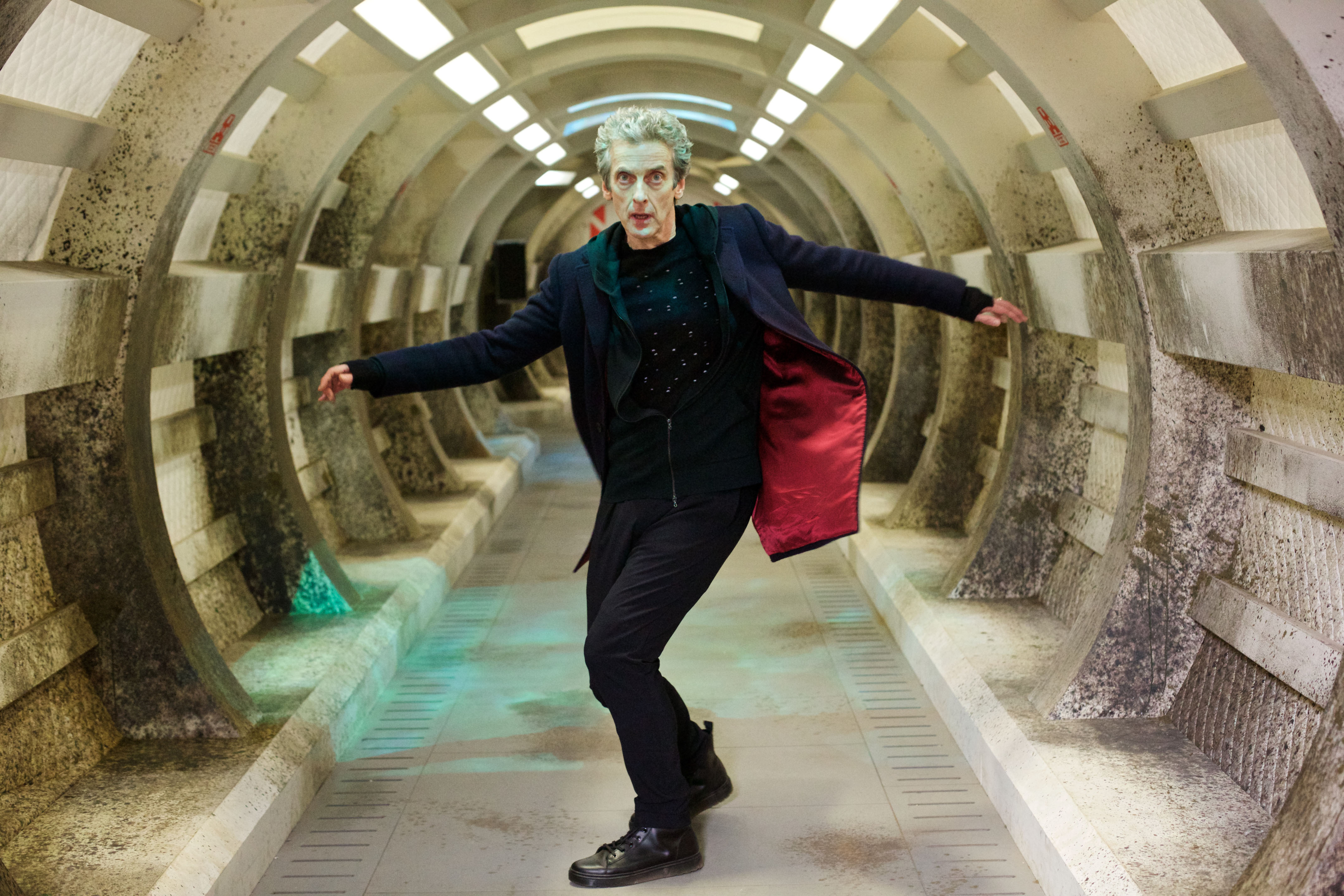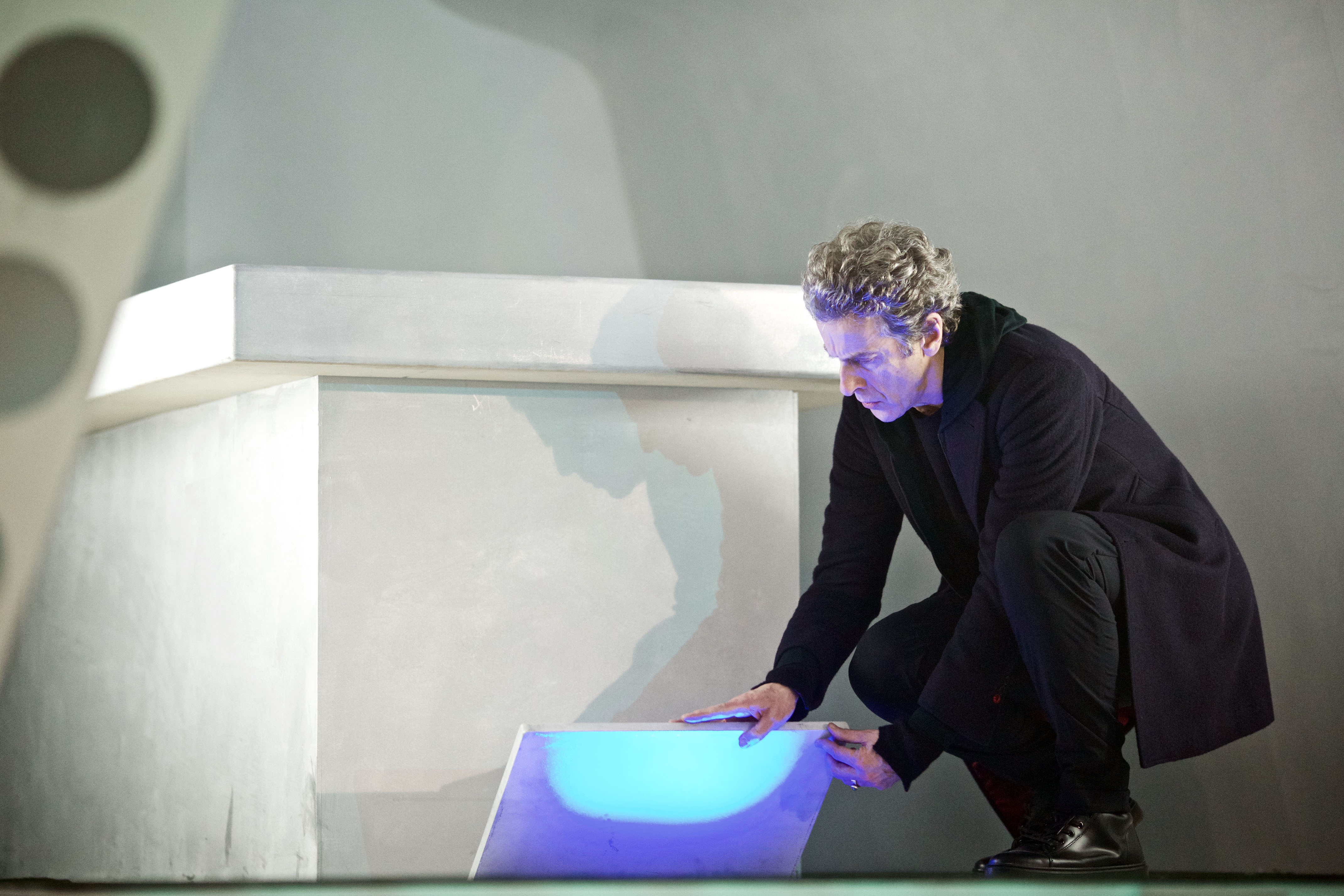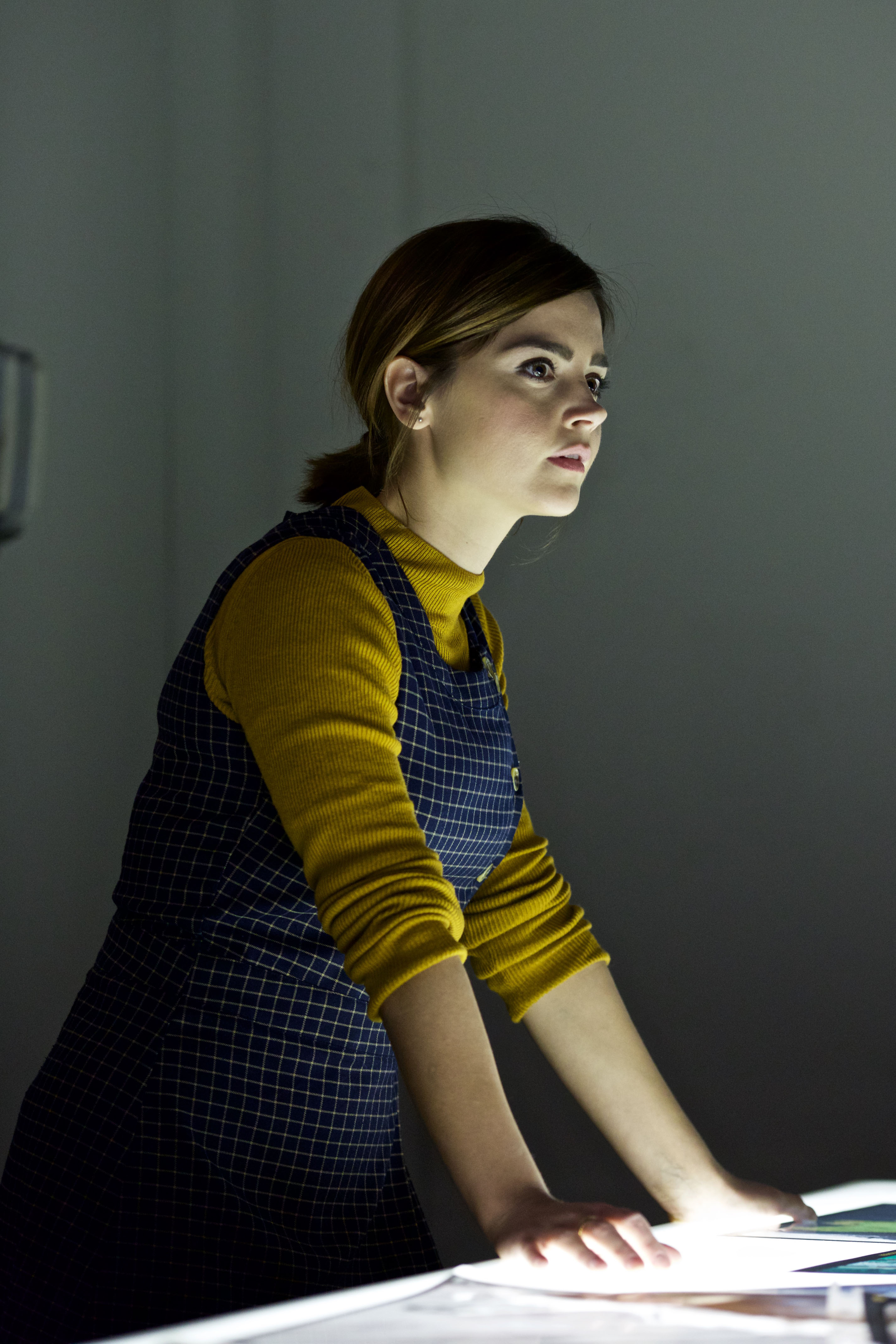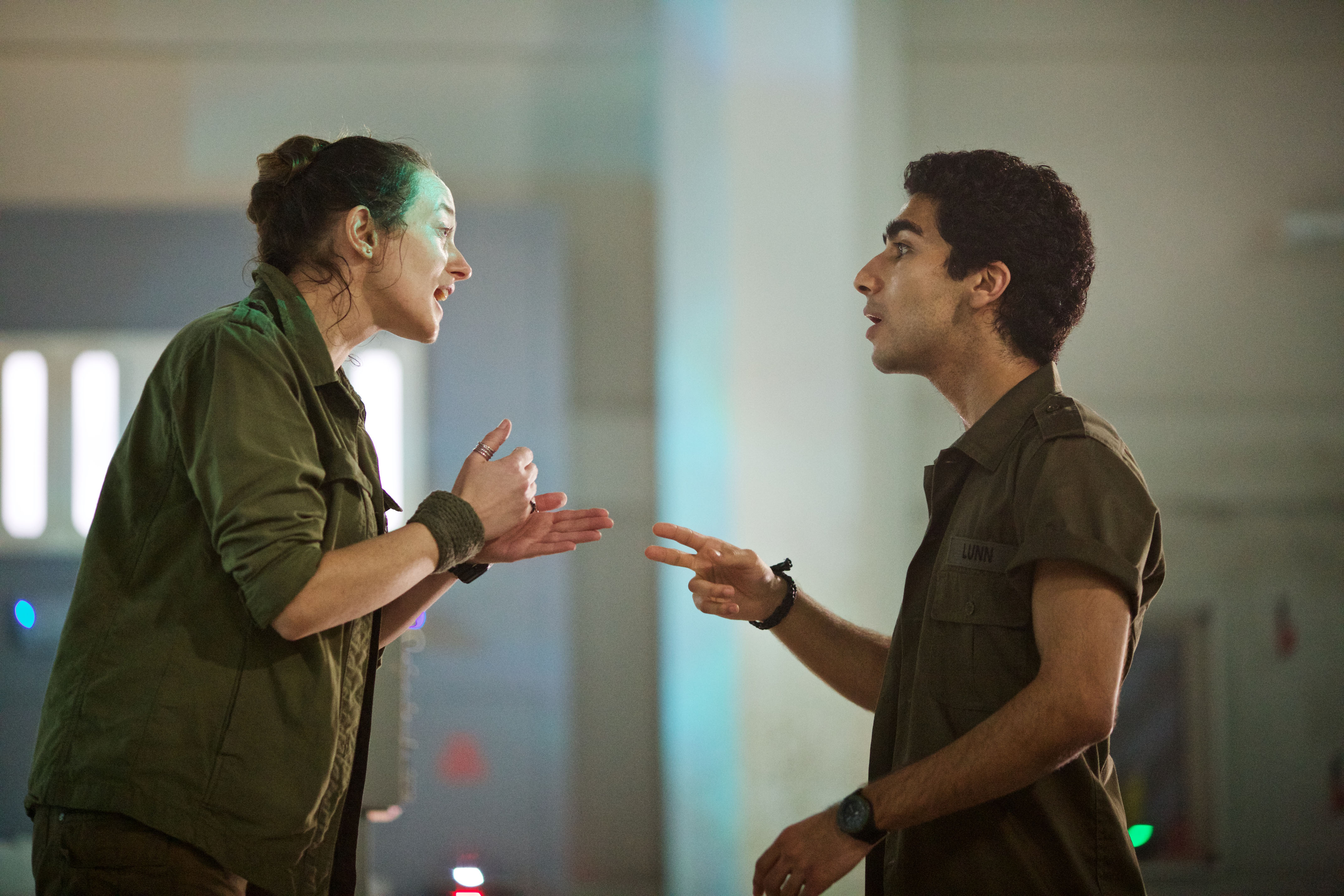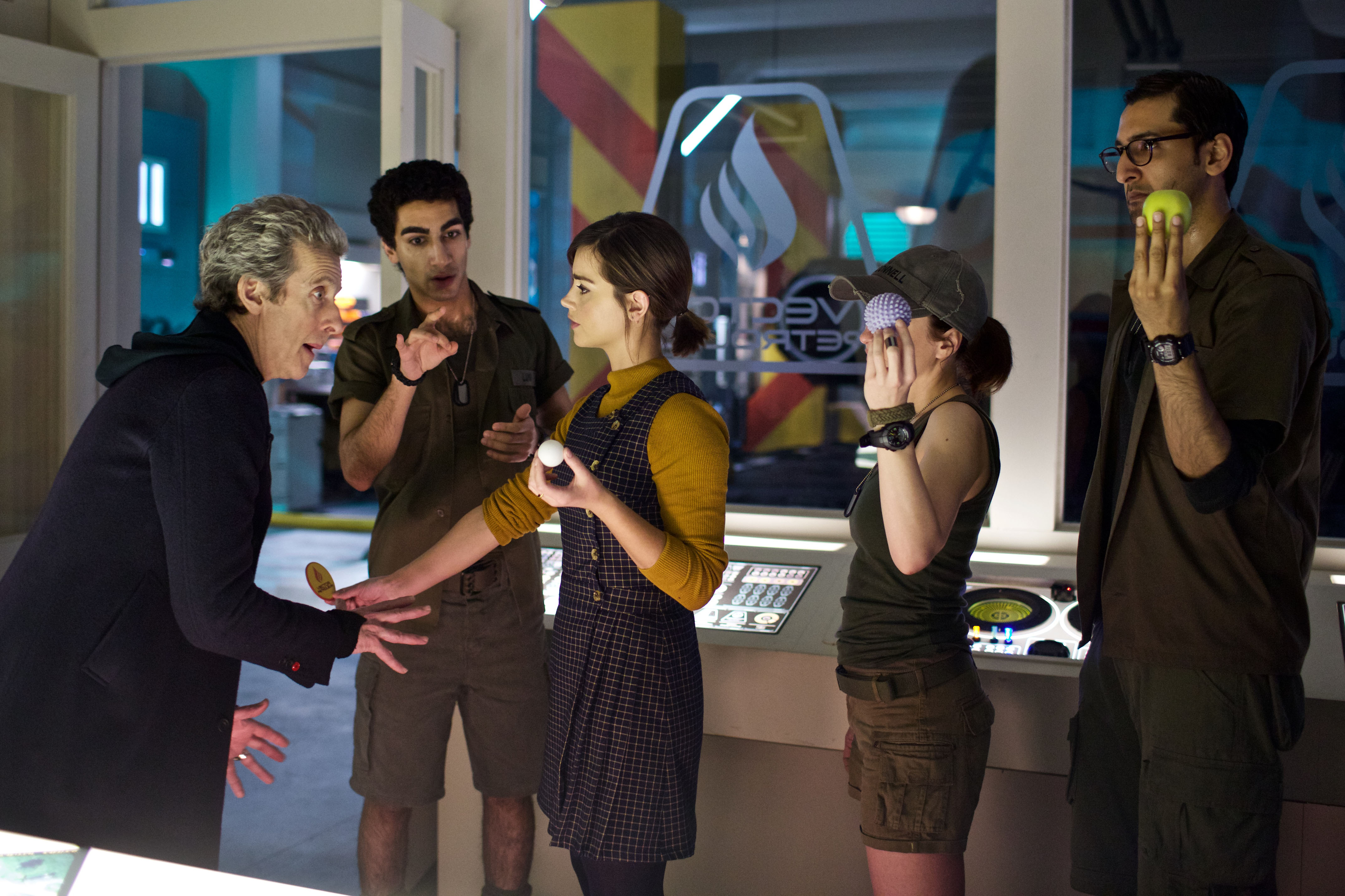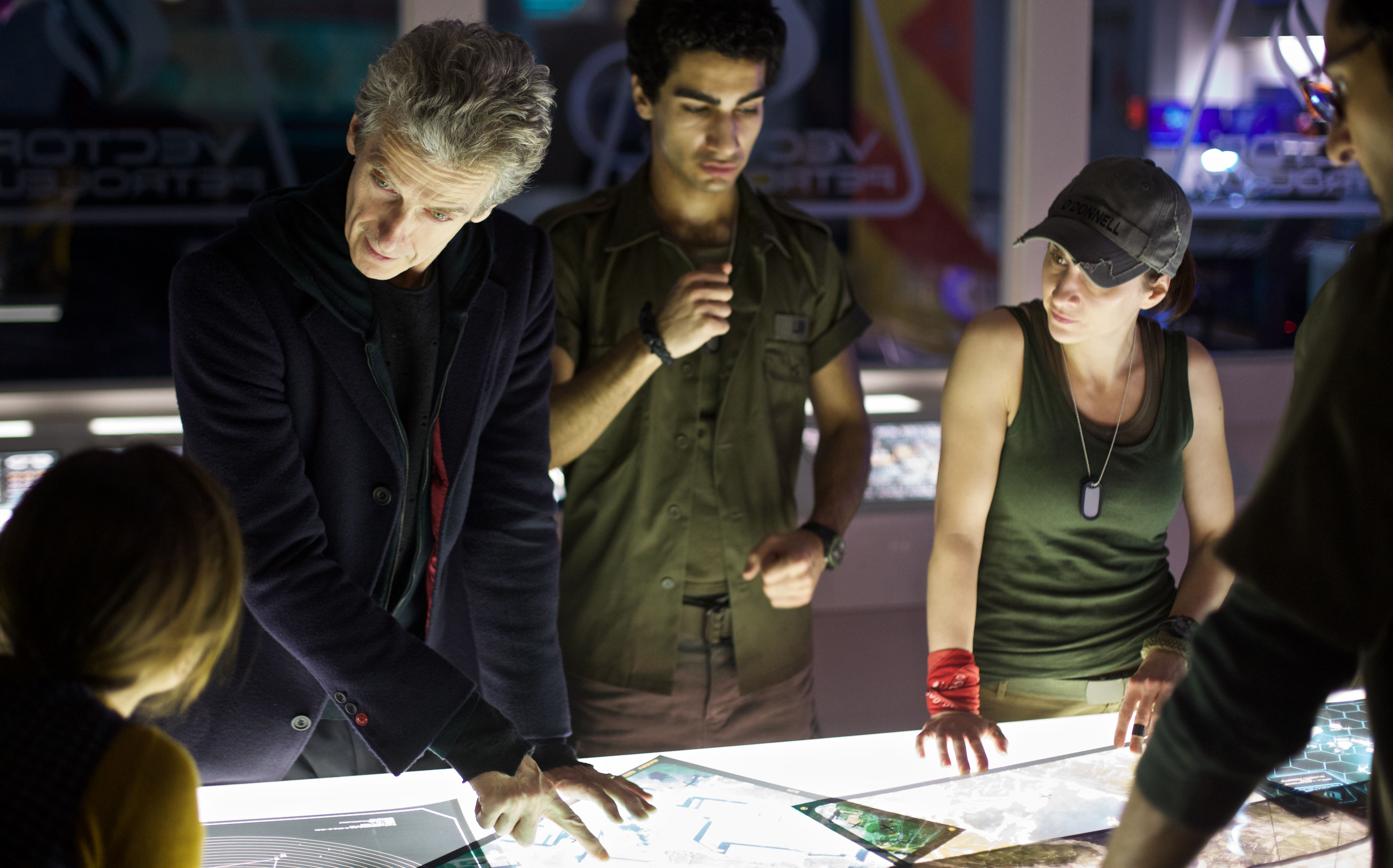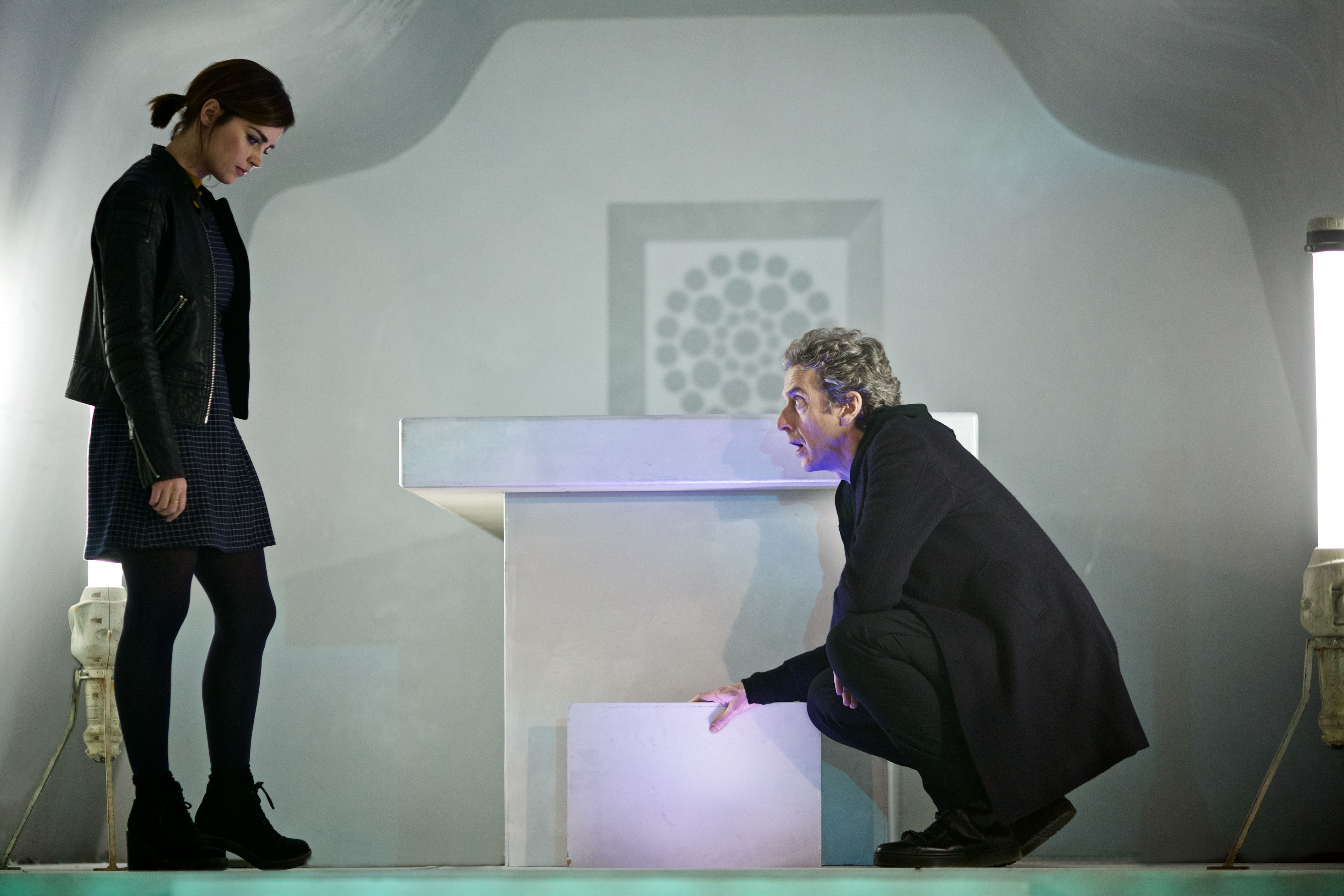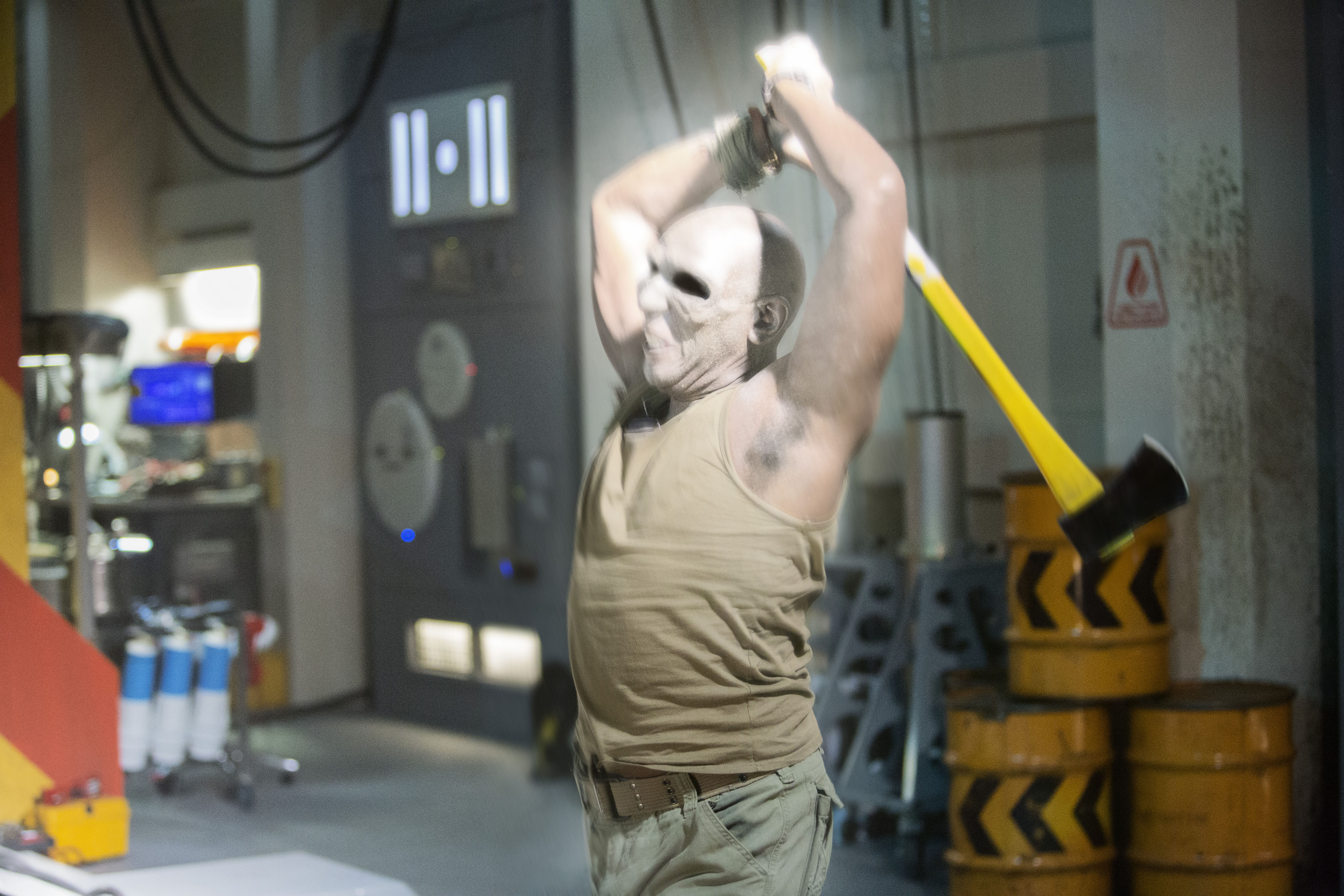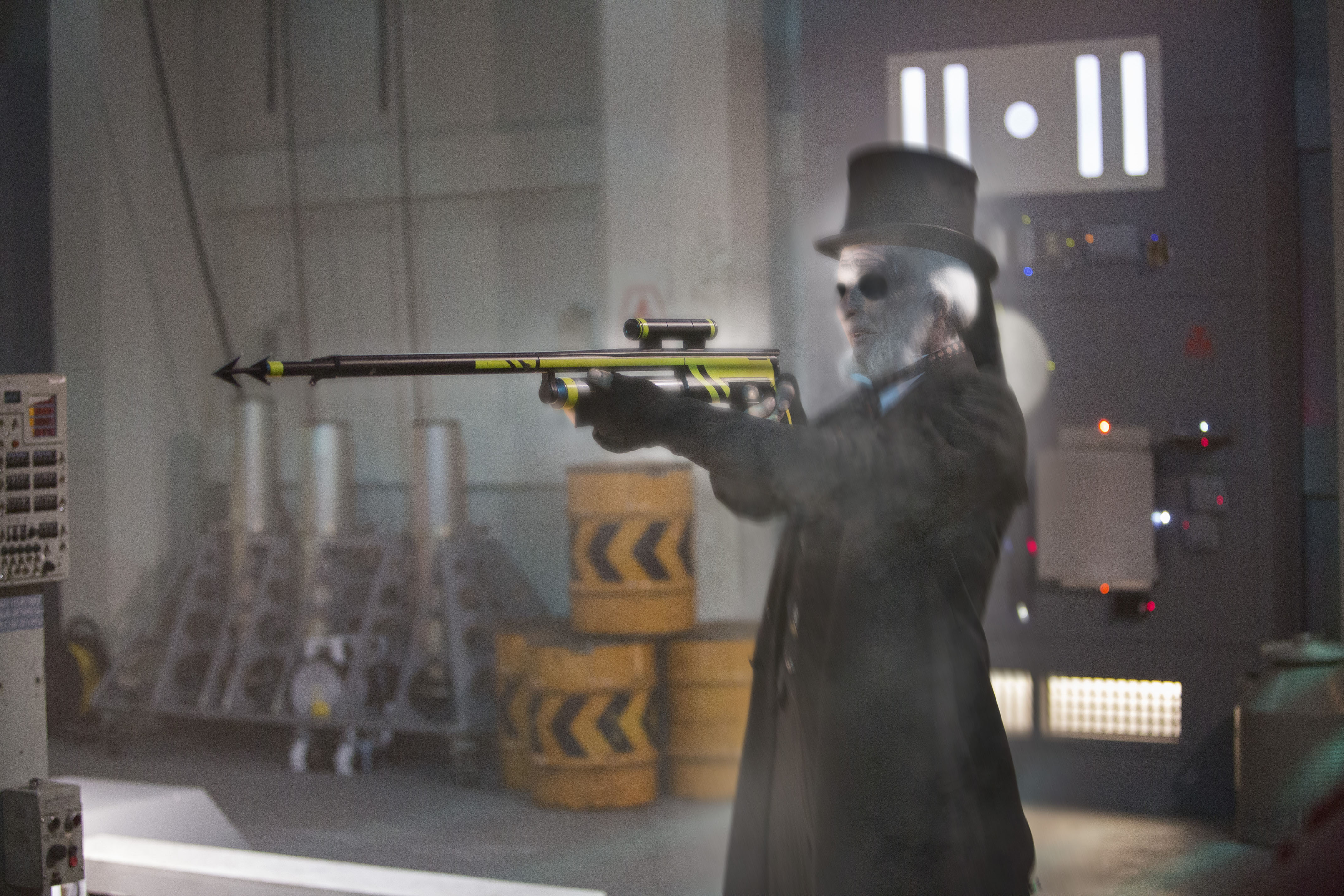 Under The Lake 
will air on BBC One on Saturday the 3rd of October at 8.25pm.
Doctor Who Series 9 latest news: Peter Serafinowicz joins cast
Here's an exciting one – the mighty Peter Serafinowicz will voice a new baddie in an upcoming episode of Doctor Who series 9.Mr Serafinowicz previously voiced Darth Maul, popped up in the likes of Shaun Of The Dead, and also had a small role in Guardians Of The Galaxy. And that's not all! He also starred in his own hilarious sketch show many moons ago. And that's still not all! His full CV can be found here.If you don't want to know details about his villain, don't read any further than our spoiler squirrel…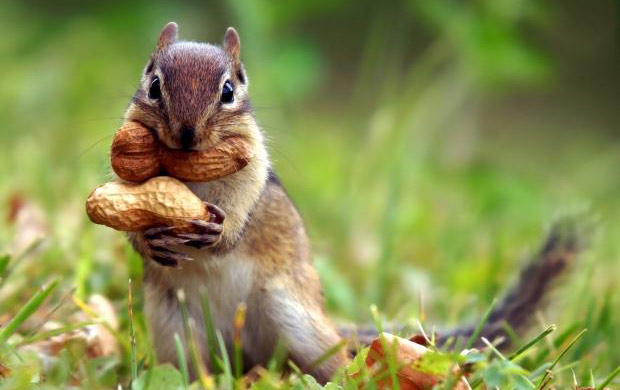 He will play The Fisher King in episode four,
Before The Flood
, which takes place a few hundred years before the preceding episode,
Under The Lake
. Here's the synopsis for
Before The Flood
…"On a remote Army outpost, a fearsome alien warlord – the Fisher King – sets in motion a twisted plan to ensure his own survival. The ripples will be felt around the universe. Is this chain of events inevitable? And can the Doctor do the unthinkable?"Here's a picture of The Fisher King's physical form…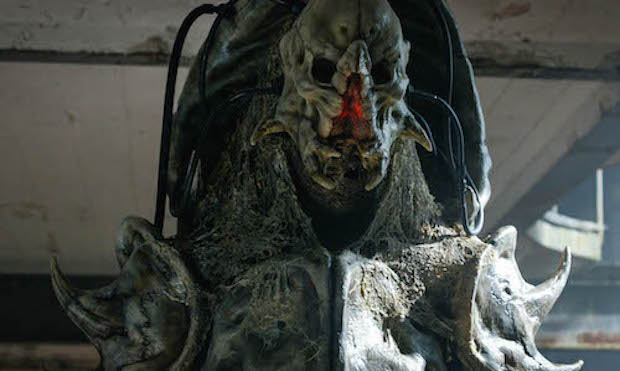 Earlier this week: 
The BBC has shared the synopsis for 
Under The Lake, 
the third episode of series 9. Here it is:"When an underwater base comes under attack, the Doctor and Clara must save the frightened crew and defeat an impossible threat. But what is behind these terrifying events? And can they really be haunted by ghosts?"
Under The Lake
will air at 8:25pm on Saturday the 3rd of October. 
Doctor Who Series 9 Episode 2: The Witch's Familiar
The Witch's Familiar has now screened. So we've got our spoiler-filled review, and our viewing notes/geeky spots article too.
Doctor Who TV / BBC YoutubePreviously: The BBC has released a clutch of shiny new photos from The Witch's Familiar, like the one below, all of which are to be seen by clicking here.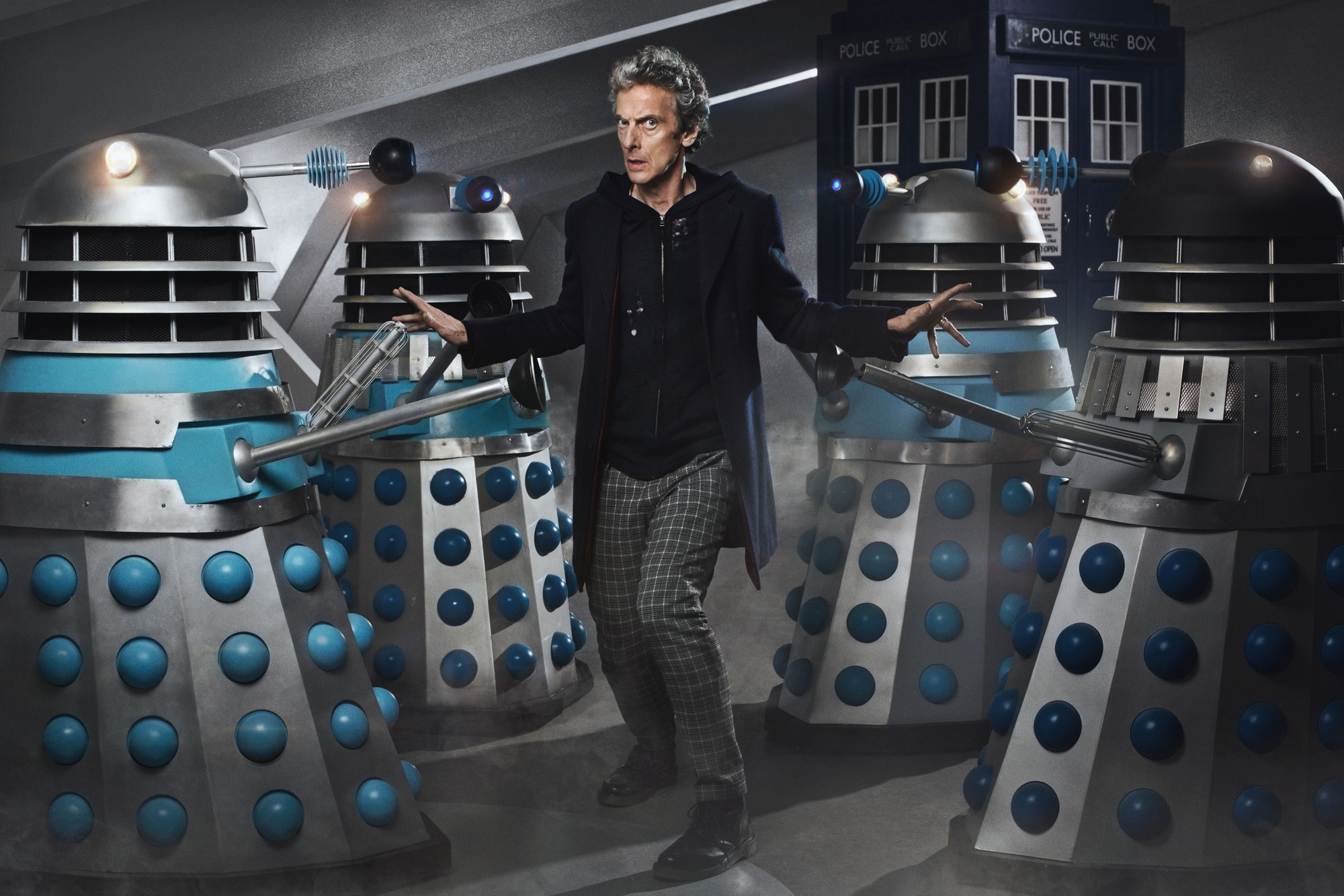 We've two trailers for follow-up installment, 
The Witch's Familiar, 
that might tide you over until next week. 
Here's the first, the 'Next Time' trailer from the end of the episode…
And here's the trailer that's been doing the rounds on TV…
The Witch's Familiar will air on BBC One on Sunday the 26th of September, at 7:45pm. 
Doctor Who Series 9 Episode 1: The Magician's Apprentice 
The Magician's Apprentice has been and gone, leaving a flurry of questions and teases in its wake.Here's our review of The Magician's Apprentice, and all the geeky spots we found in it.Previous previous update: Doctor Who returns this Saturday, after what seems like an eternal wait. As such, there are plenty of promotional pictures doing the rounds online today. Lots of them feature Peter Capaldi with a guitar.Here's some that might be of interest…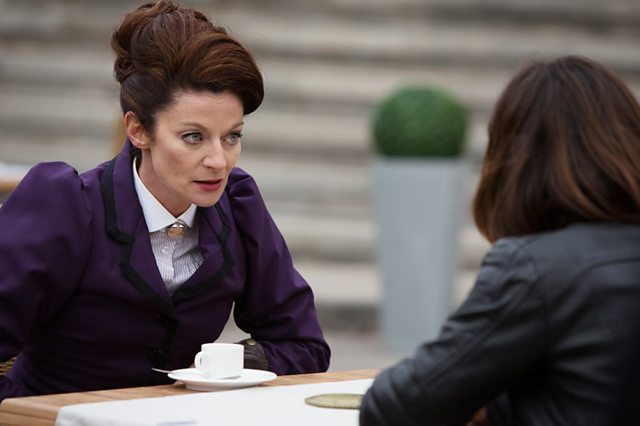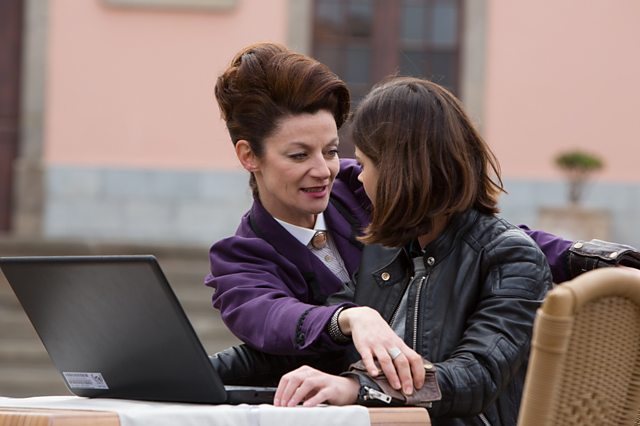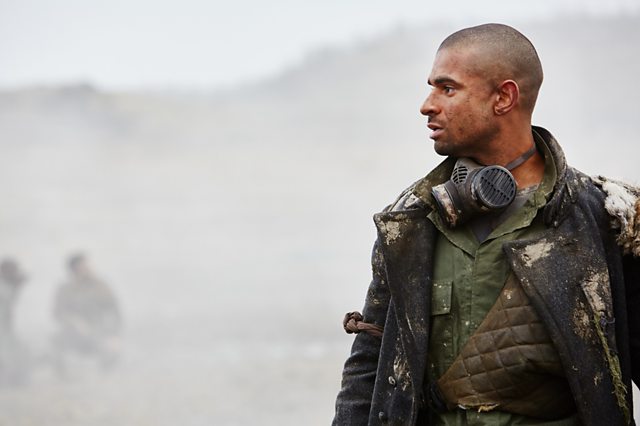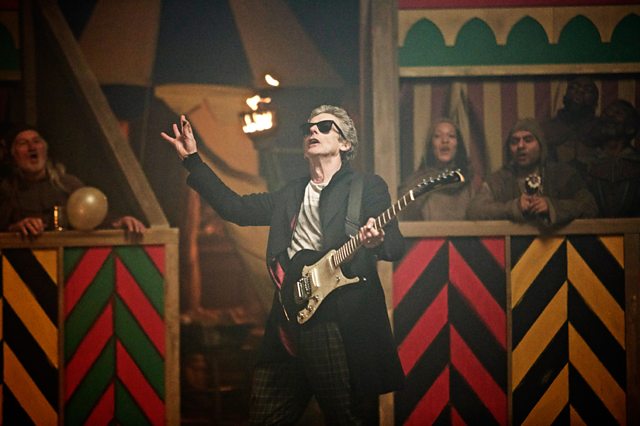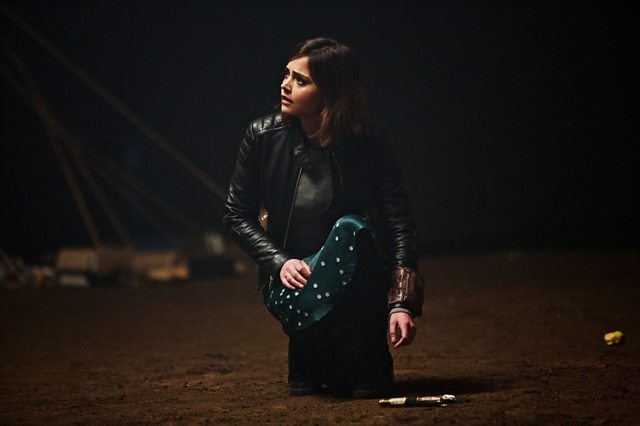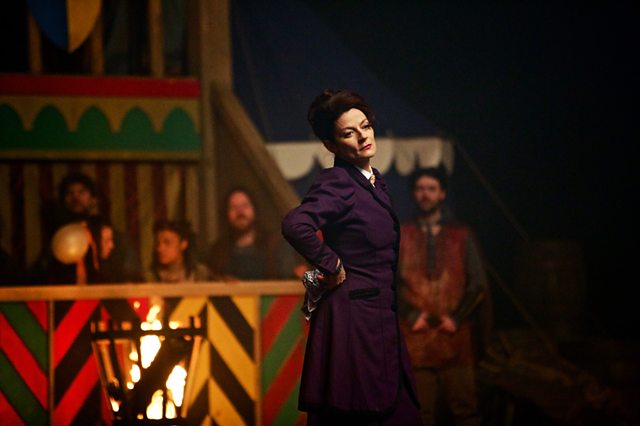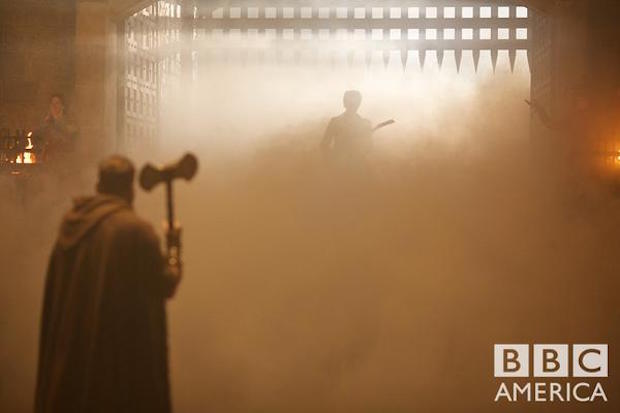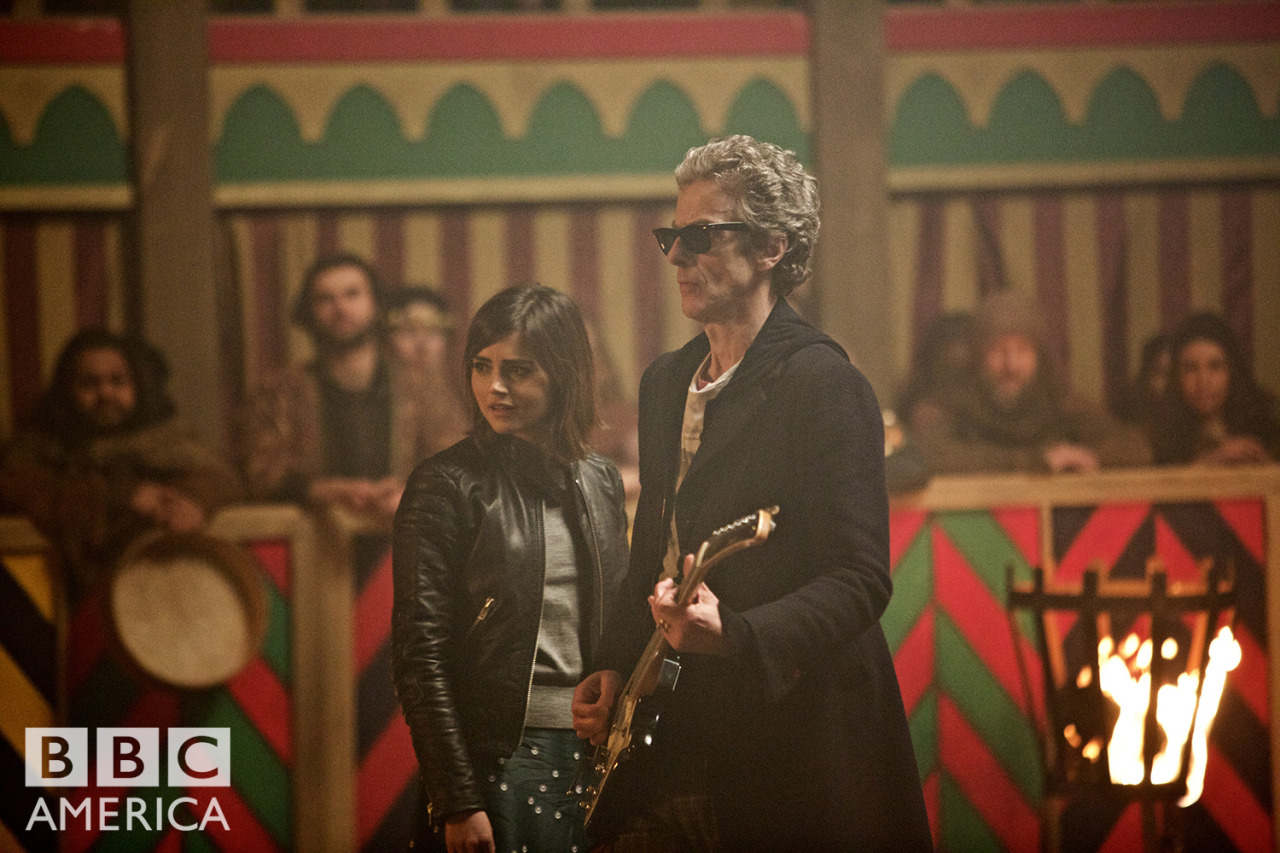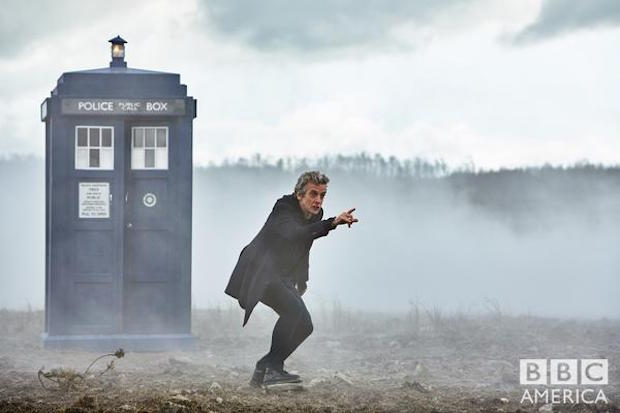 Earlier this week: 
The BBC
has confirmed
the full titles of all twelve episodes winging their way to us in series 9, as listed below in this handy image: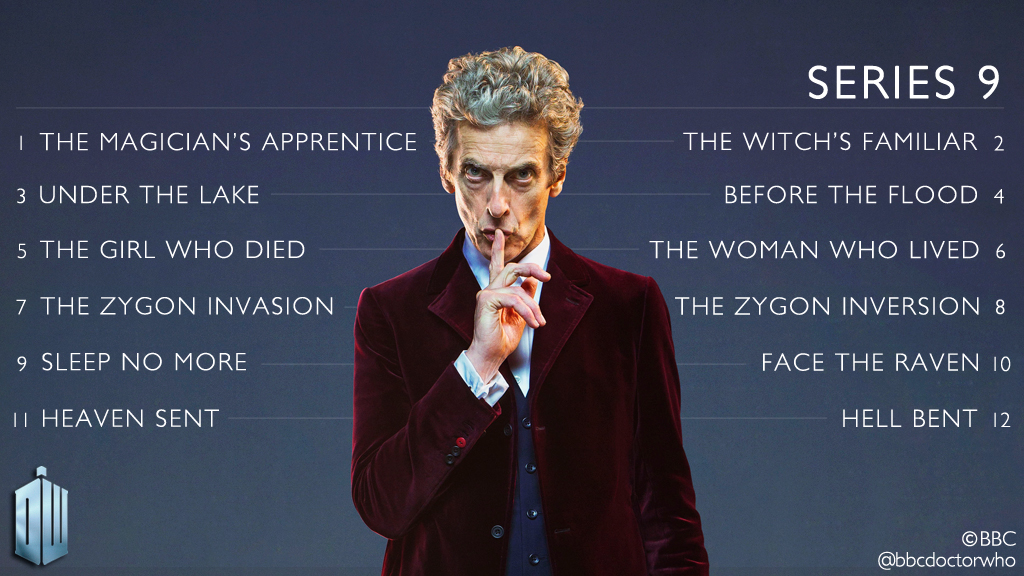 That only leaves the 2015 Christmas Special title still unknown…
Before that: 
In certain circles, the oft-changing air time for 
Doctor Who 
episodes is a hot point for discussion. There's a careful line to tread between dinner schedules and children's bed times, after all.Today we've learnt that
The Magician's Apprentice 
– the premiere episode for series 9 – will air on BBC One at 7.40pm on Saturday the 19th of September. Please arrange your life accordingly (international air times can
be found here
). We also got a short promotional video from the
Doctor Who YouTube
 page where Steven Moffat, Peter Capaldi and Jenna Coleman have been discussing the new series…
Previously: Series 9 of Doctor Who kicks off with a two-parter starring Peter Capaldi, Jenna Coleman and Michelle Gomez. The first part – The Magician's Apprentice – will land on BBC One on Saturday the 19th of September (you can read our spoiler-free thoughts on that one by clicking here)The following week we will get to see The Witch's Familiar, concluding the two-episode story. The plot synopsis for this one has just appeared online, and could be seen as a little spoiler-y. It reveals a little about what happens in episdoe 1, for starters.Scroll past our spoiler squirrel if you want to read it…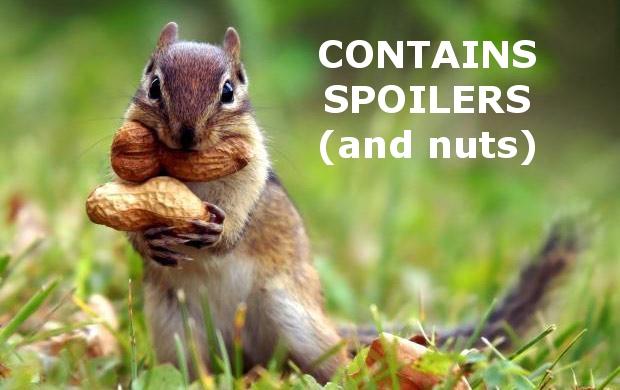 Here's the synopsis…
"Trapped and alone in a terrifying Dalek city, the Doctor is at the heart of an evil Empire; no sonic, no TARDIS, nobody to help. With his greatest temptation before him, can the Doctor resist? And will there be mercy?"
Exciting, huh? We'll bring you more
Doctor Who
news as it happens.
Blogtor Who
Earlier that week:
 Here's the first trailer for episode one of series 9, The Magician's Apprentice…
A while ago: If you saw the news about the American cinematic screenings of Dark Water and Death In Heaven, you will have also read about the short mini-episode that will accompany those episodes on the big screen – The Doctor's Meditation, a short prequel to Doctor Who series 9.Some images from The Doctor's Meditation have now appeared online. The first picture is here, introducing Daniel Hoffmann-Gill as Bors (a character he will reprise in series 9 opener The Magician's Apprentice)…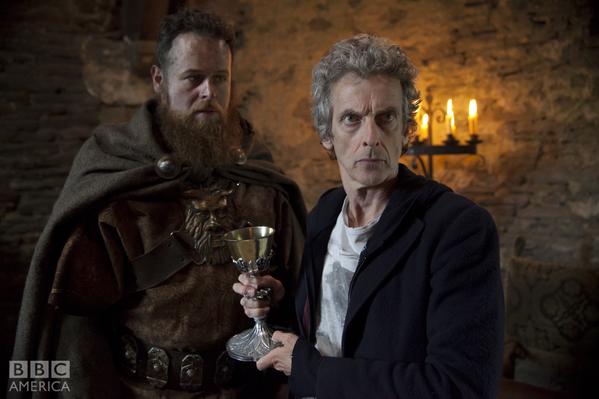 And here's the second pic…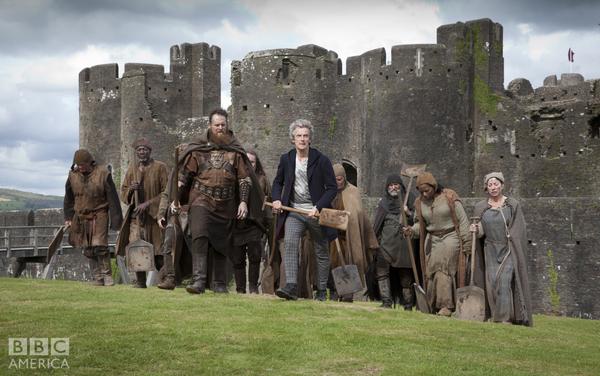 At the moment, the only way to see 
The Doctor's Meditation 
seems to be booking a ticket to one of those American screenings. We'll let you know if it lands on English shores, though.
Earlier this week: 
Would you like some more aliens in 
Doctor Who 
series 9? Of course you would! Well, The Daily Star is reporting that The Judoon and The Hath could be returning for 
Doctor Who 
series 9.That's The Judoon, as in these rhino-headed folk first seen in 
Smith & Jones…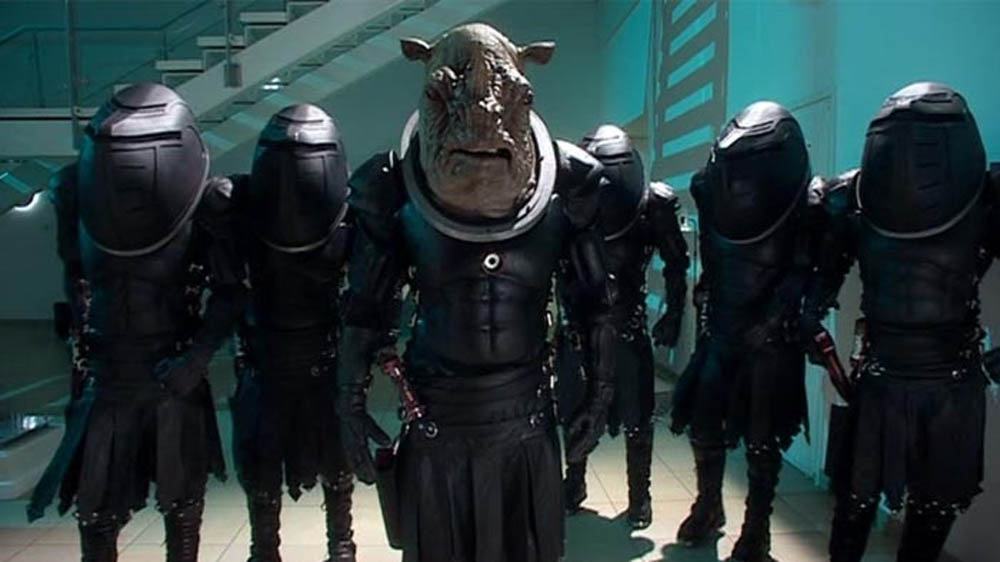 And The Hath, as in these Fish-with-water-tanks-on-their-faces introduced in 
The Doctor's Daughter…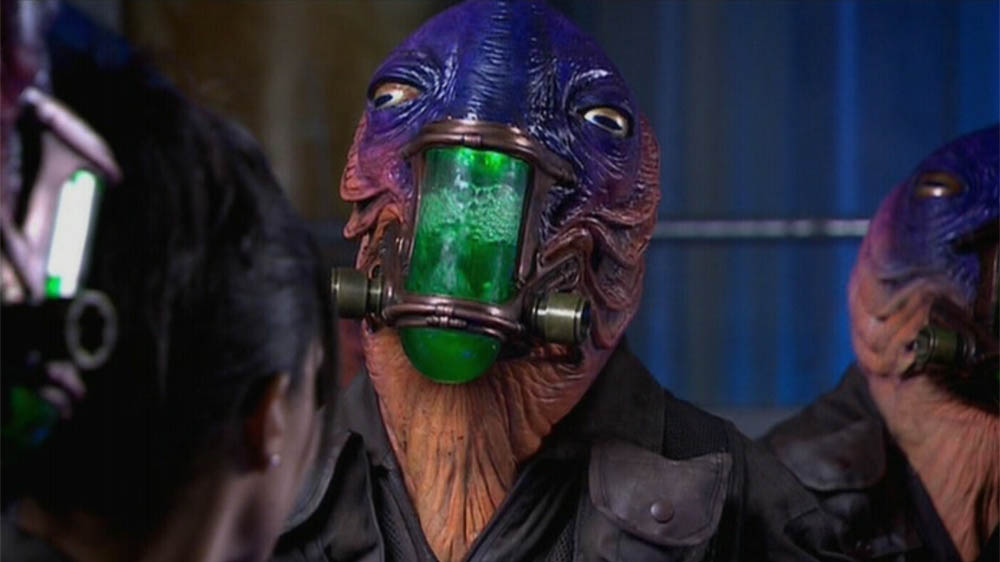 Full disclosure: this news broke last week, in
the same story
that revealed the fact that Mr Capaldi is filming an episode with no other actors. That news was a little bigger, so we're only now getting around to reporting the alien update. 
Last week: 
As the publicity trail for 
Doctor Who 
series 9 hots up (head down to your local newsagent to see just how hot it's getting – there are loads of Capaldi covers!),
BBC America
has released some new images from series 9's opening two-parter 
The Magician's Apprentice
and
The Witch's Familiar.
Here's the trio of images, re-introducing The Doctor, Missy, Clara and Kate Lethbridge-Stewart…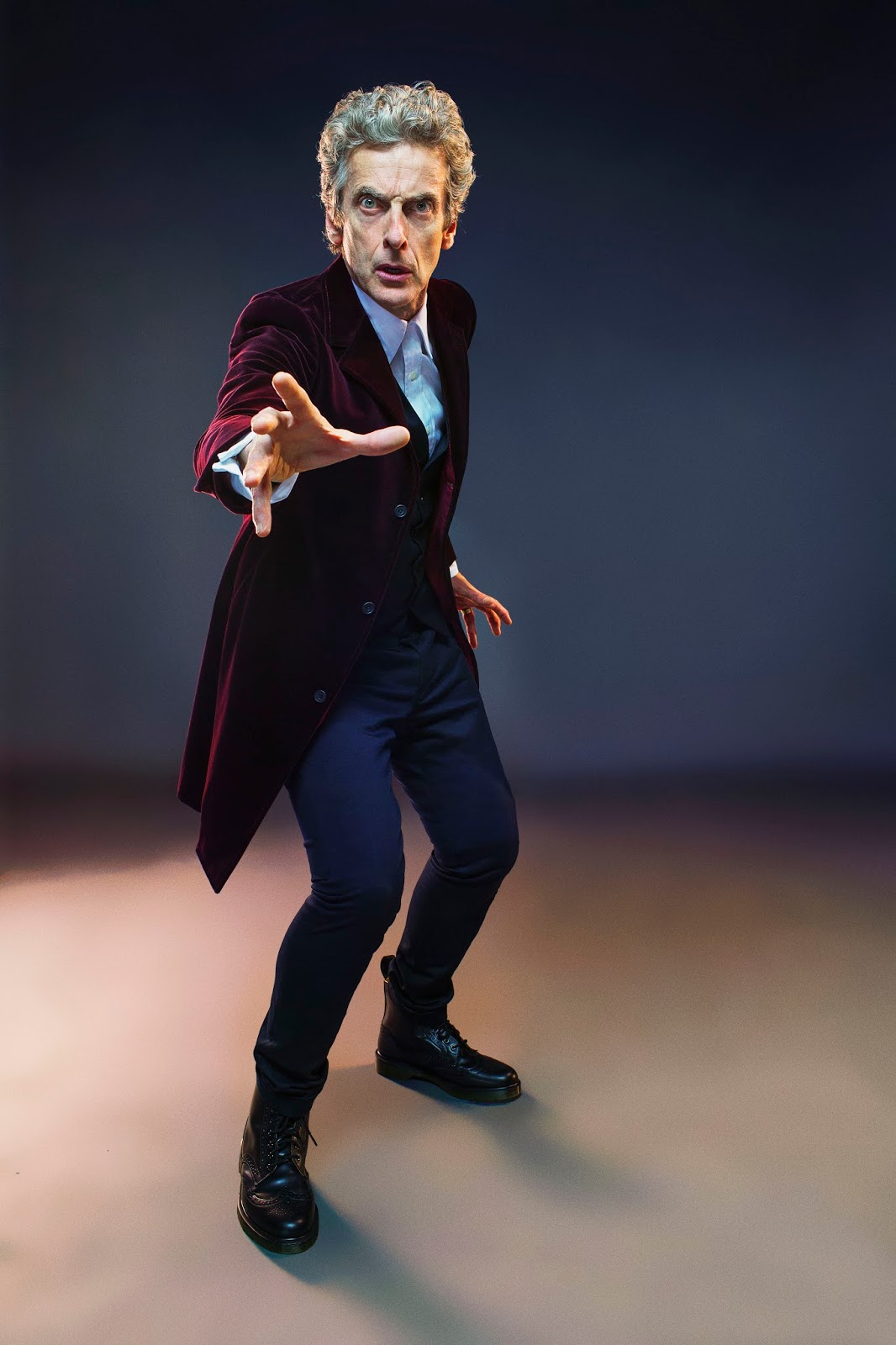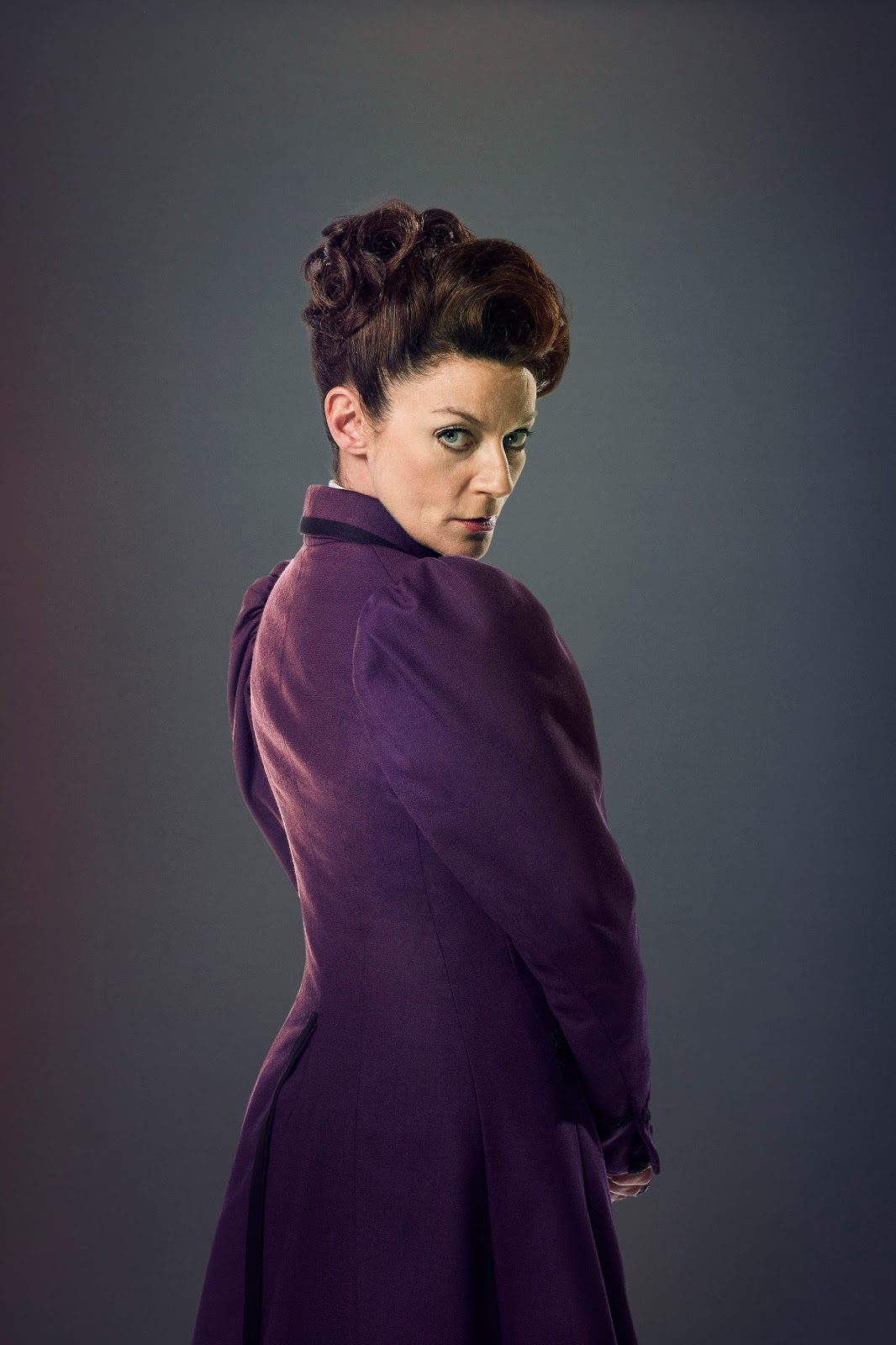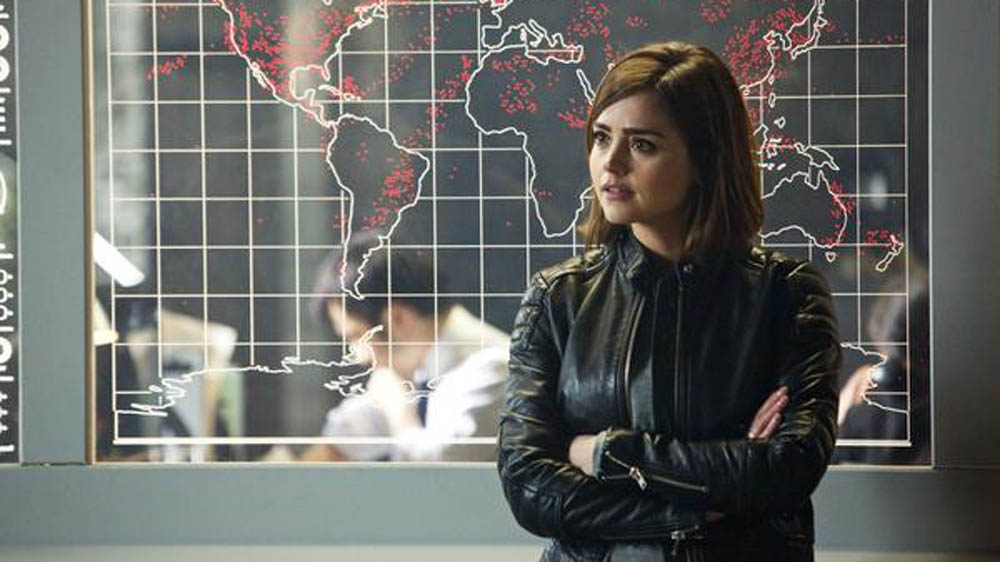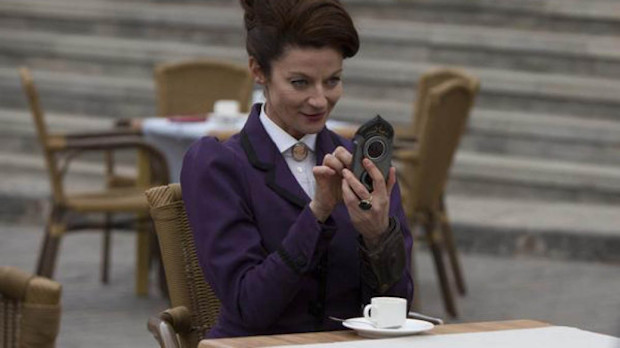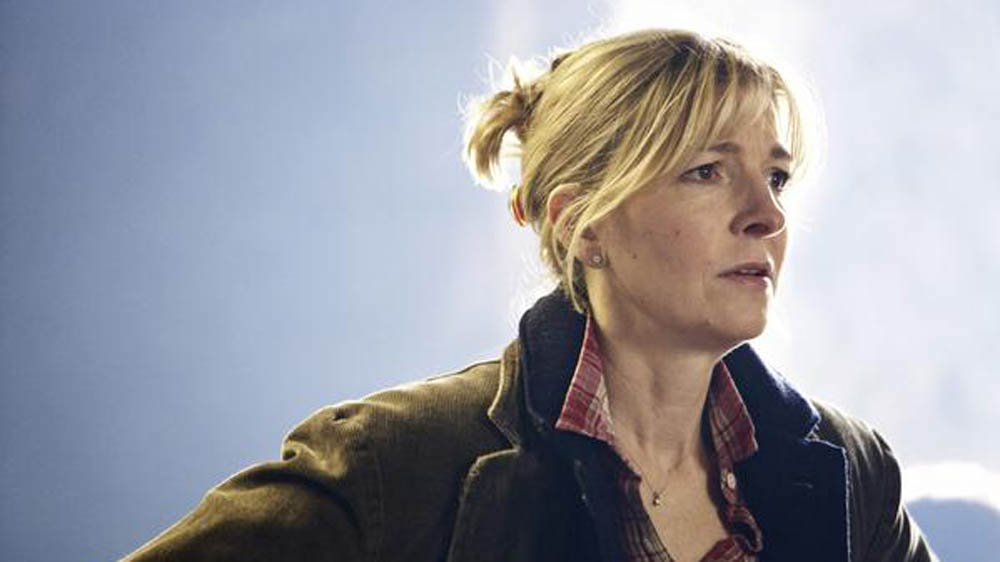 Mr Steven Moffat has described these episodes thusly: "Why not start with a blockbuster? Why leave it till the last two weeks? So yes, it's like starting with a finale, and having a big, grand, movie-sized story, as opposed to a 45-minute story."The series kicks off on Saturday the 19th of September on BBC One.
Doctor Who Series 9: Peter Capaldi's solo outing
Ever wished that every character who wasn't the Doctor could be cut out from Doctor Who? Well, now you're in luck! We've just learned that Peter Capaldi is getting an episode all to himself towards the end of series 9. We're not exaggerating there – he's literally getting an episode where he's the only character to feature. If you like the moments when the Doctor talks to himself, this could well be your favourite episode of all time.The news was broken by The Daily Star, but it had quotes from executive producer Brian Minchin to back up the claims."Doctor Who has always been about taking risks. It's never sat down and done a normal episode. It's always done something extraordinary. Our audience likes to be challenged," said Minchin. Our friend Blogtor Who has been quick to state that this solo outing will be part 1 of the two-part finale. That's an episode that Moffat has described as "a ludicrous challenge" to write, and that director Rachel Talalay dubbed "one of the most complicated and different episodes that I've ever done."We've also been told to expect a found-footage-style episode (episode 9, penned by Mark Gatiss), which will compile footage shot by 'the Doctor's followers' as they battle a monster. According to Minchin, the Doctor Who team are "considering not even having opening titles and just running the footage."Certainly, series 9 is beginning to sound like a bold risk-taking set of episodes. We'll bring you more news as we hear it.Nearly latest: Here's a rather fun news nugget to be passing on – the BBC is encouraging Doctor Who fans to make their own digital prequel stories to precede the travelling Time Lord's next set of televised adventures.Using some clues put forth in the Doctor's 2000-year diary, fans have been asked to piece together a lead-in story of their own. You can make an animated video, a live action short, a cool image… anything you like really.This digital initiative has been dubbed Mission Dalek, and you can find more information in this video…
If you live in the UK, you can click here to find out more. If you're reading from anywhere else in the universe, click here.
Doctor Who Series 9 Guest Stars
The League Of Gentleman, Psychoville and Inside No. 9's co-creator and star Reece Shearsmith is the latest guest star confirmed as appearing in Doctor Who series 9.It will come as little surprise to many that Shearsmith, who played actor Patrick Troughton in Who fiftieth anniversary docudrama An Adventure In Space And Time, is to appear in an episode written by his former League Of Gentleman colleague, Mark Gatiss. Shearsmith describes the part as "a fantastic role in a very scary episode", going on to describe the story as "a very singular episode which, I can say with authority, will be unlike any previous episode of Doctor Who."Gatiss added his excitement for "this particular story", which has been "brewing in the dark recesses of [his] mind for a while now! I'm also chuffed to bits to finally welcome my old friend Reece Shearsmith onto the show. He's been badgering me for ten years!"Take a look at the BBC's video interview with Shearsmith, below:
Previous latest:Doctor Who always features a lot of running, and it looks like the new series will continue this tradition. Of course, there's a chance that Peter Capaldi and Jenna Coleman might just stand still for nearly-thirteen-hours instead, but early rumours don't seem to suggest that.Certainly, this new image from the show supports the theory that a brisk jog will be enjoyed by our protagonists at some stage.Here's the picture…
Doctor Who Instagram
Previously: 
Steven Moffat has been chatting about 
Doctor Who 
at a swanky press event in America. Naturally, we were at home with our biscuits at the time. Thankfully, what he said has now filtered down to us through the magic of the internet. Specifically, Moffat was talking about Maisie Williams' role, which you'll undoubtedly remember uttering the words 'what to took you so long, old man?' in the series 9 trailer. She looked like this…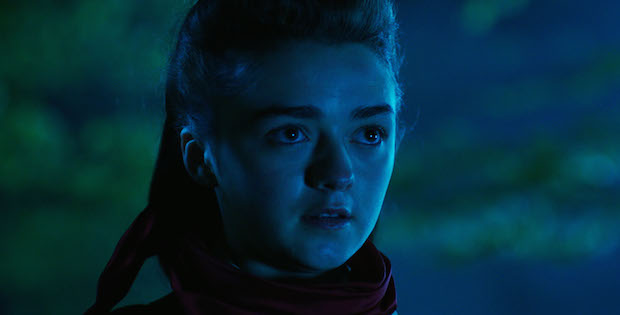 Remember that? Good. Well, now Mr Moffat has spoken out against the rumours that the 
Game Of Thrones 
star could be playing a returning face from Doctor Who lore (the Doctor's daughter, River, Susan and the Rani were naturally among the predictions)."Once you see what she's up to you'll appreciate what a clever idea [the role] was," said Moffat modestly. "It's a significant role, we're not just throwing her away. It's a great part and she's terrific in it."He added: "One thing I think is worth saying, because it keeps coming up as an issue, is that she is not playing a returning character. She's a new character, she's not a character from the Doctor's past."
Doctor Who TV
Doctor Who Series 9: Even More News
We've a few nuggets of Doctor Who series 9 news to share today, all of which pertain to links between the new series and previous Nu-Who adventures.First up, Peter Capaldi has been hinting that we might find out how his Doctor came to appear in The Day Of The Doctor's climactic scene, where his eyebrows famously debuted. Here's a refresher…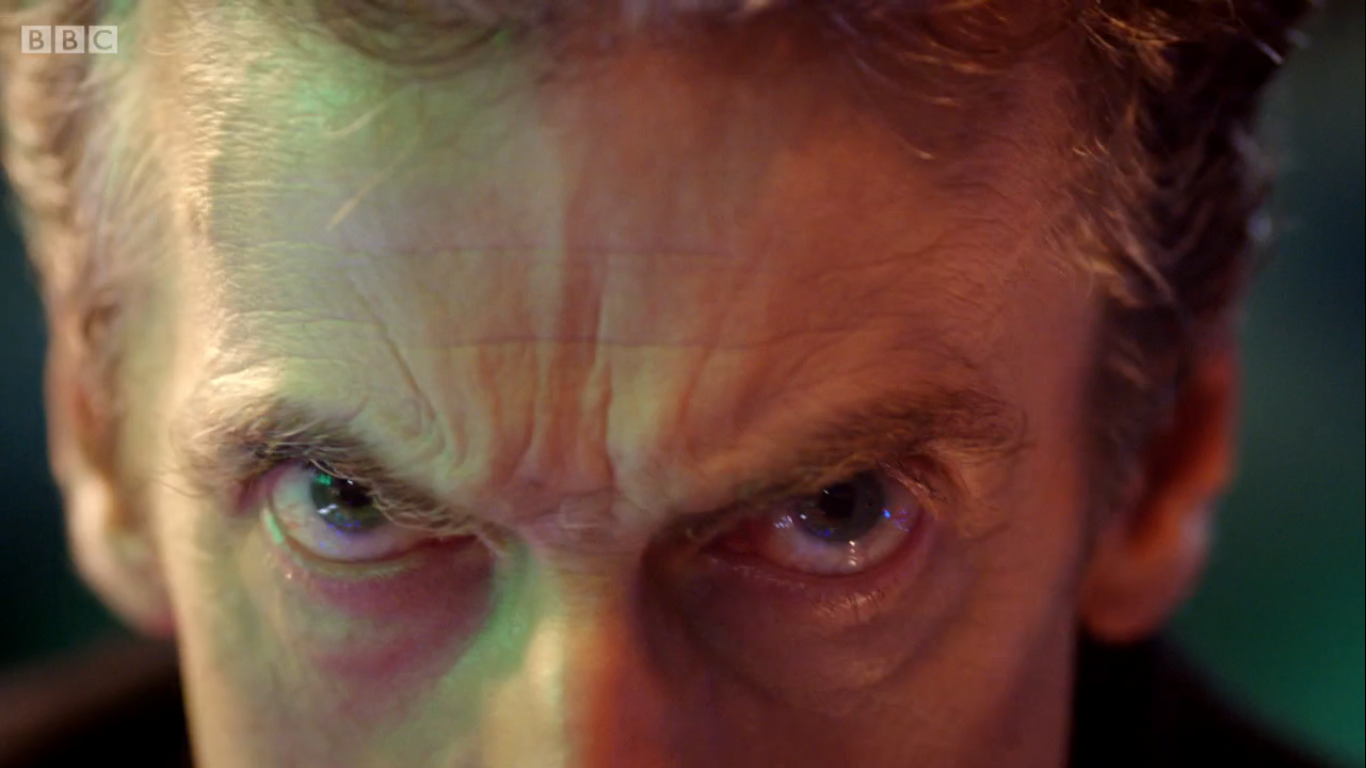 YouTuber
Erik Nagel
asked Capaldi about the possibility of linking into this scene directly. Capaldi responded saying "I know stuff that is unfolding in Episode 11 and I know certain things that are happening in Episode 12. I don't know exactly what's going on there, but … You'll have to wait and see!"Um, we did warn you that it was tease… there's clearly nothing concrete there, but it certainly isn't a flat-out 'no' either.Capaldi has also been openly teasing the possibility that we may return to his former 
Doctor Who 
character from Pompeii. "my Roman alter-ego […] he may appear again," he
has recently said
, keeping that old rumour bubbling away nicely.Another nugget of news comes from Michelle Gomez, who has hinted at a significant returning location from series 8. She's referring to the garden from
Deep Breath
, which also appeared in 2011's
The Girl Who Waited
. Are these two locations in the Who-universe linked, then? Or is it merely a coincidence?"Yes, there's a connection yet to be revealed," Gomez told
Erik Nagel
. "Oh, there's no coincidence in Doctor Who. Everything's connected, that's what makes it really spooky in a way."So, it looks like series 9 could have some hefty links to former Nu-Who adventures. We'll keep you updated as we hear more.
Not latest:
 Speaking to Youtuber 
Yal Tygiel
at San Diego Comic-Con, Jenna Coleman revealed that Danny Pink's demise will have a knock-on effect on series 9. There will 'absolutely not' be a new love interest for Clara, she said.She added: "I think what [Danny's death] has done to Clara is kind of changed her whole perspective on life. She's no longer got the ties to Earth that she had before. She just wants to be in the TARDIS and just wants to hang out with the Doctor and just wants that to be her world and makes it so."Asked if Danny would return in any way, Jenna Coleman simply told the reporter to 'watch it' and find out.
Previously: 
The entire San Diego Comic Con 2015 
Doctor Who
panel has been made available for those of us who spent SDCC weekend eating biscuits in Dudley instead of taking selfies with Peter Capaldi. Fill your boots below:
An interesting quote has dripped down to us from San Diego Comic-Con, with Jenna Coleman using the world 'political' to describe Doctor Who series 9. Speaking to The Mary Sue, she said this:"I wouldn't say [series 9 is] rompy, but a lot more seizing the moment and adrenaline-fueled. I think rompy is… cause you know, the nature of some of the episodes are not, [there are] some darker ones.""There's some really provoking episodes, actually," she added. "I suppose something that has a relevance to some stuff kind of happening today, really interesting … makes you think … provoking.""It feels like a new kind of episode for Doctor Who; I mean maybe more political." You can start placing your bets now, then – how will series 9 be 'political'? Will Capaldi's Doctor lobby for an independent Scotland? Um, probably not, but we'll keep you posted.
Doctor Who Series 9 Trailer and return date!
Ahead of its panel at San Diego Comic-Con, the BBC has released the first full trailer for the upcoming Doctor Who series 9 – and there's lots to feast your eyes on. Missy, Peter Capadli, a Zygon, Daleks, corridors and Clara for a start.Also, a handy hint: keep watching this one to the very, very end. There's a hint of real intrigue ahead…
As you can also see, we've got a return date for Doctor Who too. Doctor Who series 9 will kick off in the UK a little later than last year, on September 19th 2015. Mark your diaries.Also announced: Mark Gatiss is writing episode nine of the new series.Previously: Understandably it doesn't give much away, but here's a short vid from the BBC featuring director Rachel Talalay (Dark Water, Death In Heaven) talking about how the series nine finale two-parter is "completely different" to last year's closer, calling episode eleven "one of the most complicated and different episodes that I've ever done […] it just has my head in spaghetti". Mmm, spaghetti…
Chatting to Entertainment Weekly, Mr Peter Capaldi has been discussing series 9 of Doctor Who. In the lengthy interview, he mentioned that "[the Doctor is] throwing himself into life with a newfound hunger for adventure" in the new episodes."He's in pursuit of joy and grabbing every thrill that he can along the way. But I sense him running from something, that even he does not yet understand," he added. According to Capaldi, this search for adventure extends to Jenna Coleman's Clara, too:"They've suddenly realized that they are the most fortunate people in all of time and space and are hell-bent on adventure. Jenna continues to deliver a beautifully nuanced, complex, and funny performance that marks her out as one of the best companions ever." He also described guest star Maisie Williams as "a sharp, talented tornado" who "shifts in cosmic ways.""There is an epic sweep to this season and I think the villains and monsters reflect that," Mr Capaldi also mentioned. "Great new ones, brilliant old ones and some very scary creatures looming in stories with real emotional ambition."Along with these teases, Capaldi also described this new picture from the show. He said that "the photo shows the Doctor about to make a mistake that has cataclysmic repercussions"…
Here's another image, seemingly a few seconds later, that has surfaced since…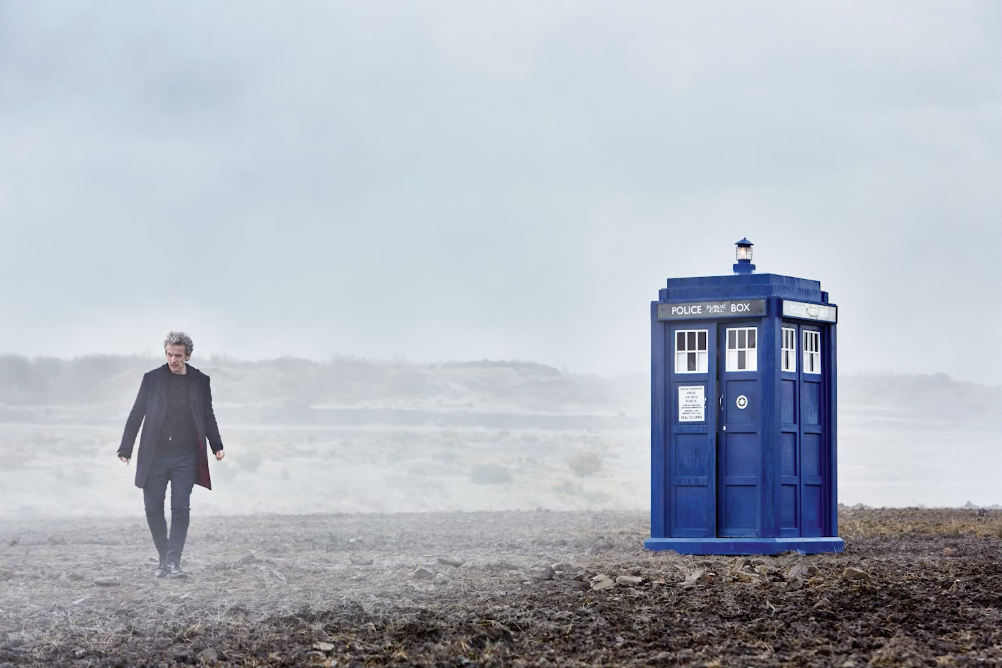 The scene is from series opener 
The Magician's Familiar, 
according to 
Doctor Who: The Fan Show.
Later latest: 
Rachel Talalay, the director of series eight's 
Dark Water
and 
Death In Heaven
, is back to end series nine with another climactic two-parter. Talalay (read our interview with her from last year,
here
) will be directing episodes eleven and twelve of the new series, both from scripts by Steven Moffat. The gossip was that 
Doctor Who
's team were keen for the director's return after her blistering work on the series eight two-part finale, and attempted to slot her in to proceedings before now but scheduling clashes meant it was not to be. That's worked out well for all involved, we'd say, with another Talalay/Moffat finale to look forward to.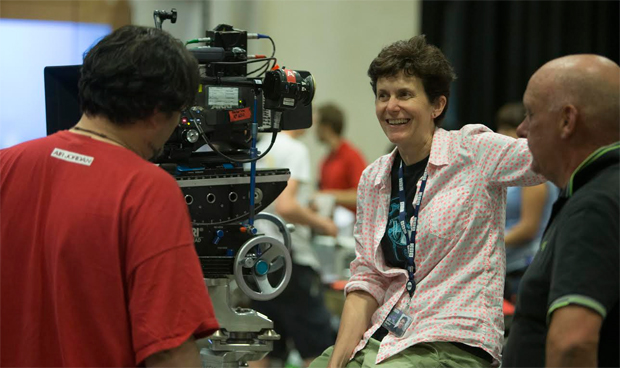 Even later latest than that: 
On the publicity trail for the brilliant
Jonathan Strange And Mr Norrell
, writer Peter Harness has been discussing the episodes that he has penned for
Doctor Who
series 9, with
CultBox
."[Steven Moffat] wanted to bring back the Zygons and Osgood," said Harness of his episodes, which will air as numbers 7 and 8 in the series. "He gave me a starting point, basically, and I came up with the story elements around them."Asked if he fan-boyed out over the chance to write for UNIT, Osgood and the Zygons, Harness said "no, not really. It wasn't the selling point for me that it had UNIT and Osgood and Zygons in it. That was interesting to do, of course, and I'm sure my five-year-old self would have been apoplectic with excitement if I could have nipped back in time and told him what I was doing. But really, you have to clear the fan-boy out of your mind, and do your job.""It's nice to put in a few fannish touches here and there, but they can't get in the way of the story or distract from the writing of it. It's exciting to be writing Doctor Who full stop, and I was equally (if not more) excited about writing Kill The Moon."
Slightly more previous latest: 
So, as you may well have guessed from the title of the article you just clicked on, we've now seen the first teaser trailer for Doctor Who series 9. It aired on Saturday night, after 
Orphan Black's season 3 finale
, on BBC America. Now it's found its way onto
Youtube
.It gives literally nothing away, but it's still enough to get us a little excited about the TARDIS returning to our screens. Here it is… 
Not quite latest: So, by now you probably know that Michelle Gomez's Missy will be returning for Doctor Who series 9. Recently, she's been chatting about her role in the show this time around. Speaking to Daily Record, she said that "I can't tell you much, I'm too much of a fan 
of the show to spoil the fun, but I can tell you she's up to no good. Even I was a bit shocked at her level of disdain this year. 
She has no boundaries, that girl; she is very naughty.""The doll is on order, I've seen the 
prototype, that was a surreal day," she said of her new action figure. "She should be in the stores soon. Funny-looking thing – 
she and me. It's very exciting to be an action figure, not bad going for a 
lady of a certain age.""My son is still a bit young to get the whole Who 
thing but he does seem determined I should have my own 
spin-off, he calls me Missy Who. He's also determined Missy should meet The Queen. 
Of course, I support both these ideas wholeheartedly," she added.For more Michelle Gomez fun, check out our recent interview with her, if you like.Even older news: Here's an interesting one. Rigsy – the graffiti artist from Flatline, who notably helped Clara while the Doctor was stranded in the tiny TARDIS – will be returning to the show in series 9. If you need reminding, he looks like this…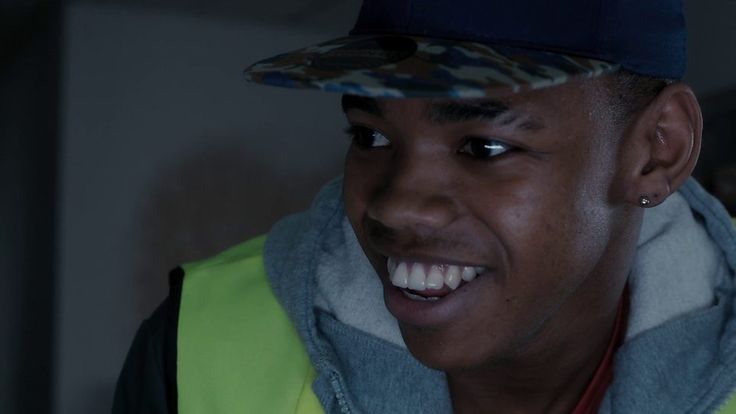 And here he is back on set with Capaldi and Coleman. The Doctor's new coat is worth a mention, too…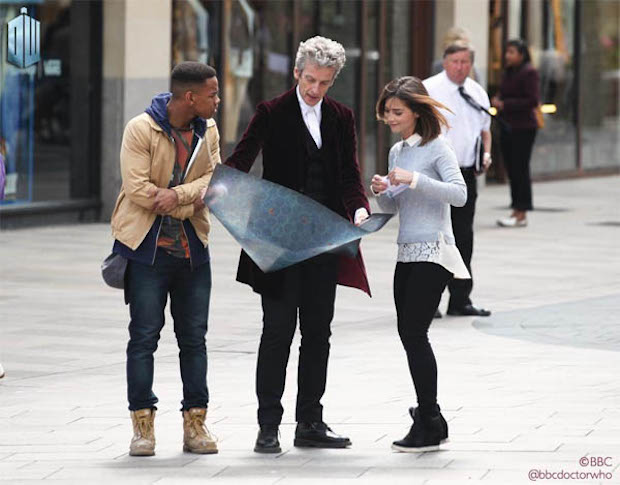 Joivan Wade will reprise the role of Rigsy during episode 10. This episode will be directed by Justin Molotnikov (leading us to believe it will be a two-parter, based on previous news) and written by Sarah Dollard of
Being Human 
and 
The Game. 
We don't know anything else about it at the moment, but seeing as Capaldi's Doctor dubbed Rigsy 'barely sentient' last time around, you can probably expect some more snappy dialogue firing in all directions this time. Now, where's the petition we need to sign to get 
Last Christmas' Shona
back, too?
Next latest news: 
Soon to be seen playing a 'Synth' in forthcoming Channel 4 sci-fi drama 
Humans
, and with a string of top drawer comedy roles behind her (
The Day Today
, 
Big Train,
Nighty Night
, 
The Thick Of It
, 
Grandma's House
, 
Psychobitches
), Rebecca Front has been confirmed as
Doctor Who 
series 9's latest guest star.Front's role, which remains under wraps for now, sees her reunite with fellow
The Thick Of It
alum Peter Capaldi (as pictured below), and Jenna Coleman, her on-screen daughter in BBC P.D. James adaptation,
Death Comes To Pemberley
.Front will appear in the Zygon two-parter written by 
Jonathan Strange & Mr Norrell
's Peter Harness alongside Ingrid Oliver and Jemma Redgrave.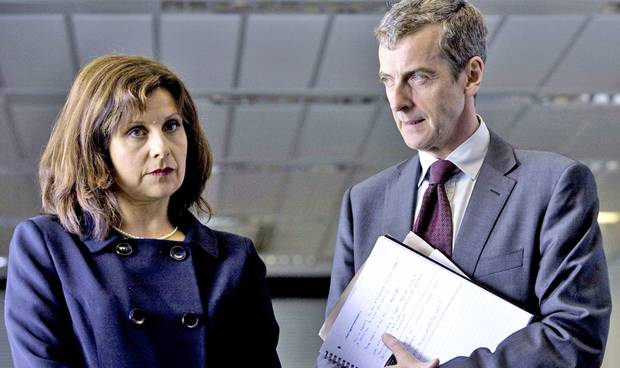 Previously: 
Just a brief update here – Justin Molotnikov has signed up to direct a two-parter for 
Doctor Who 
series 9.Mr Molotnikov has a CV full of British televisual treats, ranging from 
Merlin 
to 
My Parents Are Aliens, 
via 
Da Vinci's Demons 
and 
Shameless.
He directed several episodes of 
Atlantis 
season 2, as well.The news broke because he listed the job
on his online CV
. At the moment, we don't know whether he will be directing the closing two-parter (penned by Steven Moffat) or episodes 9 and 10 (thought to be a Mark Gatiss-written double bill). As we know more, we'll pass it on.
Before that:
Remember this UNIT scientist with a habit of borrowing style tips from previous Doctors?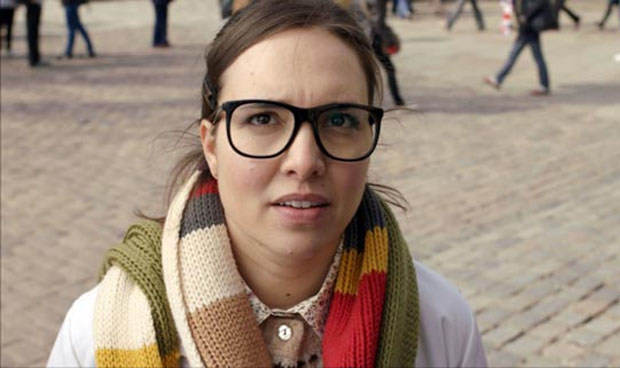 Of course you do. Who could forget Osgood's cruel demise at the hands of Missy in series 8 finale, 
Death In Heaven
?Steven Moffat, that's who. Or at least, Moffat didn't
forget
that Osgood was zapped to dust by Missy and roundly declared dead as a Norwegian Blue in interviews, he merely invoked the mendacity right of the
Doctor Who
show runner, i.e. the Doctor lies, and so does he.
"Osgood is back, fresh from her recent murder at the end of last series," says Moffat in the BBC's official press release. "We recently confirmed that Osgood was definitely dead and not returning – but in a show about time travel, anything can happen. The brilliant Ingrid Oliver is back in action. This time though, can the Doctor trust his number one fan?
"
Ingrid Oliver will return to the role of Osgood in the Peter Harness-written two-parter currently being filmed in Cardiff. Here's what she had to say on her characer's surprise return: 
"As every actor who's worked on
Doctor Who
will tell you, there's always the secret hope you'll get the call asking you to come back. To actually receive that call is both unexpected and brilliant. The word 'honour' gets banded about a lot, but it really is, it's an honour. Especially because I was so sure Osgood was a goner after the last series!"What's more, Osgood will be back battling her old 
The Day Of The Doctor 
shape-shifting foes, the Zygons, as you can see in this behind-the-scenes image below. She'll be in the company of 
Jemma Redgrave, Jaye Griffiths, Cleopatra Dickens, Sasha Dickens, Abhishek Singh, Todd Kramer, Jill Winternitz, Nicholas Asbury, Jack Parker, Aidan Cook, and a Seventh Doctor tank top, by the looks of things.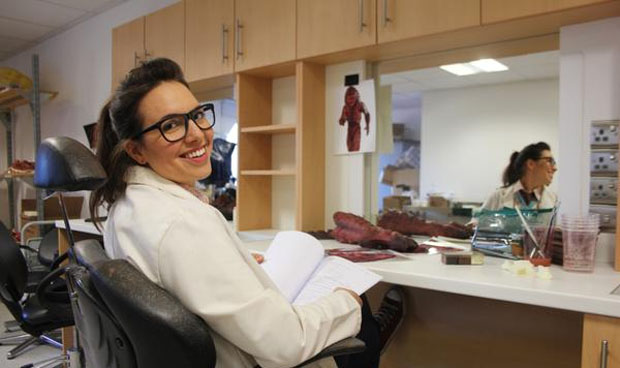 Even before that: 
We learnt today via Blogtor Who that 
Doctor Who 
series 9
will have a similar structure
to series 8, entailing a 12 episode run and a separate Christmas special. The only thing we don't know is whether the opening episode will have an extended run-time to match 
Deep Breath. 
The content and style of the new series has
also been discussed
, by executive producer Brian Minchin. Here's his full quote:
"As you saw in the finale and the Christmas episode he's kind of answered his question of 'Am I a good man?' and this year he's having the time of his life, having dangerous and exciting adventures in time and space. These are the glory days of the Doctor and Clara. They're having the biggest, most dangerous adventures they've ever had and they're having great fun doing it." "The mission statement we had was bigger adventures, and to go further in space and time. We've got a very confident Doctor, we've got a very confident companion and they're both experts at doing this now so we can tell slightly bigger stories." "We're doing more two-parters – and not just conventional two parters. We're doing linked stories where you might not be sure how they're going to be connected until you see them. We're pushing the storytelling that way, to give us more scale of adventure."
Remember the first time Peter Capaldi was in
 Doctor Who
? It was before series 8. Before even his cameo in 
The Day Of The Doctor
. Many will remember even further back when he appeared as a supporting character in David Tennant and Catherine Tate adventure 
The Fires Of Pompeii. 
He also popped up as a whole different character in 
Torchwood.
It's been rumoured for a while that Steven Moffat, and even Russell T Davies before him, had a contingency plan to explain things, in the event of Capaldi becoming the Doctor. Will we get that explanation this year? Mr Moffat certainly seems to think so, according to this excerpt from the current issue of Doctor Who Magazine (thanks
Blogtor Who
for sharing)… Andrea Laford asked: "I really enjoyed the scene in
Deep Breath
when The Doctor says to the tramp, "Why did I choose this face? It's like I'm trying to tell myself something…" Will we ever get an explanation of why Caecilius from
The Fires of Pompeii
has the same face as The Twelfth Doctor?"Steven Moffat replied: "Thank you, I like that scene too. And yes, we're coming back to that idea. In fact, we'll be shooting the scene in question really quite shortly…"In other news, the Moff has
also been addressing
the question of how many regenerations the Doctor has left: "he certainly has a new cycle, so it's not a problem that's going to worry us for a long time. In fact, at the current rate of Doctors, I really don't think I'll be involved in that discussion [of needing to explain a new regeneration cycle] again."
Further into the past: We think the technical term to describe how Rufus Hound feels about appearing in 
Doctor Who
is 'completely bloody chuffed to bits'. Take a look to see his Cheshire Cat grin in the behind-the-scenes video below:
The BBC released said video trailing Hound's appearance as Sam Swift in the two period adventures currently scheduled as episodes five and six in series nine, The Girl Who Died and The Woman Who Lived. Hound is guest-starring opposite Maisie Williams in the episodes, written by Jamie Mathieson and Catherine Tregenna.Even further in the past: Steven Moffat has been talking a lot about Doctor Who this week. Of Peter Capaldi's return, he said: "[Peter Capaldi] is on amazing form at the moment. I was looking at some of his first series stuff and thinking 'it's magnificent, but it's nothing compared to what he's doing now'."And of Clara's arc: "[it] is very pronounced. I can't say too much about it. She continues to complicate and that relationship between the two of them is incredibly strong."He had a few words to say about Missy's return too: "I was thinking of the story of the first two-parter and I was thinking that she fits, she should be there. That character, if you get it right, does put a different light on the Doctor."Elaborating a bit, he added: "I was looking back at the old Jon Pertwee/Roger Delgado ones and what's fascinating about that is that they only ever play it as friends. They never, ever play it as enemies at all. They're just two gentlemen having fun with each other. The Doctor's best friend is a murdering psychopath, that's actually quite fun."Also this week: Speaking to the Radio Times at the recent Bafta nominations party, Steven Moffat had a few things to say about the structure of series nine, which appears to feature more than the usual number of two-part stories (see Episode Titles And Synopses, below).It's been done to "change up the rhythm a bit", according to Moffat. "That 45-and-out rhythm has served us incredibly well for ten years but there is a slight sense sometimes – about 35 minutes into the episode, you expect the hero music."The goal of the shift, he explained to the RT, was keeping the audience on its toes, "It's just making you slightly unsure you'll get through the story by the time the music comes up."You won't hear any complaints from us on that count. The return of cliff-hangers and longer stories was on our wishlist back before series 8.Nine won't be an entire series of two-parters though, Moffat clarified, "Sometimes they're just linked episodes". To add to the gloomy, shadowy first image of a new monster facing the Doctor and Clara in series 9 comes this bright-as-a-button photo of Poldark director Ed Bazalgette (see below) with said armoured beast in a rural location. Makes a change from Cornish clifftops and fragrant redheads, we suppose…Take a look at the latest image below: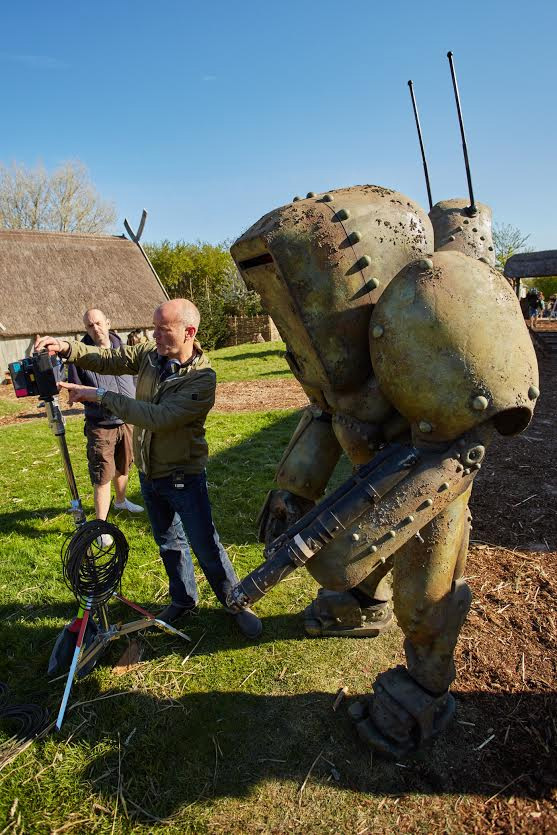 "What's that in the shadows?" That's how the BBC is teasing a new monster set to meet Peter Capaldi and Jenna Coleman in 
Doctor Who
series 9.The first official photo of said beast is below. It's deliberately obscured in the half-light, but we see bumps, we see antennae, we see a red brain-shaped glowing light. It could be robotic or it could be wearing armour, and it appears to be housed in some kind of wooden shed, or even barn…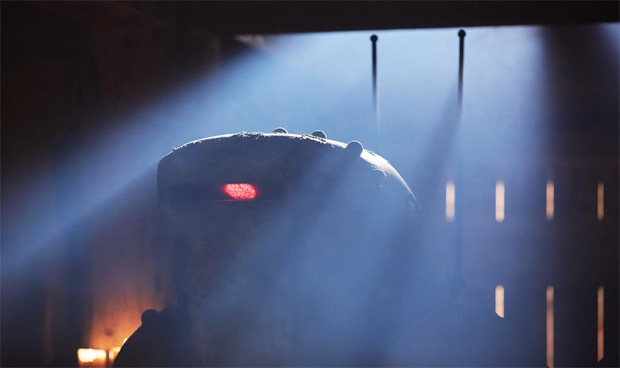 Earlier this week: Here's an interesting one –
Merlin
and
Da Vinci's Demons
actor David Schofield will play the role of Odin in two series 9
Doctor Who
episodes (thanks to
Blogtor Who
for the heads up).Here's a look at him in a crown, from 
Merlin…
Odin, of course, is the God-king from Norse mythology, played recently by Anthony Hopkins in the
Thor
movies. Interestingly, Brian Blessed was linked to the role too (but was ruled out by illness).It's unclear whether this
Who
version of Odin will be an imposter, an alien or the real deal (a la the use of Robin Hood last year).
Doctor Who
has dabbled with ancient and mythical beings many times, of course, with one of the most successful attempts in recent years coming in the form of David Tennant adventure
The Satan Pit
.What we do know about this Odin-starring double bill is that the episodes will be called
The Girl Who Died
and
The Woman Who Lived
, the latter of which seems to be emitting Harry Potter vibes in its title.Could these episodes be set in Viking times? It would certainly be new territory for Nu-Who, and quite far removed from the standard-issue Victorian trappings. Interstingly, this episode (confirmed as a 'period adventure') also stars Maisie Williams of
Game of Thrones
and comedian Rufus Hound.Jamie Mathieson and Steven Moffat wrote
The Girl Who Died
, and
The Woman Who Lived
was written by Catherine Tregenna. Ed Bazalgette of
Poldark
directed both. Colour us very intrigued by how these episodes are shaping up.Last week: Were you a fan of 
Doctor Who 
series 8? We hope so, because Mr Moffat has confirmed that we'll be seeing a similar tone this time. "As ever,
Doctor Who
is a combination of complete daft silliness and loads of people getting slaughtered in the early evening. Tonally, [Season 9] very much the same [as Season 8]. Peter is getting stronger and more confident in the role," The Moff told
EW
.He also mentioned the comedy angle of the show: "I told the [show's] writers, don't just write him mean, write him funny – because he'll make any joke fly." In that same article, he also ruled out a Who-Lock crossover and a big screen outing for The Doctor.What else has been going on? Well, over the weekend, Maisie Williams was discussing her 
Doctor Who 
role on the radio. Listen to her chat about it here (thanks
Blogtor Who
 for the upload)…
Last week: It would seem we're getting a new variation on Peter Capaldi's Doctor Who costume sooner than you might have expected.A Twitter user took this snap on-set, revealing some snazzy tartan trousers and a pair of Ray-bans (which are probably Capaldi's own, to be honest).The Last Christmas hoodie idea seems to have remained, too…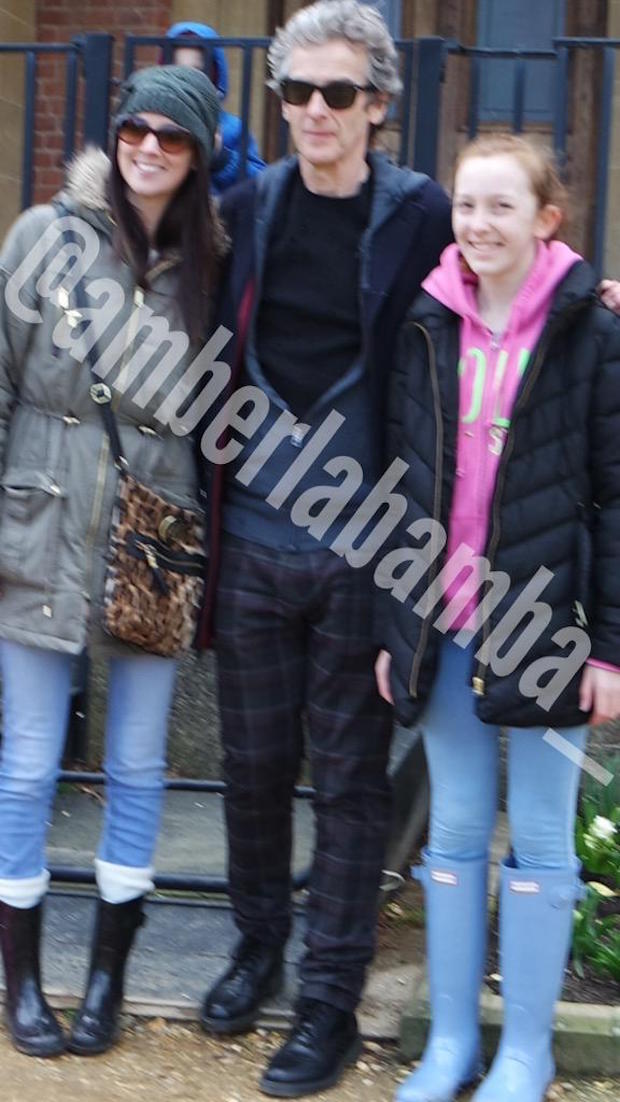 On the more official side of things, the 
Doctor Who Instagram page
 has treated to some cryptic production snaps.While there's been some images of cakes and cameras that aren't particularly content related (or are they?!), there's also been some snaps of the TARDIS in a desolate landscape, what could be a modern revamp of the Chameleon Arch pocket watch, a particularly prominent wall, and, um, Capaldi with a yo-yo. Make of these what you will…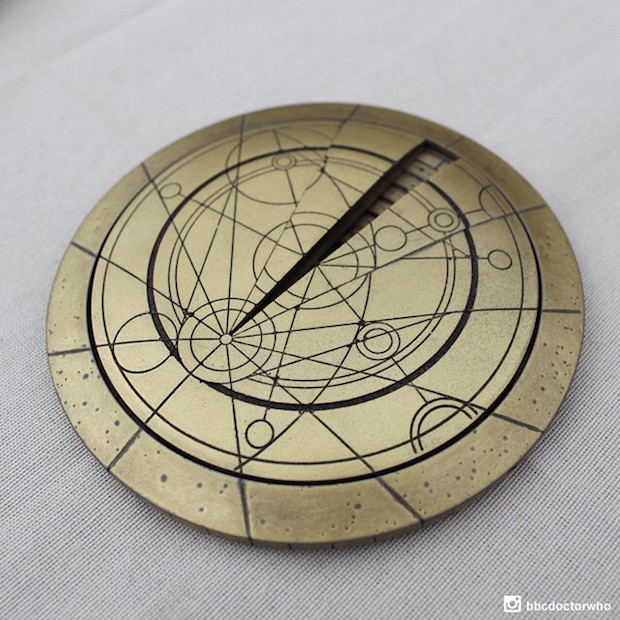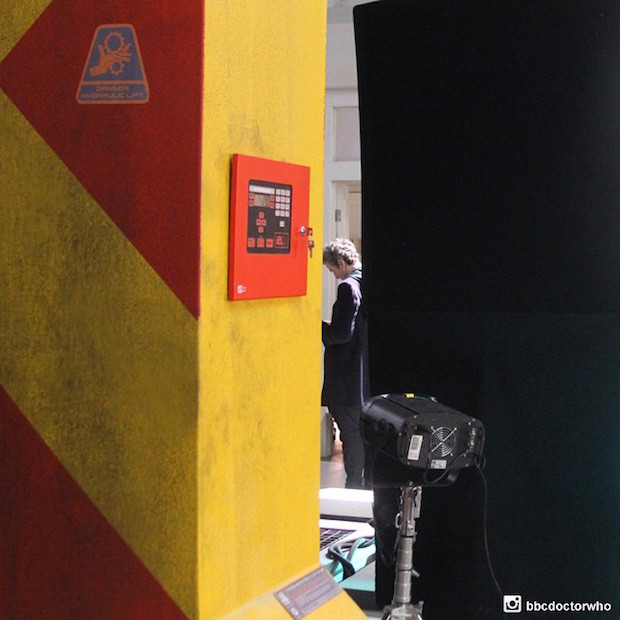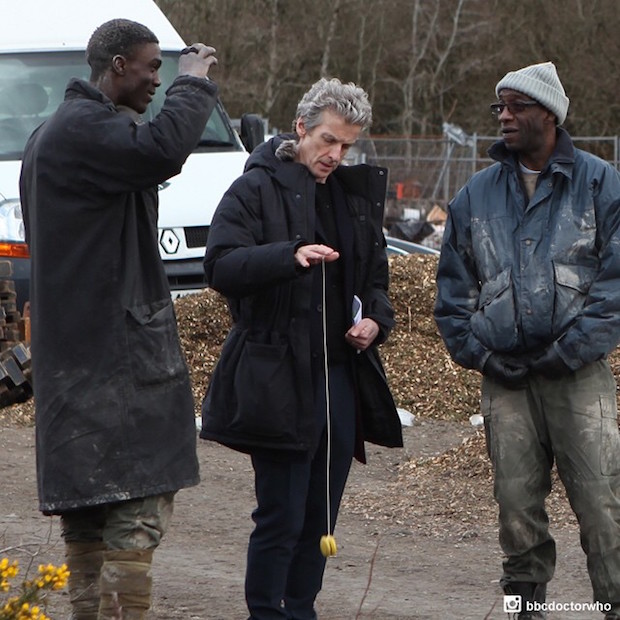 Also this week, the BBC has announced that Maisie Williams, of Game Of Thrones fame, is joining 
Doctor Who
series 9. The official announcement quotes here as saying "I'm so excited to be working on Doctor Who as it's such a big and important part of British Culture. I can't wait to meet the cast and crew and start filming, especially as we'll be shooting not too far from my home town". Not that we know much about who she will be playing. Steven Moffat has said that "we're thrilled to have Maisie Williams joining us on Doctor Who. It's not possible to say too much about who or what she's playing, but she is going to challenge the Doctor in very unexpected ways. This time he might just be out of his depth, and we know Maisie is going to give him exactly the right sort of hell."Also: two stories have been confirmed, both of them period adventures. Jamie Mathieson (
Flatline
,
Mummy On The Orient Express
)
is back to pen 
The Girl Who Died
, whilst 
Torchwood
's Catherine Tregenna has written 
The Woman Who Lived
. Ed Bazalgette (Poldark) is directing.Here's a picture of Maisie Williams in the TARDIS, that was also released…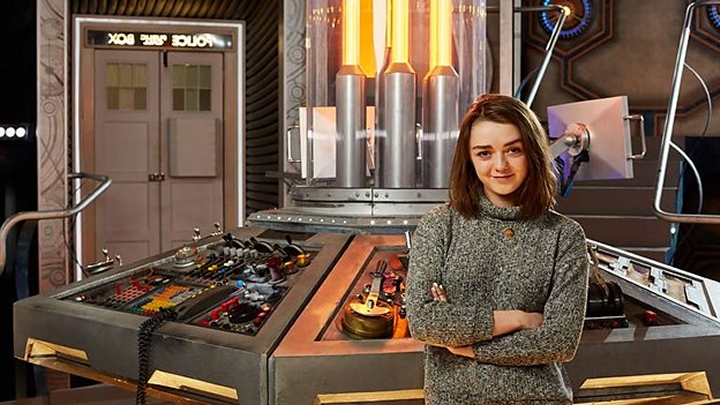 In other news? There's the expected and very welcome news that Mark Gatiss (
The Crimson Horror
, 
Cold War
, 
The Unquiet Dead
) will be writing an episode for 
Doctor Who
series 9. Picked up by
Blogtor Who
from an interview Gatiss gave to
The Telegraph
is this brief mention of his autumn episode:"I'm in the midst of that right now – I broke off to come here today, in fact, but I'm hoping to finish the script tonight. It has been a tough nut to crack, but I'm delighted with how scary it is. I can't say any more than that."It looks as though
Gatiss' Who
 has returned to the dark side after the light-hearted fun of series eight's 
Robot Of Sherwood
.Mr Steven Moffat has given us the latest morsel of Doctor Who info, discussing the continuing development of Peter Capaldi's Doctor with Doctor Who magazine (issue 484 is on shelves now)."We're not bringing him back exactly the same as we left him, at all. I think that was already evident at Christmas," he explained. "He's left some of the burden of being the superhero of the universe behind.""Also, Peter magnifies anything that is dark. So I'm pushing him – I'm writing quite funny this year – I'm pushing him the other way. He's also got a Scottish gloom about him. If you gave him a Matt Smith script, it would come out very, very differently. I think it was great fun to do for a year. But no, that's not how we're going to play the rest of him."He concluded: "What I've been saying to him is 'You're the stern Doctor. You're not the rude Doctor. You're not a brusque Doctor. You're kind of the don't-give-a-damn Doctor! You actually don't give a damn what you say to people.'"So he doesn't give a damn, quite frankly, but will also be funnier. An interesting blend, for sure.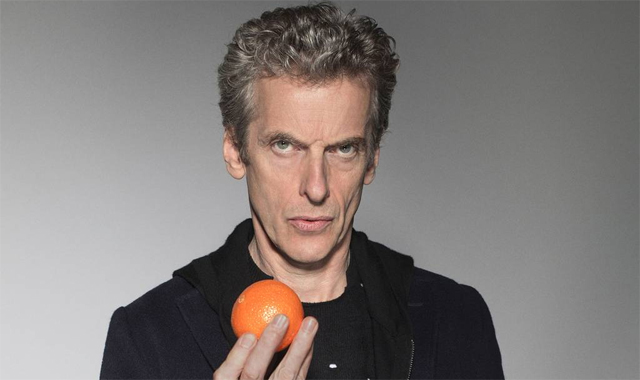 Recently, as noted over on the wonderful 
Blogtor Who
, musical stage star Gina Beck recently
Tweeted
 the photo below accompanied by the words, "
Very jealous that
@BenFreeman20
was filming right next to Doctor Who yesterday!! Wahhhhhh!!!!". (It's a four exclamation mark kind of jealousy).
Filming for series nine is currently taking place in the Teide National Park in Tenerife, home to a volcanic landscape and the third largest volcano in the world. This snap of Freeman with Capaldi and Coleman over there has prompted some to ask what the deal is with the charred-looking red-eyed chap on the left. Is he a new Doctor Who volcano-related alien or just a passer-by in dire need of an exfoliating facial?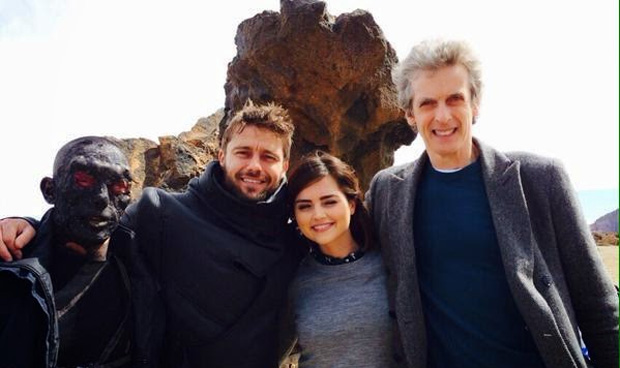 The Gomez has landed.We'd been led to believe as much, but now the BBC has officially confirmed that Michelle Gomez as Missy has returned to 
Doctor Who
series 9. Gomez is currently filming the new series in Cardiff, and had this to say on The Master's imminent return: "Things have been a little beige since I left Missy behind, so I'm delighted to be putting my Lippie back on. I'm positively dying to see the Doctor again!"Steven Moffat followed up with, "Everybody hide – Michelle Gomez as Missy was an instant hit last year, so she's straight back to plague the Doctor and Clara in the series opener. But what brings her back into their lives is the last thing they'd expect."Watch Michelle Gomez eat an apple and celebrate her return, here:
Also confirmed by the BBC as appearing in series 9 will be Jemma Redgrave as UNIT's Kate Lethbridge-Stewart, newcomer Kelly Hunter, Claire Higgins and Jaye Griffiths. Other guest stars confirmed for the new series include Daniel Hoffmann-Gill, Jami Reid-Quarrell, Aaron Neil, India Ria Amarteifio, Joey Price, Dasharn Anderson, Harki Bhambra, and Demi Papaminas.The ninth series of Doctor Who since its 2005 reboot is currently filming in Cardiff, and due to return to the BBC in Autumn 2015. All the info that's been released (or inferred) about the series so far is collected below.BBC One's official Twitter account posted the following photo on Thursday the 12th of February, announcing that filming on block two of series nine was in full swing. Note one of the names on that clapperboard, a certain returning Blink director, Hettie Macdonald, who has recently been working on episodes of crime mysteries Fortitude and The Tunnel. The question is, what can we glean from that swish-looking world map interface in the background? Is UNIT back in play in this part of series nine?
More updates to follow as they're sniffed out.
Doctor Who Series 9 Airdate and structure
While we don't have an official premiere date yet, it has been confirmed that Doctor Who will return in Autumn 2015. As is no huge surprise, the new series will consist of 12 episodes. We'd expect a Christmas special on top of that.Also, going off a year-old statement from Moffat, it is believed that there will be no mid-series breaks this time around. "We're not going to do splits [in Season 8]," he said this time last year, "and the same format will repeat exactly [for Season 9] the following year [2015] like that. So it will be the traditional form."
 Doctor Who Series 9 Cast and Guest Stars

Reece Shearsmith (see Latest News) is to appear in a Mark Gatiss-written series nine episode.Rebecca Front is joining UNIT guest stars Jemma Redgrave and Ingrid Oliver in Peter Harness' two-parter.Maisie Williams is the most recent guest star confirmed to be arriving in series 9. We've no word as yet on who the Game Of Thrones star will be playing, only Steven Moffat's assurances that "Maisie is going to give the Doctor exactly the right sort of hell."So far confirmed as appearing are (of course) Peter Capaldi and Jenna Coleman. Joining them in a two-parter written by Toby Whithouse will be Game Of Thrones' Paul Kaye as a character named Prentis, it was revealed on an online CV. Kaye had this to say about his appearance in the show, "As a kid of the 1970s, the two shows you always watched were Top of the Pops and Doctor Who, they were unmissable. I actually wrote a song called 'Looking for Davros' in my first punk band and I sang it like a demented Dalek. I got to present TOTP back in the mid 90's and landing this role in Doctor Who completes the dream double. Peter is a perfect Doctor and I'm loving every minute of the experience, even the five hours in make-up. What a treat, best 50th birthday present ever!"Joining Kaye in the two-parter directed by Daniel O'Hara will be Morven Christie, Archer Ali, Colin McFarlane, Sophie Stone, Zaqi Ismail, Steven Robertson and Neil Fingleton.Additionally, Michelle Gomez and Steven Moffat have both said publicly that Gomez is expected to return to the role of Missy in future, but details are thin on the ground at present.We await news that series regulars the Paternoster Gang aka Madame Vastra, Jenny and Strax (Neve McIntosh, Caitlin Stewart, Dan Starkey) will also be making a return. 
Doctor Who Series 9 Episode titles and synopses

The Magician's Apprentice: The first confirmed episode title of series 9 is The Magician's Apprentice. Tenerife, perhaps doubling for an alien landscape, is where the production team headed to film parts of this episode (and episode 2).The Witch's Familiar: will be the second half of the two-parter starting with The Magician's Apprentice, written by Steven Moffat and directed by Hettie Macdonald (Blink).The Girl Who Died: is a period adventure written by Jamie Mathieson (Mummy On The Orient Express, Flatline)The Woman Who Lived: comes from Torchwood writer Catherine Treganna.We also know that there's another two-parter in series nine, that's been written by Being Human's Toby Whithouse (School Reunion, The Vampires Of Venice, The God Complex, A Town Called Mercy).That's your lot so far, but we'll keep updating this as soon as more titles and story hints arrive. 
Doctor Who Series 9 Writers
The writers are all in place for series nine, Executive Producer Brian Minchin assures us, not that we're being let in on the secret just yet.Toby Whithouse: has written two episodes for series nine, a "brilliantly creepy two-parter", according to Steven Moffat, who calls the double bill "one of our scariest adventures yet".Steven Moffat: it's no surprise that head writer and showrunner Steven Moffat will be providing scripts for series nine. Moving on…Catherine Tregenna: one name was revealed before Christmas, via an online CV that showed screenwriter Catherine Tregenna (Torchwood, Casualty, Inspector Lewis) to be behind at least one episode for Doctor Who series 9. Torchwood fans will be familiar with her terrific episode Out Of Time, as well as the likes of Captain Jack Harkness, Meat and Adam for the Doctor Who spin-off.Sarah Dollard: This Being Human and The Game alum has penned episode 10, which will feature Rigsy from Flatline.Mark Gatiss: is writing a "scary" episode for the autumn series, he confirmed in this Telegraph interview in March 2015. The Sherlock co-creator confirmed last year that he was writing two Doctor Who episodes for Peter Capaldi's Doctor, later clarifying on Twitter "That doesn't mean they'll both necessarily be in" the eighth series. Seeing as we've only seen one Capaldi ep from Gatiss so far, the light, bright, Robot Of Sherwood, this new series nine episode may well be one from the series eight pile. Neil Gaiman: one name we can strike off the list of potential series nine writers is Neil Gaiman (The Doctor's Wife, Nightmare In Silver), who told the Radio Times that, "I'm not writing for series nine right now, just because of ridiculous work commitments I'm trying to get out from under." Gaiman is however, "determined to write for Peter Capaldi. As long as Peter is Doctor Who, I will write for him. And every time I'm in the UK, I go and see the Doctor Who people. I go see [producer] Brian Minchin and Steven Moffat, and none of us are going to let me go off the boil".Previous Who writers who, in recent months, have expressed out loud an interest in returning to write further episodes are Kill The Moon's Peter Harness, Mummy On The Orient Express and Flatline's Jamie Mathieson, Hide and The Rings Of Akhaten's Neil Cross, and Torchwood's Chris Chibnall (though we'd expect Broadchurch to be keeping the latter busy for the foreseeable).  
Doctor Who Series 9 Directors
Rachel Talalay (Dark Water, Death In Heaven) will be directing the series nine two-part finale, penned by Steven Moffat.Poldark's Ed Bazelgette is confirmed as being on the directors' list for series nine.Being Human and Wizards Vs Aliens director Daniel O'Hara is directing two episodes of the new series, according to his agent's online CV. Tantalisingly, Hettie Macdonald – who directed 2007's much-loved Blink – will be returning. Having directed the definitive Moffat monster episode, many fans will be excited to see her return. We're told to expect her in block 2 of the series, which could well coincide with some filming time booked in Spain.Justin Molotnikov (Merlin, Atlantis, Da Vinci's Demons) is believed to be directing a two-parter for Doctor Who series 9. It looks like one of them will be episode 10, featuring the returning character Rigsy, played by Joivan Wade.We're also still being periodically teased that New Zealand director Peter Jackson will go behind the camera for an episode too, though we've heard nothing concrete on that for a while now. 
Doctor Who Series 9 Rumours
The biggie of course involves the departure of Jenna Coleman from the series, and her replacement Companion in the TARDIS. Word was spread that Coleman was leaving the show at the end of 2014, but her reunion with the Doctor in the Christmas Special, Last Christmas, put paid to that idea. Here's the longer version of that story. How long she'll be sticking around in series nine for though, remains to be seen…Follow our Twitter feed for faster news and bad jokes right here. And be our Facebook chum here.