News
Doctor Who Season 11 To Include Show's First Ever Writers of Color
The first woman Doctor isn't the only history-making aspect of Doctor Who Season 11...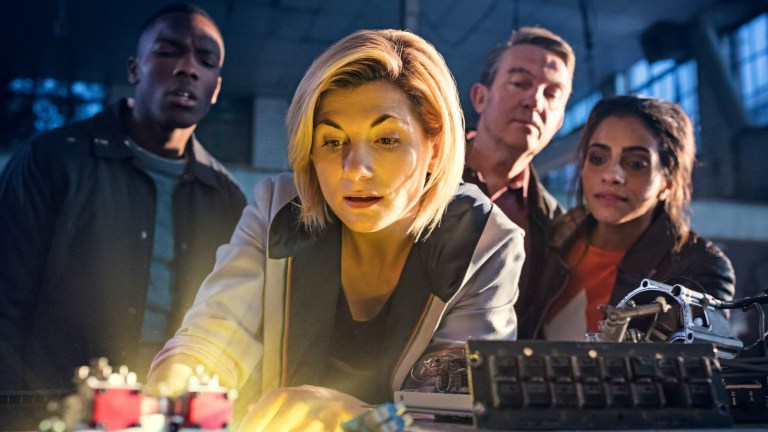 While actors may be the most visible storytellers on a TV show, so much of a TV series' voice and perspective is crafted behind-the-scenes. This is why it's vital to have diversity behind the camera as well as in front.
Heading into Doctor Who's history-making eleventh season (post-reboot), which will see a woman fill the role of the Doctor for the first time in the show's more than 50-year-history, new showrunner Chris Chibnall assured press gathered for a pre-panel conference that diversity behind-the-scenes was a priority for the production.
"It should be the most inclusive show on television," Chibnall told Den of Geek. "The whole concept of Doctor Who is anyone can go anywhere and do anything, and we want to reflect that both on screen and off."
Doctor Who began life, back in 1963, in the hands of female producer Verity Lambert and gay British-Indian director Waris Hussein, but hasn't had a very good track record when it comes to writerly diversity. Across 26 seasons of Classic Doctor Who, only five women contributed scripts: Lesley Scott, Barbara Clegg, Paula Moore, Jane Baker, and Rona Munro.
NuWho, which launched in 2005, hasn't been much better. Only eight of NuWho's 134 episodes have been written by a woman, representing the work of four woman writers: Rona Munro, Catherine Tregenna, Helen Raynor, and Sarah Dollard. All of these women listed have been white which means Doctor Who has never had a woman of color write an episode, or a man of color write an episode, for that matter… until Season 11.
Chibnall revealed during the Doctor Who press conference that Season 11 will feature the first Doctor Who scripts from writers of color in the show's history. Let that one sink in for a bit…
Elaborating on the behind-the-scenes diversity, Chibnall said two women and three men fill the season's guest writer slots, with two women and two men serving as directors this season, and an editing team for Season 11 composed entirely of women save one.
"It's 2018," said Tosin Cole, a black British actor who will be playing Ryan in Season 11. "Everybody deserves to work."
Chibnall and executive producer Matt Strevens discussed the steps they took in Season 11 to provide training opportunities for young people coming from backgrounds underrepresented in the media industry, working with a Cardiff-based organization to bring seven trainees onto the Doctor Who team in Season 11.
"People need to know that the business is for them, as well," said Strevens. "That it's fully inclusive and, sometimes, people haven't felt that. They've felt a barrier to entry. So, creating training opportunities across the board in all areas of the show is something we're really keen on, the BBC have really supported us."
"We're doing lots," added Chibnall. "Our big thing is, across time, we need to do more."
As for that in-front-of-the-camera diversity? Season 11 not only boasts Jodie Whittaker as the Thirteenth Doctor, but two companions of color in the form of Mandip Gill's Yasmin and Tosin Cole's Ryan. As we see in the just-released trailer, the three friends will travel together through time and space.
For Chibnall, the change is not timely, but rather past time.
"It was overdue," said Chibnall. "I can only speak to since I've been in the job and I got to make the decision. It felt really simple and obvious. The world was ready."
Read the Den of Geek SDCC 2018 Special Edition Magazine Here!