News
Doctor Who Season 10 Premiere to Screen in Theaters
Watch the Doctor Who Season 10 premiere in theaters with 100 of your closest stranger-friends!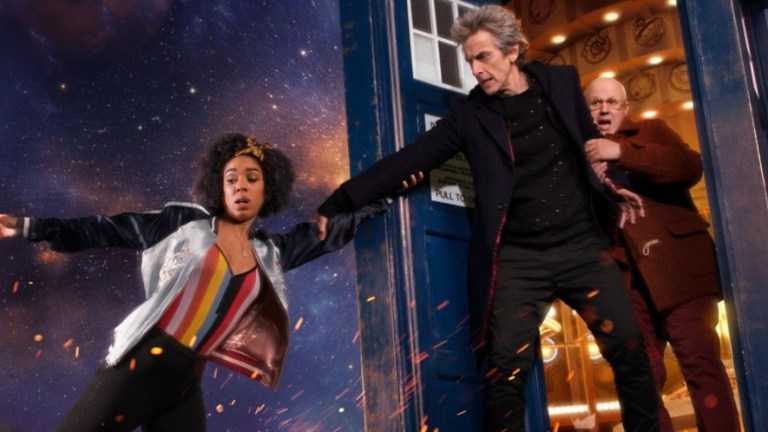 The BBC sure knows how to make its TV shows seem larger than life. For the past few years, with shows like Doctor Whoand Sherlock, the media company — more specifically, its BBC Worldwide North America commercial arm — has embraced the popularity of the public screening, teaming up with Fathom Events in the U.S. to show the most important episodes in theaters.
The most recent occasion? The BBC just announced that it will screen the Doctor WhoSeason 10 premiere in theaters for two nights in April, shortly following the episode's airing on BBC America. The dates/times will be: Monday, April 17 and Wednesday, April 19, 2017 at 7:00 p.m. For comparison, the Doctor WhoSeason 10 premiere will air on BBC America on Saturday, April 15 at 9 p.m. ET.
As with their other TV episode screenings, BBC/Fathom Events have some extras to lure fans into the theater. In addition to "The Pilot" (which is the title of the Doctor Whopremiere), attendees will view the premiere episode of Doctor Whospinoff Class, as well as a featurette called "Becoming the Companion," which is about new companion Pearl Mackie's journey to, you guessed it, becoming the companion. The latter will feature interviews with Pearl Mackie, Peter Capaldi, and Steven Moffat, and is narrated by Ingrid Oliver.
There are a few other cool perks for attending the screening. Attendees can bring their ticket stubs to Hot Topic for 25% off Doctor Whomerchandise through May 6th. And, if you purchase your tickets through Atom Tickets, you will get three free Doctor Whodigital comic books from Titan Comics and ComiXology, so that's pretty cool.