Reviews
Doctor Who: Scream Of The Shalka DVD review
Andrew checks out the new Scream Of The Shalka DVD release, out on Monday the 16th of September...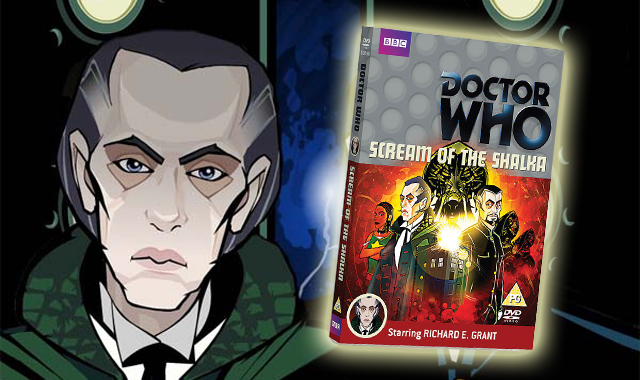 Scream of the Shalka has value beyond being a mere curio. An flash-animated feature made for Doctor Who's Fortieth anniversary in 2003, and broadcast on the BBC website (it's still there), it was intended to be an official continuation of the show after the 1996 TV Movie. It was relegated to non-canonical status when the announcement of the show's return to television occurred in September of that year.
So, besides being another story in its own right (and can now be judged as such, without the pressures it was under on original broadcast), it's also of interest as a different production team's take on the series, and as an example of how the show might work as an animated feature (one of the many things I'll happily bang on about for ages if someone starts me off on one – if people want to bring old Doctors back on screen then animation initially seems a pretty good way of going about it).
Opening with an excellent title sequence and a version of the theme music that someone has inexplicably decided to ruin with inexplicable drumming, Scream of the Shalka is roughly the length of a four-part classic story, but split into six episodes of fifteen minutes. The animation is fairly simple, never designed for DVD release but to be hosted on the old Doctor Who website. The story itself is lesser than the sum of its parts, oddly. Paul Cornell's script has a lot of great ideas, possibly too many, and the scale is something that televised Doctor Who had yet to attempt in 2003. Despite this, I remained un-gripped for long sections, mainly during the exposition regarding the Shalka's invasion plan. It definitely over-reaches, and doesn't get everything right. For example, to begin with the Doctor is a little difficult to warm to.
Some people find Richard E. Grant's Ninth Doctor to be a little too dour and sardonic, but by the end of Shalka he's starting to show some joie de vivre. While it's not at the level of Grant's Withnail and I co-star in terms of debut performances, it's not the taking-the-money-and-running disinterest-fest that you may have read about. As it is, Richard E. Grant is fine when his Doctor is buoyant, but less so with the initially downbeat portrayal. If he'd been given a second chance then Grant's Doctor would have won more people over.
There's quite a lot here that is prescient though, especially in terms of casting. Of an excellent cast for a low budget web-adventure (Jim Norton – aka Bishop Brennan – is the new UNIT CO) we have Sophie Okenedo and David Tennant involved, and also Derek Jacobi playing the Master  (the backstory of which remains unexplored in the main feature, but is mentioned on the bonus features). This Master resembles the Delgado incarnation, though the character is different to how you've seen him before: playing it with eyebrow arched throughout, Jacobi's Master seems to have an ambiguous relationship with this Doctor, and begs questions that would presumably have been answered if more stories had been produced. It's definitely – as Paul Cornell concurs on the bonus features – the best of the many good ideas presented here.
Overall, Scream of the Shalka doesn't quite grab you in the same way as the opening two episodes of the 2005 series do, but it's still got a lot of promise. Here, as the Extras show, was a story that had a very troubled production with only a small segment of the BBC behind it, but still managed to do new and interesting things; plus, if you're stuck for a  drinking game, why not drink every time you recognise something that's cropped up in the TV series?
Extras
On top of the improved picture quality, what does this disc have that prevents us from downloading Flash Player and watching it online? Mainly, it has tremendous insight into the difficulties of production, and a sense of sardonic irreverence not dissimilar to its lead character. It answers the question of why there haven't been more animated Doctor Who stories quite succinctly: it's really bloody difficult.
James Goss, Shalka's Executive Producer, introduces the making-of-feature Carry On Screaming. Having someone involved in the process does make it distinctive, good-humoured and personal, despite Goss' habit of unnervingly looking directly down the camera.
There's a lot of information relayed with enthusiasm, wit and candour at its failings and successes. It's basically a miracle that Scream of the Shalka actually got made, and it's a very interesting snapshot into the pre-2005 level of kudos that Doctor Who had at the BBC. The behind-the-scenes featurette made at the time is more positive, with the cast and director talking enthusiastically about the project, although the previous feature makes it clear that there was some chaos going on elsewhere in the production.
Interweb of Fear is a fascinating documentary regarding the history of the BBC website, which documents another corner of the Wilderness Years that hasn't had much focus, as well as the progress of the interwebs from the days of dial-up to broadband. James Goss, when he's not staring directly down the camera, comes across as someone who has suffered long for his love of Doctor Who (and genre-telly in general) as head of the BBC's Cult website. This had something of a pioneering spirit when confronted with management who really didn't understand it. It also takes a bigger picture into account, such as the change in news reporting after 9/11 and the development of the iPlayer. There's also a mention of the BBC Doctor Who forum. It is not fondly remembered.
The commentary consists of Professional Savant, Toby  Hadoke, moderating Paul Cornell, James Goss and director Wilson Milam. With stories that aren't best beloved, it's always nice to hear that that production team are still enthusiastic but temper this with acceptance of the story's faults. Milam, though, answering Hadoke's questions in no apparent order, remains unfettered in his positivity for the project. Cornell strikes a great balance between being a fan and a professional writer, with Goss merrily dropping intriguingly wry barbs regarding BBC middle management.
We also have yet another ludicrously exciting trailer for a future DVD release, production subtitles with an abundance of information and trivia, a photo gallery and the soundtrack. There is a wealth of information to be gleaned from these extras that complements other recent releases (focussing on the rebirth of the show from 2003 onwards), and it's conveyed in a warm, entertaining manner.
Disc: ***
Extras: ****
Scream Of The Shalka comes out on Monday the 16th of September. Pre-order it at the BBC shop, here.
Follow our Twitter feed for faster news and bad jokes right here. And be our Facebook chum here.