News
Doctor Who: Michelle Gomez Leaving After Season 10
Michelle Gomez, who portrays Missy, will not return to Doctor Who after series 10 is done.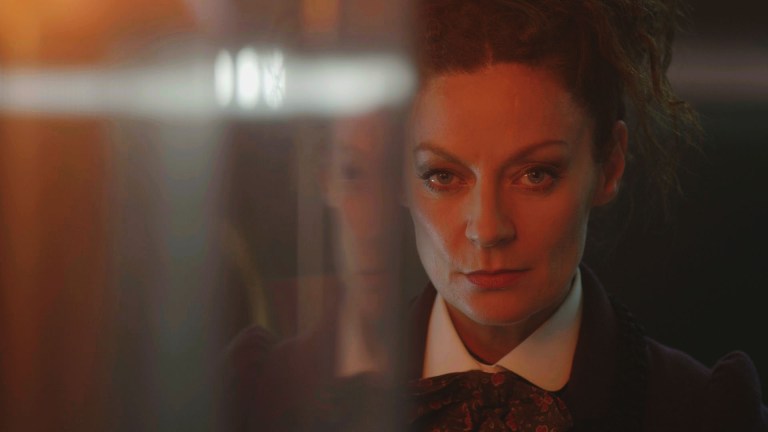 Speaking to Digital Spy, Michelle Gomez has confirmed that she will be leaving Doctor Who after series ten, with no current plans to return to the role of Missy.
"Never say never," said Gomez, "I'm sure in a couple of years' time, the urge to blow things up will just be too strong and Missy will come in guns blazing! But at the moment, it just feels like this is the end of an era – there may be something in the future but at the moment, I feel like this is the end of a chapter."
For now, Gomez feels like it's the appropriate time to leave the show, and she's not sure Missy should be the foil to any other Doctor.
"I don't know how I'd feel about being The Master to any other Doctor, because I feel like I'm part of Peter's time," Gomez told Digital Spy, "My guys, my lads, Missy's men – they're all moving on!"
Gomez first appeared in series 8, Capaldi's first year in the TARDIS, to rave reviews. She's since become one of the most beloved iterations of the Master, bringing the character back for the first time since John Simm portrayed the character during the Russell T. Davies years. 
It seems to be a mass exodus then. Both showrunner Steven Moffat and Capaldi are leaving the show at the end of series 10, as well. We imagine most elements of the Moffat years will be done away with as incoming showrunner Chris Chibnall takes over for series 11.
But before then, Missy has some tricks up her sleeve. Gomez will be in several episodes in series 10 after being last seen in the first two-parter of series 9. Last we saw her, she'd been captured by the Daleks as the Doctor and Clara made their escape from Skaro, the Dalek homeworld.
This year, Gomez will appear alongside Simm, who is returning as his version of the Master in the finale. Said Gomez of sharing the screen with Simm:
"I would say… think of it in terms of… a two-headed Master! That's what I'll give you. It's sort of… two Masters in one, in a way! I hope that's not giving too much away!"
That's a really interesting detail, especially if it means that Missy and the Master's personalities have been split somehow. Missy and the Master could each encompass the "good" and bad sides of the Doctor. That's just speculation, though.
The Mondasian Cybermen from the 1960s will also appear in the finale. Gomez said that "just the very sight of them is unnerving. And that's Missy saying that!"
Gomez briefly teased how having two Masters AND the Cybermen in one episode will play out for the Doctor. 
"Something awful happens [in the finale] as well, which is down to Missy just being dreadful. She just can't help herself – there's a moment where she just remembers that she is totally evil. So that is in there… you won't be disappointed!"
We imagine the awful thing could be the killing blow to Capaldi's Doctor, who is set to regenerate during this year's Christmas special. We'll soon find out!