News
Doctor Who: Karen Gillan on How Amy Would React to Jodie Whittaker's Doctor
Karen Gillan talks about how long she's imagined a woman in the lead on Doctor Who, as well as how Amy Pond might react.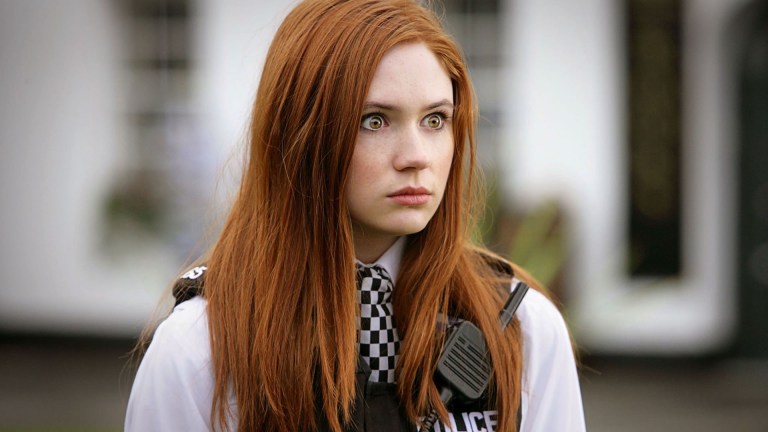 For many, "the Ponds" might always remain the best of Doctor Who's fabled list of companions. That's certainly true in this writer's opinion. Rather than being merely a sidekick or doomed romantic interest for the Doctor, Karen Gillan's Amy Pond played an unusually varied number of roles in the Eleventh Doctor's lifespan. She was both the childhood friend he met when his Matt Smith-looking face was shiny and new, as well as the surrogate daughter who he had abandoned as a child by accidentally time traveling to the future. She was his child, as well as eventually a mother-like figure… or at least mother-in-law. (It's complicated.)
As their seasons together passed, Amy and her husband Rory (Arthur Darvill) acted as caretakers and concerned parents to their double-hearted, timey-wimey friend, who always had a place set at their dinner table. And while Amy never probably put much thought into the Doctor's many regenerations, it's a subject that her real life counterpart, Ms. Gillan, has thought quite a bit about. Especially with the recent announcement that Jodi Whittaker would be the Thirteenth Doctor.
When Den of Geek was able to catchup with Gillan to discuss Jumanji: Welcome to the Jungle for Den of Geek Magazine, the former Doctor Who star reiterated her very public enthusiasm for having a female Doctor, as well as revealing it is something she would have conversations about while working on the series from 2009 to 2012… albeit never with showrunner Steven Moffat (who exits the series with the upcoming Christmas special, which also will introduce Whittaker as the Doctor).
"I'm not sure we ever had a direct discussion with him about that," Gillan says. "But it was something people talked about regularly. It would pop up every so often, and people had their own opinion on whether that would work or not. But I think nobody ever suggested or said that to Steven Moffat. But I am just so glad they have gone in that direction, because the fact that we're even having a discussion as to whether a woman can play the role or not tells me that there's still something wrong here. Because of course a woman can play the role; it's not defined by gender, and we're definitely about to find that out, I think."
This is of course true, yet one wonders how Amy Pond might react to the news. For most of her life, Amy was the girl who waited for her childhood best friend: the Raggedy Man that no one else believed existed. What would Amy Pond think to discover Raggedy Man is now Raggedy Woman?
"Oh, Amy would be very confused by that," Gillan initially deadpans with complete earnestness. She then adds with a smirk, "She'd have to remake all of those little dolls! Yeah, I think she would kind of dig it though. I think that she respects the Doctor a lot, and maybe she'd think it was kind of cool."
For Gillan having been part of the Doctor Who experience is also still kind of cool. She credits the intense scrutiny and popularity the BBC series receives in the UK for being a reason she has been able to so seamlessly adapt to big budget studio fare in Hollywood like Jumanji, as well as Guardians of the Galaxy.
"It's weird, because the one show that I was on in UK television was Doctor Who, which is sort of very much in the vein of these big movies that I've been doing," the Scottish actress considers. "But obviously everything's scaled down because the budgets aren't so big. But like in a weird way, I felt like I had gone through my training for them on Doctor Who. And then I was just ready, because when I first walked on the set of Guardians of the Galaxy, I looked around and I was like, 'Oh, this is just another larger spaceship. I got this. I know this world. This is my turf!' So that's how I feel about movies now, so I'm really thankful I had this Doctor Who experience behind me, because it just feels kind of comfortable and familiar."
That comfort applies to Jumanji: Welcome to the Jungle too. The film will be out in theaters on Dec. 20, but you can read our in-depth preview for the movie in the October special edition issue of Den of Geek Magazine.
Read the full Den of Geek NYCC Special Edition Magazine right here!